Escalating Israeli-Palestinian violence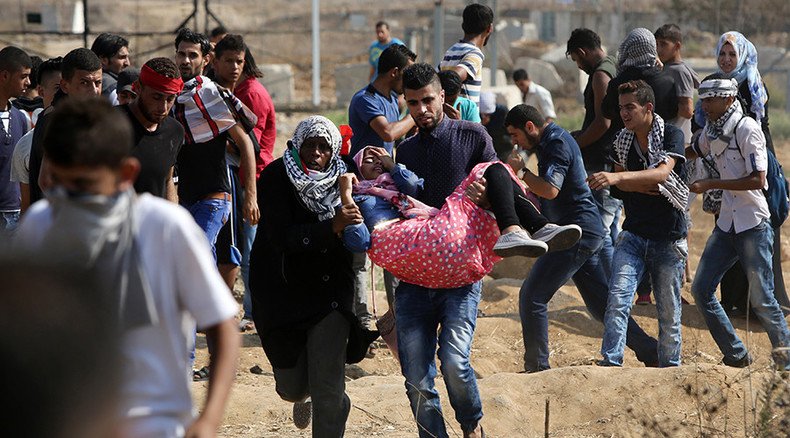 Israeli-Palestinian violence is on rise across Israel, the West Bank and Gaza. Stabbings are becoming particularly common amid fears of a new Palestinian uprising.
24 October 2015

09:17 GMT

A Palestinian has been shot dead after he attempted to stab an Israeli guard in the West Bank, police said, as cited by the Israeli media and AFP.

23 October 2015

19:12 GMT

The High Representative of the European Union for Foreign Affairs, Federica Mogherini, met with Russian Foreign Minister Sergey Lavrov and US Secretary of State John Kerry on Friday to discuss the Israeli-Palestinian conflict.

Mogherini gave a press conference following the meetings, during which she conveyed the latest statement of the Quartet on the Middle East – Russia, the US, the EU and the UN – on the most recent developments in the Middle East.

The statement encouraged "Israel to work together with Jordan to uphold the status quo at the holy sites in Jerusalem in both words and practice," stressing that "security measures alone cannot stop the cycle of violence."

21 October 2015

18:19 GMT

A Palestinian driver has reportedly crashed a car into a crowd of people near the Palestinian town of Beit Ummar in the Hebron area of the West Bank, Haaretz reported. Four people were injured in the suspected attack, with one victim in serious condition.

20 October 2015

20:00 GMT

Two Palestinians have been shot dead after an attempted stabbing near the West Bank settlement of Kiryat Arba, next to Hebron. One IDF soldier received a slight head wound in the attack. Palestinians started to fire tires nearby after the incident.

12:56 GMT

Terrorist attack minutes ago near gush Etzion junction. Security personal & Police units at the scene. Terrorist captured. Area closed off.

— Micky Rosenfeld (@MickyRosenfeld) October 20, 2015

12:53 GMT

UN Secretary-General Ban Ki-Moon will visit Israel and Palestinian territories on Tuesday during a surprise trip, Palestinian foreign ministry Riyad Malki said as cited by Fox News. He added that the secretary-general is going to meet with both sides of the ongoing conflict, without going into further details.

"When children are afraid to go to school, when anyone on the street is a potential victim, security is rightly your immediate priority. But walls, checkpoints, harsh responses by the security forces and house demolitions cannot sustain the peace and safety that you need and must have," Ban Ki-moon said in a video address on Monday.

12:38 GMT

The Israeli Defense Force has demolished a house of a Palestinian who stabbed an Israeli citizen to death last year, AFP cited the Israeli army as saying. The demolition in the West Bank city of Hebron was accompanied by clashes between Israeli soldiers and Palestinian stone throwers. No one was reportedly injured in the incident.

09:00 GMT

An assailant has stabbed an IDF officer during a riot near Hebron. The attacker was shot dead at the scene.

Moments ago, an assailant stabbed an IDF officer during a violent riot near Hebron. Assailant shot on site.

— IDF (@IDFSpokesperson) October 20, 2015

19 October 2015

14:08 GMT

An Arab-Israeli gunman killed an IDF soldier at a bus station in southern Israel. A security guard later shot dead a migrant, mistaken for attacker's accomplice. RT's correspondent Paula Slier has the latest.

12:52 GMT

The French ambassador to Israel has been summoned to the Israeli Foreign Ministry after Paris's proposal to deploy independent observers at the Temple Mount (or the Noble Sanctuary, as it's known by Muslims), AP reported citing an unnamed Israeli official.

Israeli Foreign Ministry spokesman Emmanuel Nahshon expressed the country's "firm opposition" to the French proposal.