5 Palestinians killed by Israeli forces amid concerns of escalating standoff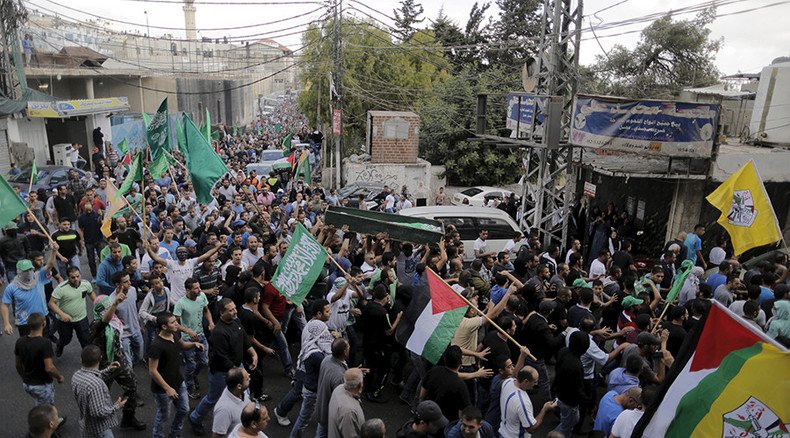 Five Palestinians died on Saturday, shot by Israeli security forces at two separate scenes of violence – one in Jerusalem and another along border fence with Israel. Meanwhile, four Israelis were injured in stabbing attacks.
Two Palestinians, aged 12 and 15, were shot dead by Israeli security forces along the Gaza border fence while taking part in protests. In separate violence in Jerusalem, three Palestinians assailants were killed by Israeli police.
READ MORE: Videos emerge online showing Israeli police shooting Palestinian woman 'execution-style'
At least one of the Palestinians killed was a member of Hamas, the militant group said in a statement, calling him a "hero martyr."
The Palestinians in Jerusalem were shot dead after attacking Israelis with knives, Israeli police spokesman Micky Rosenfeld said, adding that at least four Israelis had been stabbed in separate attacks near the Old City's Damascus Gate on Saturday.
More clashes broke out near the West Bank cities of Hebron and Ramallah, while the unrest also spread to several other Arab towns in Israel. Scores of Palestinians have been injured, over a dozen by gunfire, Reuters reported, citing the Palestinian Red Crescent.
The new wave of violence has been ongoing for over a week, with daily reports of victims coming from the region. Four Israelis and 21 Palestinians have been killed in Jerusalem, the Israeli-occupied West Bank, Gaza, and in Israeli cities during 11 days of bloodshed, Reuters reported.

READ MORE: Palestinian woman shot after stabbing Israeli in Jerusalem - reports

Amid daily clashes involving shootings and stabbings, thousands of Palestinians have taken to the streets. While some have been rallying to condemn the violence, others are demanding revenge.
On Saturday afternoon, thousands of students from Palestinian universities gathered in a square near their educational facilities in Gaza and marched to the legislative council, condemning the Israeli violence against Palestinians of recent days, Ruptly reported. At the same time, thousands of Palestinians attended the funeral of a Palestinian who was shot dead by Israeli forces during clashes in the Shufat Refugee Camp earlier in the day, Palestinian Ma'an news agency reported. With flags raised, participants chanted slogans urging resistance and demanding revenge.
The raging violence has been fueled by the situation surrounding the Al-Aqsa mosque. The religious compound in Jerusalem, which is the third-holiest shrine in Islam and Judaism's holiest site, has become a flashpoint in the conflict, with Palestinians fearing they will be deprived of their rights at Al-Aqsa. Under current arrangements, Jews are allowed to visit the site but non-Muslim prayer is banned.
Earlier this week, Israel reintroduced a ban barring Muslim worshipers under 50 from entering the mosque for Friday prayers. The move was announced by Israeli police as part of broader measures focused on tightening security in the Old City.
Israeli officials have justified Israel's growing military presence, accusing Palestinian leaders of using Muslim concerns over Al-Aqsa to fuel the "lone wolf" attacks. PM Benjamin Netanyahu has beefed up law enforcement in Jerusalem and the West Bank, while Jerusalem's mayor has urged those with gun licenses to carry their weapons.

READ MORE: IDF accused of inciting, mistreating Palestinian protesters as West Bank violence rages on (VIDEO)
Israel took East Jerusalem, the West Bank and the Gaza Strip during the 1967 Middle East war and have occupied them ever since. However, Palestinians claim these territories for their own state. Both Palestinian police and Israeli security forces are now trying to restore order in the troubled region, with both Israeli and Palestinian leaders calling for calm and trying to find ways to avert further escalation in the decades-long crisis.
LISTEN MORE:

You can share this story on social media: