Israeli police ban Palestinian men under 50 from entering Al-Aqsa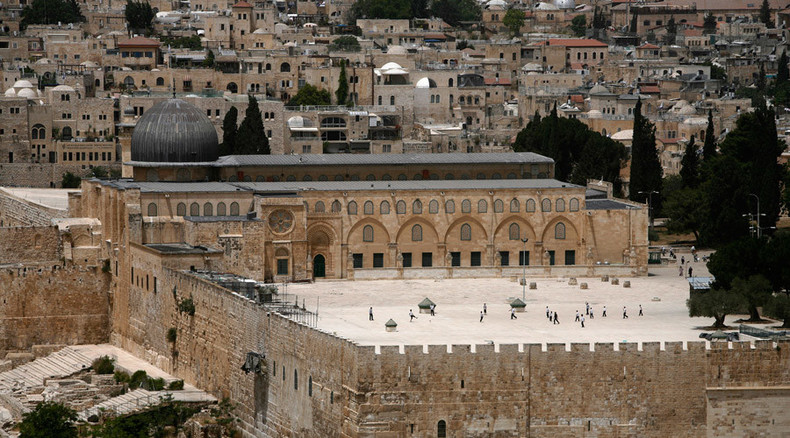 Israel has reintroduced a ban barring worshipers under 50 from entering the Al-Aqsa mosque in Jerusalem for Friday's prayers. The Temple Mount site, considered a major holy place in both Islam and Judaism, has been the center of growing tensions lately.
The move has been announced by Israeli police as part of larger measures focusing on tightening security in the Old City.
"It has been decided to limit the age of worshippers allowed entry to the Temple Mount to men over 50," police said in a statement on Thursday. "Entry of women of all ages will be allowed."
READ MORE: Israeli forces storm courtyard of Al-Aqsa Mosque in Jerusalem

The Al-Aqsa compound in Jerusalem has become a flashpoint of the escalating conflict in past weeks. It is the third-holiest site in Islam and Judaism's holiest site.
Earlier on Thursday, Benjamin Netanyahu barred members of parliament from paying visits to Al-Aqsa in a bid to reduce tensions, though Muslim members of the Knesset have already said they will not comply with the edict.
READ MORE: Clashes erupt at Jerusalem's Al-Aqsa mosque compound between worshippers and security forces

Israeli police also imposed entry bans to the mosque on October 4, allowing only Israelis, tourists, residents of the area, business owners and schoolchildren to enter the site.
Muslim clerics have expressed concern that Israeli authorities plan to raze the mosque to construct a Jewish temple – a claim that Israel has been denying. Muslim activists have gathered at the location and attempted to stop Jews from entering.
The development follows the announcement by Jerusalem Mayor Nir Barkat, who said that residents have a "duty" to carry licensed weapons to stave off a spate of stabbings by Palestinians. A teenage Palestinian wounded two people in a knife attack outside the city's police headquarters on Thursday. There were at least six such assaults around the country on Thursday, though in each case the victim managed to escape alive.
Restrictions are likely to raise tensions between Israelis and Palestinians. Earlier on Thursday there were reports of clashes between Israeli forces and Palestinian protesters near the city of Ramallah. Palestinian demonstrators were reportedly dispersed with tear gas and fired on with live ammunition. At least two Palestinians are said to be injured following the violence.
Another incident came to light in the Shu'fat refugee camp in East al-Quds, where one Palestinian was killed and six others were injured during clashes with Israeli police, local media cited medical sources as saying.
LISTEN MORE:
In response to the latest violence, United Nations human rights chief Zeid Ra'ad al-Hussein voiced his concerns, calling for both sides to halt the aggression. "The security situation has deteriorated dramatically over the past week in the West Bank, including East Jerusalem," Zeid said in a statement.
He also criticized Israeli use of live ammunition rounds against the Palestinian protesters.
"The use of .22 calibre rifles against protesters is of particular concern … The use of any firearms by law enforcement should be the exception, and only where less extreme means are insufficient to put a stop to an imminent threat of death or serious injury," Zeid said.
The UN official said the increased use of home demolitions in East Jerusalem as punishments against Palestinians was illegal and counterproductive. "Any response to the current situation must be strictly in accordance with norms and standards contained in international law."