Turning point? EU Commission head says relations with Russia 'must be improved,' US 'can't dictate'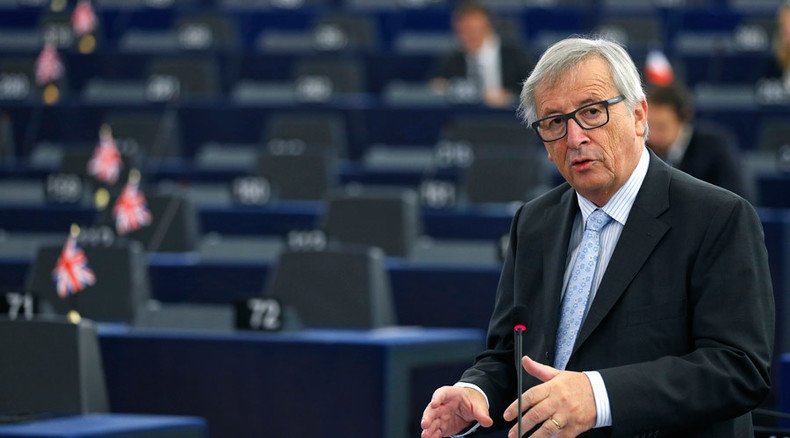 Europe must treat Russia with more decency, improve the relationship, and not let EU policies be dictated by Washington, European Commission President Jean-Claude Juncker said in a surprise speech in Germany.
READ MORE: NATO to create new HQs in Hungary & Slovakia, boost response forces – Stoltenberg
It is now critical for the EU to work on its relations with Russia, Juncker said in the southern German town of Passau: "We must make efforts towards a practical relationship with Russia. It is not sexy but that must be the case, we can't go on like this."
Moreover, the US needs to keep its influence out of EU relations with other countries, Juncker added.
"Russia must be treated decently … We can't let our relationship with Russia be dictated by Washington."
EU-Russia relations have deteriorated since the EU imposed sanctions on Russia for its alleged role in the Ukrainian conflict. The Russian government has unswervingly denied these allegations.
In the meantime, some progress has recently been reported in eastern Ukraine, as the armed forces of the self-proclaimed Lugansk People's Republic (LNR) have begun withdrawing weapons under 100 mm caliber from the conflict zone. Ukraine's Joint Staff has also announced the start of a withdrawal of artillery from the region.
The withdrawal of weapons is part of the Minsk agreements, which was agreed upon by the leaders of the Normandy Four, namely France, Germany, Ukraine and Russia, in February. The deal required a ceasefire, a weapons withdrawal, constitutional reforms, legislative recognition of a special status for the unrecognized republics, and release and exchange of prisoners on an all-for-all basis.
READ MORE: Top Ukraine official backs idea 'to help ISIS take revenge on Russian soldiers in Syria'
However, lasting truce was only reached in late August. Kiev and the self-proclaimed Donetsk and Lugansk republics maintain the armistice has been holding since September 1, although both sides still occasionally accuse each other of violations.
Moscow continues to stress the importance of direct dialogue between Kiev and representatives of the Donetsk and Lugansk People's Republics.
Russian President Vladimir Putin told CBS's '60 Minutes' at the end of September that all countries need to respect Ukraine's sovereignty.
"At no time in the past, now or in the future has or will Russia take any part in actions aimed at overthrowing the legitimate government," Putin said, adding that Moscow "would like other countries to respect the sovereignty of other states, including Ukraine. Respecting the sovereignty means preventing coups, unconstitutional actions and illegitimate overthrowing of the legitimate government."
LISTEN MORE:
READ MORE: Moscow ready for more sanctions, regardless of Ukraine crisis – Foreign Ministry
EU sanctions against Russia could be renewed at the end of this year, however, even though some European countries have been hit hard by the fall in trade triggered, in part, by Moscow's counter-sanctions on food imports.
EU sanctions include restrictions on lending to major Russian state-owned banks, as well as defense and oil companies. In addition, Brussels has imposed restrictions on supplying weapons and military equipment to Russia, as well as military technology, dual-use technologies, high-tech equipment, and technologies for oil production. A number of Russian and Ukrainian officials have also been blacklisted by the West.
You can share this story on social media: