NATO to create new HQs in Hungary & Slovakia, boost response forces – Stoltenberg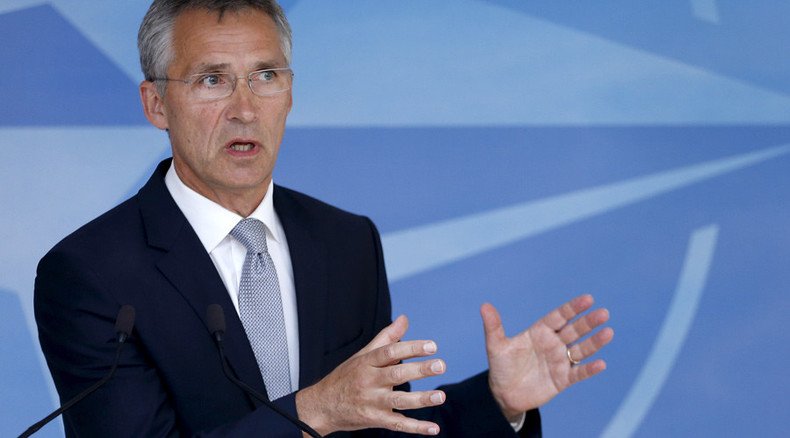 NATO plans to boost its Response Force, the alliance's secretary-general, Jens Stoltenberg, said, adding that two more headquarters are to be created in Eastern Europe, in Hungary and Slovakia.
Calling the current reinforcement biggest "since the end of the Cold War," Stoltenberg said the alliance has stepped up exercises and already set up six small headquarters in Eastern Europe.

"Today I expect us to approve the establishment of two more such headquarters, in Hungary and Slovakia. They will ensure that our forces can move quickly and effectively if they need to deploy," NATO's Secretary-General told journalists in a press briefing Thursday.
The alliance will also "give final approval to the military concept" for the NATO Response Force to make it "bigger, faster and more capable", Stoltenberg said after the defense ministers' meeting.
Stoltenberg also welcomed Germany announcement "to lead the alliance's very high readiness Spearhead Force in 2019," and the UK's plans "to rotate more troops into the Baltics and Poland for training and exercises," NATO said on its website.
Established in 2003, the NATO Response Force is a high readiness force comprising of land, air, sea, and special forces units which are capable of rapid deployment. It is designed to perform a range of tasks, including immediate defense response, crisis management, peace support operations, disaster relief, and the protection of critical infrastructure.
READ MORE: NATO plans 40,000-strong rapid response force in E. Europe
Back at the 2014 Wales Summit, NATO decided to boost the NRF from 13,000 to 40,000 depending on the task it is needed for.
According to Stoltenberg, the military alliance is currently facing many challenges, including the refugee crisis, which he called "a tragic result of the turmoil we see to our south."

Maria Zakharova, the spokesperson for the Russian Foreign Ministry, said that NATO's actions are not contributing to the stabilization of situation in Europe.
READ MORE: 36,000 troops, 200 aircraft & 60 vessels: NATO launches biggest war games in 13 years
NATO has significantly increased its military presence and activity along the Russian border, including in the Baltic States and Eastern Europe, since Russia's reunification with Crimea and the outbreak of conflict in Eastern Ukraine, which the alliance blames on Moscow.
Earlier in October, the alliance launched its biggest drills, dubbed "Trident Juncture 2015," since 2002 with 36,000 international troops from 30 states, including non-NATO nations. The exercises will last till November 16.
READ MORE: Moscow will respond to NATO approaching Russian borders 'accordingly' – Putin
Moscow considers NATO's expansion as hostile and destabilizing, repeatedly warning that Moscow will respond to NATO approaching Russian borders "accordingly."
"If someone threatens our territories, it means that we will have to aim our armed forces accordingly at the territories from where the threat is coming. How else could it be? It is NATO that approaching our borders, it's not like we are moving anywhere," Russian President Vladimir Putin said.
LISTEN MORE:
You can share this story on social media: