RT International hits 3mn 'likes' on Facebook, leaving MSM in its wake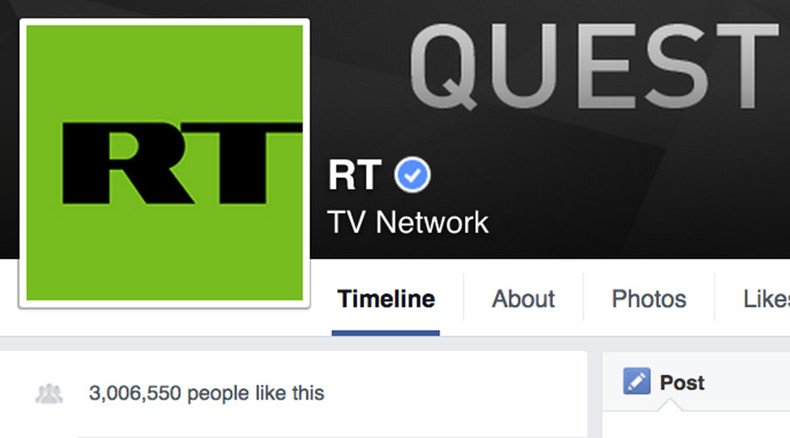 We did it! RT has sailed past the 3 million likes milestone on Facebook, showing that more and more people really do want to Question More!
READ MORE: Load of bullhorn: RT pulls wool over Washington
The magic number was reached over the weekend, as RT's 'like'-meter crossed the 3 million mark, but we have no intention of resting on our laurels, with new goals lying ahead.

Without wanting to blow our own trumpet, it really does go to show that RT is right up there with media powerhouses such as Reuters, ABC, Forbes and many others.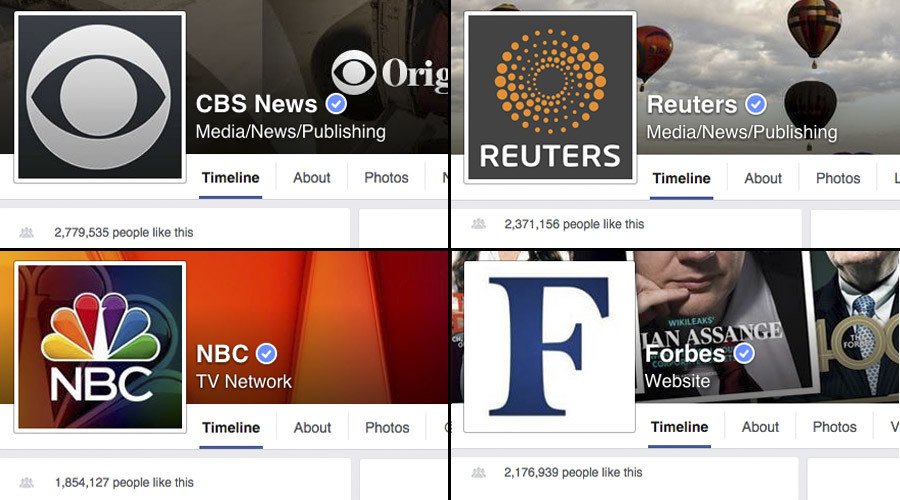 Established media outlets such as the Daily Mail and the Daily Beast were left trailing in RT's wake.
READ MORE: Exposing Daily Beast propaganda: 10 RT political virals the YouTube MSM can only dream of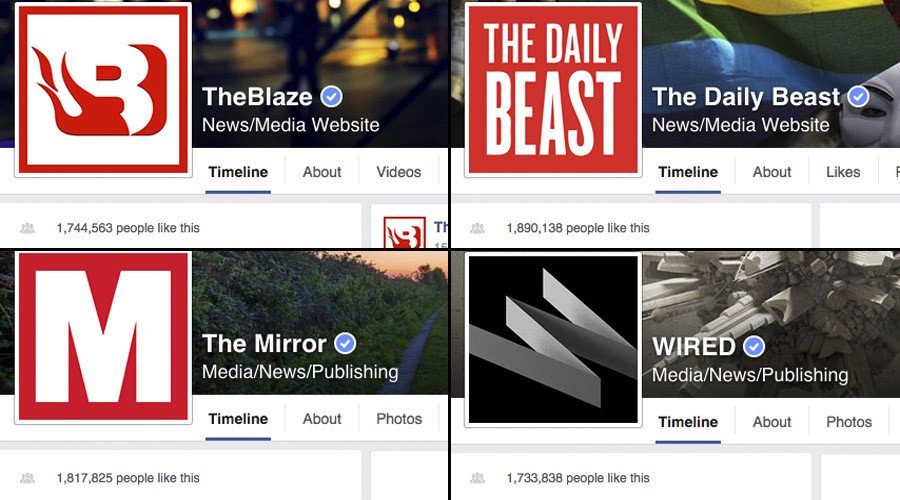 So how did we get there?
By doing what we always do! Giving the reader all the latest news, but looking to Question More and giving the people viewpoints which the MSM won't give the time of day.
Putin's duel with Obama at the UN General Assembly, the EU refugee crisis – we tell the story as we see it and not what the politicians want to hear.
Obama and Putin got involved in a verbal sparring match, trading political punches at the UN General Assembly. Though...

Posted by RT on Tuesday, September 29, 2015
It was gloves off at the UN and RT had ringside seats as Obama and Putin dueled it out – verbally of course – as Russia's president landed some heavy blows in his 'Do you realize what you've done?' speech. The verdict from the viewers? A resounding thumbs up with over 13,000 likes on Facebook.
While the West says Bashar Assad must go, we like to think differently. Why not let the people decide for themselves. RT broadcasted what the Syrian president had to say and the public responded. Almost 25,000 likes and plenty of comments and shares to boot!
RT smashed the 2 million barrier in September 2014 and has continued to go from strength to strength. It's not always about hard news, as we tell our readers about amazing but quirky stories that take place around the globe.
Who could forget Vin Diesel daring Putin to take up the ice bucket challenge? Almost half a million readers liked that story!
For some it was a night to remember, for around 200 million Brazilian's their worst nightmare had come true. They were thrashed 7-1 by Germany at the 2014 World Cup on home soil in a match that will live long in the memory. David Luiz's tears perfectly summed up the mood of a whole nation.
Brazil's David Luiz cries after his team lost to Germany in their 2014 World Cup semi-finals http://on.rt.com/sm8ynw(REUTERS/Eddie Keogh)

Posted by RT on Tuesday, July 8, 2014
This is certainly something that should never be tried at home, but this Shaolin monk showed he really does have 'thick skin.' An astounding 373,644 readers wanted to share his amazing feats of endurance, as not even an electric drill, steel spears or an iron bar were going to harm him.
An iron bar, steel spears and even an electric drill couldn't break through the skin of Zhao Rui, a 24-year-old Shaolin...

Posted by RT on Thursday, March 26, 2015
In July, RT launched RT Play – a new highly visual Facebook-based feature that is yet another way to stay on top of the latest news. Containing video only, it brings you to the heart of the action, experiencing the news as it happens.
Here is some of the hottest footage delivered to you by RT Play.
Fierce ethnic clashes involving bottles and knives in Frankfurt, Germany in broad daylight…
Turks vs Kurds in brutal Frankfurt street-fight: Knives & bottles brandishedCourtesy: Ruptly video agency, for licensing please contact http://ruptly.tv/

Posted by RT Play on Friday, September 11, 2015
A helicopter crashing at an airshow in Russia…
FIRST VIDEO: Moment helicopter crashes at airshow in Russia, pilot escapes burning cockpit DETAILS http://on.rt.com/6o99Courtesy Ruptly

Posted by RT Play on Sunday, August 2, 2015
But it's not always about bad news. Here's how Vladimir Putin spends his Sunday mornings.
How President Putin spends the last Sunday morning of summer? Working out & BBQing in Sochi. FULL VIDEO https://youtu.be/hXmt16sg3Io

Posted by RT Play on Sunday, August 30, 2015
RT stays focused on the bigger picture, making sure that a Royal baby's birth won't overshadow what's really important around the globe.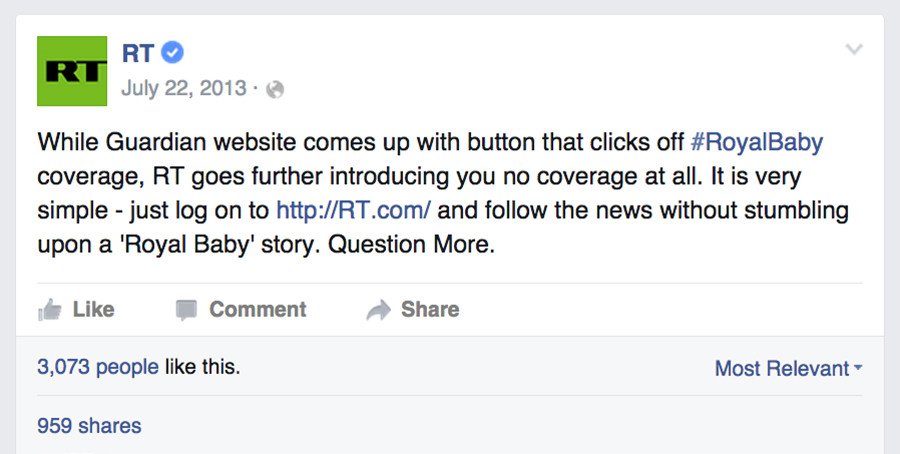 While 3 million 'likes' is quite an achievement, at RT, we have even greater goals in our sights. We are looking for 5 million and beyond and we aim to get there by bringing you all the latest news, but also what's trending on social media so that you keep on clicking and liking.
You can share this story on social media: