It's official: RT is most watched news network on YouTube with over 2bn views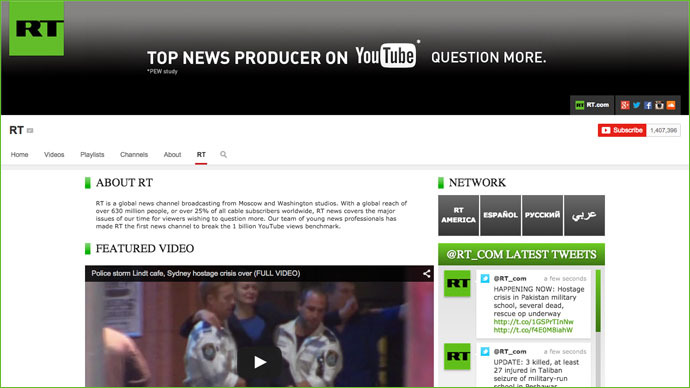 RT's five YouTube channels combined have hit the 2 billion views benchmark, strengthening the channel's role as the leading news provider on the popular video hosting service.
RT content on Youtube has generated over 3 times as many views as CNN & Euronews respectively, and 2.5 times Al Jazeera's viewership. over 540 million views were generated by the network to date in 2014
The five channels – English-language RT International and RT America and the channels in Arabic, Spanish and Russian – have more than 2.5 million subscribers.
"Such a significant number shows that RT continues to lead in promoting alternative opinions online – the space that used to be dominated by the mainstream media," RT's Editor-in-Chief Margarita Simonyan commented on the achievement. "We are proud of this, and we will continue working hard to remain YouTube's number one TV news channel."
Last year RT International was the first news channel to score over 1 billion views on YouTube.
RT's footage of the Russian meteorite exploding over Chelyabinsk remains the most popular news video on YouTube, with over 39 million views so far.
You can share this story on social media: