Exposing Daily Beast propaganda: 10 RT political virals the YouTube MSM can only dream of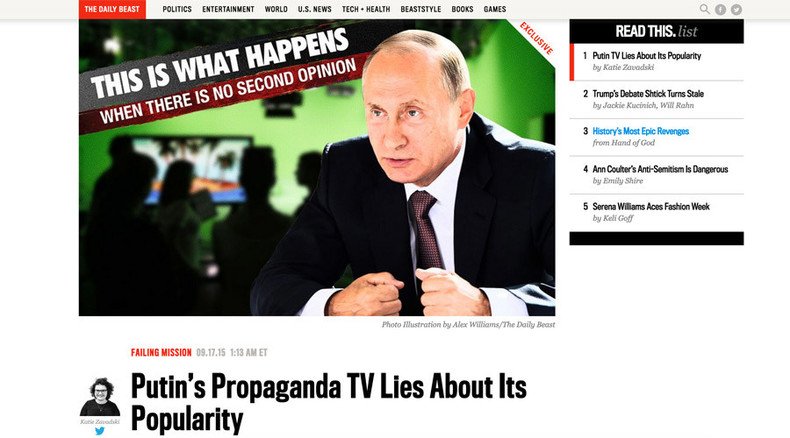 The Daily Beast has spectacularly failed to do math, but why should we be surprised? In fact we're here to help. Spewing unverified and plainly incorrect data from years ago (while falsely presenting it as relevant) it tries to claim that RT's popularity ain't all that.
"Of all the YouTube clips watched over five years, 81 percent—344 million views went to videos of natural disasters, accidents, crime, and natural phenomenon."
Ok, lets start here. This number proves the report (3-year-old report ... Three-year-old report, Carl!) which the Daily Beast bases its story on is full of faulty data – the numbers are not even close to reality. It says RT received some 420 million views over five years (2007-2012) when in fact we garnered twice that – 850 million.


"RT's political news videos, featuring the content by which it seeks to shape Western opinion and thus justify its existence, accounted for a mere 1 percent of its total YouTube exposure, with fewer than 4 million views."
The 'leak' (ahem) inspired the Beast to conclude that RT's "highest-trafficked videos on YouTube, for instance, apparently pertain to 'metrosexuals, bums, etc.' rather than anything political."
Let's just pick our highest-ranking stuff – and to help the Beasties we left out all of our news-related content that included dramatic pictures – obviously, the most viral content on any video platform (no, not "metrosexuals, bums etc" but protests, riots, raw war zone footage).
So here are 10 from the top:
(1) Putin: Who gave NATO right to kill Gaddafi? (2.5 million views)


A strong opener. If we were at the Beast right now, we'd be reaching for the calculator. If we were in NATO we'd be reaching for the off-switch ... because the truth hurts. RT consistently pointed out that regime change in Libya would destabilize the region. Did the Beast?
(2)Immortal Technique on Obama, 9/11 truth & Corporate America (1,930,667 views)
Immortal Technique: The activist rapper was part of RT's emmy-nominated Occupy coverage – an expression of anger and powerlessness as the 1 percent transferred wealth to itself.
(3) 'Who the Hell You Think You Are?' Nigel Farage throws egg in Eurocrat faces (1,569,650 views)
Perhaps the most notorious speech EVAR to be given at the European Parliament, and haven't UKIP done a good job since? Leader Farage had RT airplay long before his party saw a surge in the polls.
(4) Mahmoud Ahmadinejad to the UN: 9/11 was an inside job (1,225,302 views)

Iranian firebrand president and all-round strange person wowed the UN with his full-on truther claim. Because interweb. Sixteen thousand comments, guys. (How's that Facebook page going?)
(5)NSA Whistleblower: Everyone in US under virtual surveillance, all info stored (1,178,938 views)
Long before Snowden, NSA whistleblower William Binney warned America that it had no privacy. The courageous Mr Binney has been instrumental in leading the pushback against NSA omnipotence in the US.
(6)Putin talks NSA, Syria, Iran, drones in RT exclusive (1,072,027 views)
That man again. He's pure box office bait. An exclusive Q&A without notes (or a teleprompter) saw Putin on form, and in his element.
(7)Worst economic collapse ever – Gerald Celente (929,520 views)
Trends forecaster and MSM critic Gerald Celente is loved at RT for how he says 'broccoli', but has a great take on several topics, many of which omit metrosexuals and bums. In this interview he batters austerity, QE and corporate America. Evergreen topics.
(8) Barrett Brown on the Megaupload Op: Anonymous downs FBI, DoJ, music sites in biggest attack ever (811,876 views)
RT was the only network which covered the Megaupload takedown in real time with non-stop news alerts. The renowned Barrett Brown, now jailed for five years over his links to Anonymous, shared his views in the aftermath of the news which went ignored by the MSM.
(9)The 19-yr-old Kurd fighters who can send ISIS militants to hell (946,273 views)
The Kurdish female battalions have struck a global chord among anyone horrified by ISIS and the war in Syria & Iraq. RT was one of the first to bring the Kurdish female battalion story to the world while producing dozens of viral war zone reports.
(10)The Julian Assange Show ft Nasrallah, Zizek & Horowitz, Nabeel Rajab, Rafael Correa, Imran Khan, Anwar Ibrahim, Noam Chomsky) (Over 2 million views on all episodes)
As a bonus, 12 hours of raw political dialogue in a World Tomorrow series exclusive which collectively generated years of YouTube viewing time. Assange, while under UK House arrest, spoke and smoked with thinkers he regarded as the shapers of tomorrow.
So let us total this up for you: 12,069,938 views from a handful of political interviews (+2,000,000 for Assange). That's more views than Your YouTube channel has generated, ever. So, dear Daily Beast, next time you crunch someone else's numbers get some help. Do your math. Verify. We'll be happy to help.
Sincerely yours, RT (the most watched news network on YouTube with over 2.5 billion views)
The statements, views and opinions expressed in this column are solely those of the author and do not necessarily represent those of RT.
You can share this story on social media: