Cristiano Ronaldo meets Syrian boy tripped up by Hungarian camerawoman (VIDEO)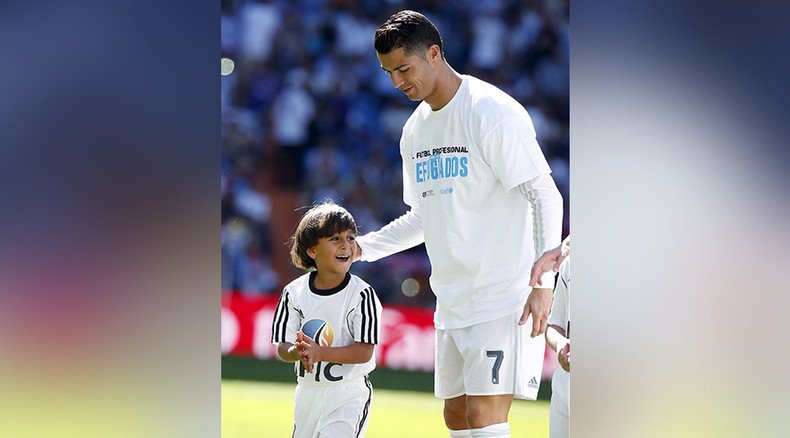 The dream of a seven-year-old Syrian boy, who along with his father was tripped up by a Hungarian camerawoman while being pursued by police, has come true. He met his football idol Ronaldo.
Football legend Cristiano Ronaldo decided to make it up for Zaid Mohsen and his father Osama Abdul who were unlucky enough to meet a Hungarian camerawoman who "panicked" and tripped up the two while they fled the police from a refugee camp earlier this month.
Ronaldo invited the boy, his father and his older brother Mohammad, 18, to a Real Madrid game against Granada this weekend. The little one was even given the honor to walk the football pitch next to the famous football player as his personal mascot.
At some point the boy apparently felt so excited that he even tried to perform Ronaldo's well-known celebration move, almost managing it.
"Little Zaid got to know his idol, Cristiano Ronaldo, with whom he was photographed on the pitch," says a statement on Real Madrid official website accompanied with a photo of the family proudly standing along with Ronaldo and other members of the team.
"The father of the Syrian family, who was tripped by a Hungarian journalist, and his sons met (coach) Rafael Benitez, the technical staff and the squad minutes before the final training session ahead of the game against Granada."
READ MORE: 'Refugees welcome': Real Madrid latest club to help refugees with €1 million donation
Club president Florentino Perez had already given the family a tour around Real Madrid's Santiago Bernabeu home stadium earlier this week.
"It's a dream come true. I love Real Madrid, it's my favorite team and that of all my family," the father said. "I'm very thankful for the president's welcome. In Syria we dreamed of seeing a Real Madrid game and now it will come true."
Osama Abdul Mohsen was recently offered a job as a football coach in Spain as it turned out that he used to be one in Syria.
READ MORE: Goal! Tripped Syrian asylum seeker scores football coaching job in Spain
Spanish football school Cenafe in Getafe immediately contacted Mohsen after media reports and offered him a job, accommodation and generally everything his family might need.
As for the camerawoman, she was fired after the footage of her tripping over and kicking refugees leaked to the social media. She apologized later, saying that she "honestly regrets" her actions.
You can share this story on social media: