Russian defense, Pentagon chiefs agree to restore military contacts, discuss Syria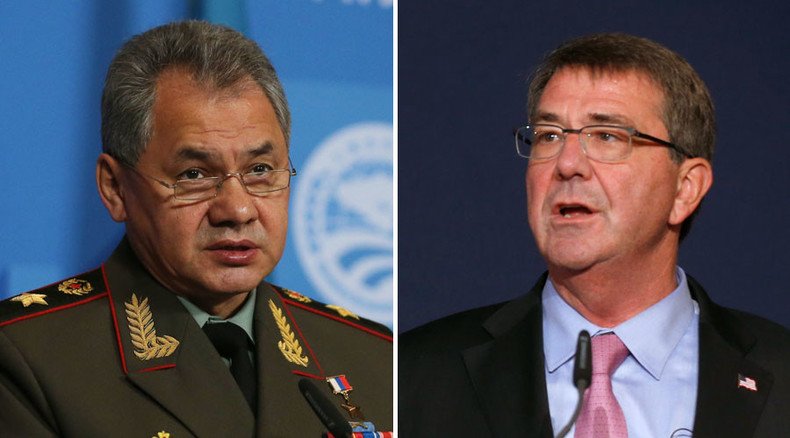 Leaders at the Russian Defense Ministry and the Pentagon have agreed to restore military contacts and continue consultations, Russia's military officials said in a statement.
Russia's Minster of Defense Sergey Shoigu and his US counterpart Ashton Carter talked by phone on Friday to discuss the situation in the Middle East and the Syrian crisis, among other issues. They agreed to restore contacts between the ministries.
"The ministers noted the restoration of military-to-military contacts and agreed to continue consultations," spokesperson for the Russian Defense Ministry, Igor Konashenkov, said.
The "detailed" discussion that lasted over an hour revealed that Moscow's and Washington's views "are close or coincide" on most of the issues considered, Konashenkov added.
READ MORE: Russia may mull expedition to Syria if request lodged – Peskov
The ministers also talked on the need to coordinate "bilateral and multilateral efforts to combat global terrorism".
It was the first contact between the ministries since last August, as the relations between Russia and the US remain soured by the conflict in Ukraine.
Former US diplomat Jim Jatras told RT that the recent agreement could be "a huge breakthrough" both for conflicts in Ukraine and in Syria. However, those who are opposed to the countries' cooperation in President Obama's administration won't "happily or gladly accept the lifeline that Moscow is offering," because "for a lot of these people Syria is a sideshow, kind of like Ukraine, that the real enemy is Russia, even more than it is Damascus."
"Our so-called allies – Saudi Arabia, Turkey, Gulf states – that are supposed to be a part of our frankly ridiculous coalition against ISIS have their own agendas," Jatras told RT. "The idea that there is an effective coalition against ISIS led by the United States is as absurd a failure as our so-called moderate terrorists within Syria."
READ MORE: Cause of Syrian civil war, ISIS & Western propaganda: Assad interview highlights
Jatras added that the cooperation between Russia and the US could boost the effectiveness of the campaign against Islamic State, help avoid any "unintended incidents" and "open the door to US cooperation with Damascus government."
"What must happen is for Washington to finally admit that Assad is not going anywhere. This fantasy that they have been entertaining for four years that with just a little more push Assad will be gone, Assad must go, nothing can happen till then – that's got to end," he said. "They've got to come to the realization that the Syrian government will stay in place, that there could be some political reconciliation with genuine political elements within Syria."
In May, Russia's Ministry of Defense and NATO also restored a direct telephone link. The cooperation was suspended last April due to the situation in Ukraine as well, but after nearly a year the need "to avoid misunderstandings between NATO and Russia" outweighed the discord.
READ MORE: Kerry visits UK for talks on Syria, refugee crisis
On Friday, US Secretary of State John Kerry said that President Barack Obama hoped that military talks with Russia would "help define some of the different options available to us as we consider next steps in Syria."
"Our focus remains on destroying ISIL [Islamic State, formerly known as ISIS\ISIL] and also on a political settlement with respect to Syria, which we believe cannot be achieved with the long-term presence of [President Bashar] Assad," Kerry said. "We're looking for ways in which to find a common ground."
LISTEN MORE:
You can share this story on social media: