Russia may mull expedition to Syria if request lodged – Peskov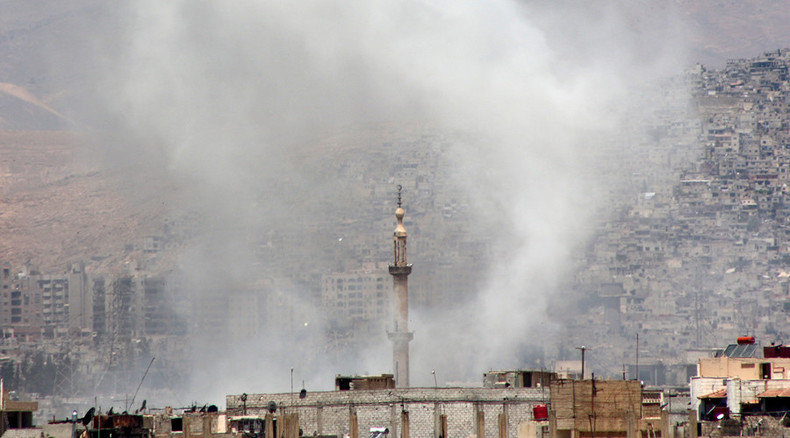 Moscow would consider Damascus' request to form a military expedition to Syria, but would not speculate on the issue, the Russian president's press-secretary said. The Syrian FM said earlier his country could ask for military help if needed.
President Vladimir Putin's spokesman Dmitry Peskov fielded journalists' questions on whether Russia would agree to a joint military operation with the Syrian army.
"If such a request is lodged within a framework of bilateral contacts, it would be discussed and considered [by the Russian leadership]. So far it's hard to hypothesize," he said on Friday.
On Thursday, in an interview to national state television, Syrian Foreign Minister Walid Moallem said Damascus "would ask Russia to dispatch its troops to fight on the Syrian army's side, if it becomes necessary."
"If the need arises, Syria would not hesitate to request this of Russia," the Syrian FM said, adding "at the moment there are no Russian troops in Syria."
The Syrian foreign minister stressed Moscow had provided support since the beginning of the conflict. He didn't elaborate on what kind of support was given.
"We would welcome any kind of political settlement, whether it comes through from the Russians or the Iranians," Moallem said.
On Wednesday, Dmitry Peskov commented on an interview given by Finland's former President Martti Ahtisaari to the Guardian, in which the politician claimed that in 2012 Moscow had been looking at a plan to oust President Bashar Assad.
"Regime change is not Russia's business – that's something Russia has never pursued," Peskov said.
Earlier this week, Russia's Foreign Minister Sergey Lavrov reaffirmed that Moscow will continue supporting Syria in its fight against Islamic State (IS, formerly ISIS/ISIL) and provide Damascus with military supplies.
The Russian Foreign Ministry also said on Friday it was ready for negotiations with the US on Syria. "We have never refused dialogue with the United States," said ministry spokeswoman Maria Zakharova. "We are open to it now on all matters of mutual interest, including Syria," she added.
Also this week, US State Department spokesman John Kirby repeatedly blamed Assad for the existence of Islamic State terrorists.
"He is the reason ISIL, and other terrorist groups, have been allowed to fester and grow and sustain themselves inside Syria," Kirby said.
LISTEN MORE:
Kirby ruled out any role for the Syrian Army in battling IS, and said Russian support for Damascus in that struggle would "isolate" Moscow in the world.
On Tuesday, Vladimir Putin said Moscow is providing military aid to the Syrian government against Islamic State militants and would continue this support.
"We give technical-military support to Damascus and will continue doing it," Putin said. "And we call on other countries to join us in this."
READ MORE: Putin: ISIS has designs on Mecca, Medina, Jerusalem, endangers Europe & Russia
You can share this story on social media: