Al-Qaeda's magazine encourages lone wolf attacks against Buffet, Gates & Bloomberg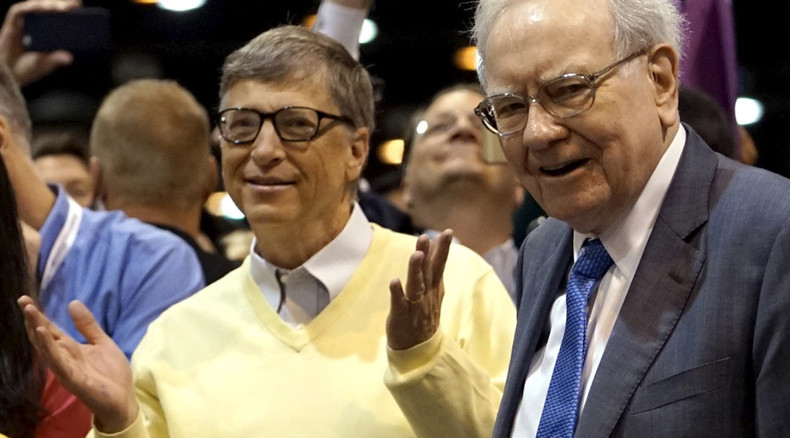 Al-Qaeda's English-language online propaganda magazine Inspire has reportedly put several US billionaires, including Bill Gates, Michael Bloomberg and Warren Buffett, on a kill list, encouraging lone-wolf terrorist attacks on them.
The magazine article was illustrated by a photo showing blood-spattered pictures of several tycoons next to a smoking gun, according to NBC News.
"Wealthy entrepreneurs" and other targets are reportedly told that they will only be removed from the list if they withdraw their money from US banks and denounce support for Israel.
Among others on the list included brothers Charles and David Koch, internet entrepreneur Larry Ellison, and casino magnate Sheldon Adelson.
READ MORE: Rand Paul seeks to tie Pentagon funding to release of classified 9/11 docs
The magazine however misspelled some names and confused some facts, for example it misidentified one of the Wal-Mart heirs Jim Walton as his late father, Sam Walton.
Inspire, published by Al-Qaeda in the Arabian Peninsula, was once edited by the Pakistani American publisher Samir Khan, who was killed in a 2011 drone attack in Yemen.
The terror group's latest public offensive to encourage a series of attacks on America's economic top brass comes ahead of the 14th anniversary of the 2001 World Trade Center attack.
Al-Qaeda, founded by Osama bin Laden in late 1980s, was responsible for the September 11, 2001 attacks that killed 2,996 people. The terror group's current leader, Ayman al-Zawahiri (an Egyptian doctor with a master's degree in surgery) took over the leadership after Bin Laden was killed in a 2011 US raid in Pakistan.