ISIS tries to 'sell' Chinese, Norwegian hostages in online magazine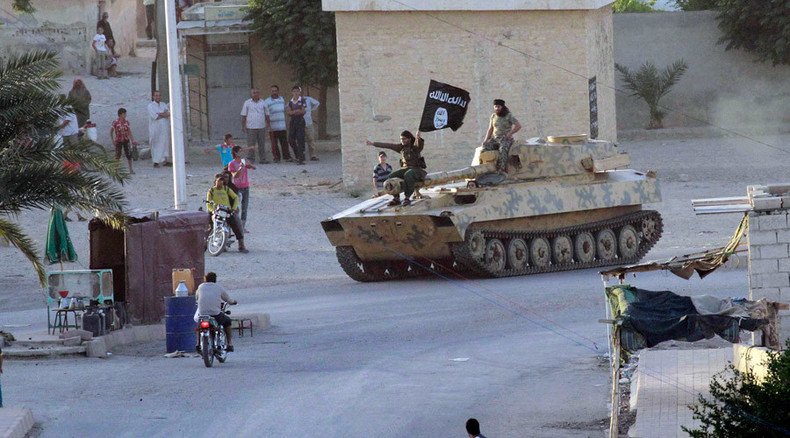 An Islamic State (IS, previously ISIS/ISIL) online magazine has posted pictures of two hostages, one Norwegian and one Chinese, advertising the men as "for sale." The extremist group claims they were "abandoned" by their states after being captured.
The photographs of the two men wearing yellow prison uniforms were posted in the terrorists' Dabiq magazine on Wednesday.
The Norwegian man has been identified as Ole Johan Grimsgaard-Ofstad, 48, from Oslo, and the Chinese man is said to be Fan Jinghui, 50, a freelance consultant from Beijing. Nothing is mentioned about where and when the two were captured.
The pictures are displayed in the form of an advertisement complete with "for sale" signs and a telegram number for "whoever would like to pay the ransom for his release and transfer."
Beside the pictures, there is a warning: "This is a limited time offer."
Home addresses and personal information for the two hostages were also listed in the ad, which claimed that Norway and China had abandoned the two men by not doing "[their] utmost to purchase [their] freedom."
While confirming that a Norwegian man in his forties was indeed captured in Syria back in January, Norwegian Prime Minister Erna Solberg said at a press conference on Wednesday that no ransom would be paid to the terrorists.
"The kidnappers have presented a series of demands and significant amounts of ransom money," she said. "We cannot give in and won't give into pressure from terrorists and criminals. Norway does not pay ransom."
Solberg added that "everything indicates that [Islamic State] is behind it."
Islamic State, which is bent on creating a radical Sunni "caliphate" in a region spanning Iraq and Syria, has gathered the support of over 30 militant groups in the Middle East, Asia and Africa, including Nigeria's Boko Haram.
LISTEN MORE:
READ MORE: Executioner 'Jihadi John' flees ISIS fearing for his own head – report
The extremist group has become notorious for its gruesome hostage execution videos. It has brutally beheaded citizens of Australia, France, Japan, the UK, and the US, among others. Aside from aid workers and civilians, IS has also executed dozens of Syrian and Kurdish soldiers. Back in February, the group released a video showing a Jordanian pilot being burned alive.
In August, IS militants beheaded a prominent Syrian archaeologist, Khaled Asaad, 82, who had worked as head of antiquities in the ancient city of Palmyra for over five decades. Palmyra itself – a UNESCO World Heritage Site – suffered irreparable devastation, with terrorists uploading videos allegedly showing the ruins of its two major temples being blown up.
The militants have begun thinking up even more horrific ways to kill people. In August, jihadists killed 10 men by forcing them to kneel on top of explosives buried just underneath the soil, blowing them up simultaneously. The execution, which reportedly took place in Afghanistan, was filmed in great detail.
READ MORE: ISIS fears: Hungary TV report suggests 'militants' posing as refugees cross into Europe
This summer, the first reports of women becoming targets of IS executions emerged, as militants beheaded two female civilians in Syria for "witchcraft and sorcery."
Meanwhile, Islamic State executioner Mohammed Emwazi, known as Jihadi John, promised in an August video to return to the UK and commit acts of terror, such as "cutting heads off."
You can share this story on social media: