​ISIS beheads female civilians for the first time - monitor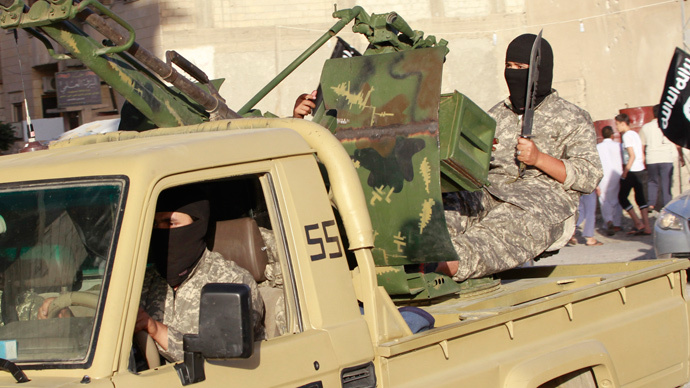 Islamic State militants have beheaded two civilian women in Syria for the first time, a monitor says, adding that the victims were accused of sorcery and witchcraft and were executed along with their husbands.
"ISIS executed two women by beheading them in Deir Ezzor [Deir al-Zor] province [in eastern Syria], and this is the first time the Observatory has documented women being killed by the group in this manner," Rami Abdulrahman, head of the Syrian Observatory for Human Rights said.
READ MORE: A year of terror: ISIS kills over 3,000 in Syria since declaring 'caliphate' – report
The beheadings took place on Monday and Sunday. One woman was murdered in the provincial capital with her husband. The other woman was also killed with her husband in al-Mayadeen (Mayadin) city.
According to the monitor, all of the victims were accused of "witchcraft and sorcery."
In recent days Islamic State (IS, formerly ISIS) militants have also strung up eight men, including two minors, alive on crucifixes for reportedly failing to fast during Ramadan, a Muslim religious period.
IS militants, who now control large parts of Iraq and Syria, have launched a massive PR campaign posting videos of hostage executions and other propaganda stunts online.
READ MORE: ISIS beheads Libyan soldier in front of children for 'educational purposes'
They often appeal to the religious feelings of Muslims, discords between the sects of Islam, as well as to outrage caused by Western interventions in the Middle East.
The extremists performed multiple atrocities in the region, beheading local and foreign men, including fighters, journalists and aid workers. One of the multiple videos by the group shows the beheading of 21 Christian Egyptians kidnapped in Libya
In February they reportedly burnt 45 people alive near the town al-Baghdadi in western Iraq. A Jordanian pilot Moath al-Kasasbeh who was captured by militants in late December, was burnt alive in a cage.
READ MORE: ISIS sex atrocities: Child rape, forced virginity surgeries exposed in UN report
Some of IS's female captives were stoned to death after being accused of adultery. The Observatory said that the extremists decapitated the corpses of Kurdish female fighters during battles.
A video surfaced on YouTube in November, showing IS militants laughing and joking while buying Yazidi slaves.
Many of the women have expressed feeling ashamed and are unable to restart their lives after surviving the brutal and humiliating attacks.
READ MORE: Disturbing footage of ISIS punishing own fighters for smoking

You can share this story on social media: