Disturbing footage of ISIS punishing own fighters for smoking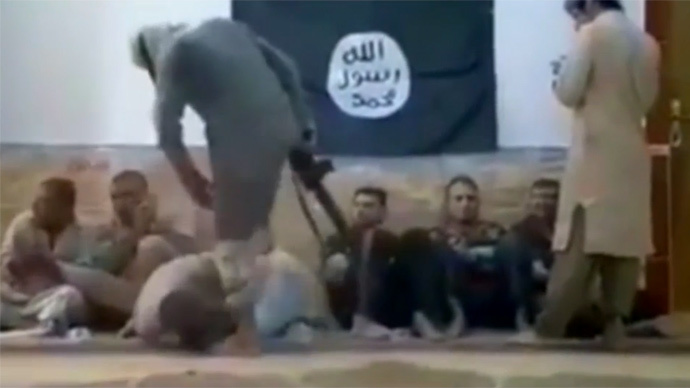 A brutal video has emerged of Islamic State commanders punishing their own fighters after they were caught smoking by stamping on their heads and whipping them with belts.
Islamic State (formerly ISIS/ISIL) has released the video showing militants brutally beating a group of fellow jihadists.
First, the footage demonstrates the group sitting next to the black ISIS flag, then others begin stamping on them, and prodding them with their rifles. Afterwards, several militants start beating and whipping the men.
Islamic State claims that smoking is an un-Islamic activity, with the first case of smoking punished by 40 lashes.
A second offense results in whipping, with the jihadist placed behind bars, while a third case of smoking could lead to a hefty fine and a trip to a punishment camp.
Islamic State is widely known for the most brutal practices against everything that is considered unlawful on the territory under their control.
READ MORE: Gay Muslim men joining ISIS risk execution – reports
The terrorist group also shares footage of their atrocities online.
The latest video is also far from first case of punishment for smoking: a top Islamic State security official was found decapitated in Syria in February, allegedly with a cigarette left in his mouth.
The words "O Sheikh, this is munkar," were written on his body. It translated as "this is evil, you Sheikh," the UK-based Syrian Observatory for Human Rights reported.
READ MORE: ISIS sex atrocities: Child rape, forced virginity surgeries exposed in UN report
For instance, adulterers who are involved in a sexual relationship are subject to stoning to death, while homosexuals are thrown off buildings.
Also, those found guilty of "highway robbery" face execution.
Finally, public crucifixions in Raqqa, northern Syria, have become commonplace.
A recent UN report also revealed horrifying sexual violence, including child rape and forced virginity surgeries: one of the victims was married 20 times, and each time had to undergo the operation.
The civil war in Syria has claimed the lives of some 215,000 people over the past four years, with a large number of the deaths the result of violence carried out by Islamic State, according to the latest estimates.
You can share this story on social media: