ISIS beheads Libyan soldier in front of children for 'educational purposes'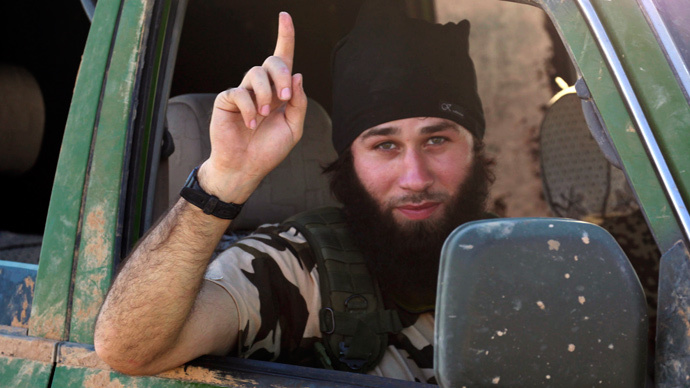 Masked militants from the Islamic State group have beheaded a soldier in front of a group of children, aged six to eight years old, outside a mosque in Libya for "educational purposes." The jihadists have released photographs of the execution.
The incident reportedly took place in the eastern Libyan city of Derna, seized by ISIS last October.
The man beheaded in Ras Hillal has been identified as Abdulnabi al-Shargawi, from Beida, who worked for the post office but had volunteered for the Libyan National Army, the Libya Herald reported.
The man, who was wearing an orange jumpsuit, was dragged into a public square and executed in front of a group of children for "educational purposes."
Derna #Libya: #ISIS/Daesh today beheaded Abdulnabi Shurgawi from Bayda, captured 2 days ago. They called him apostate pic.twitter.com/MrmZ3GCh1c

— James Wheeler (@wheelertweets) June 3, 2015
After the images were shared on the internet by ISIS supporters, a Libyan cartoonist released a sketch illustrating the latest execution, entitled "Derna and the future of its children." The drawing captures a group of curious boys watching a masked militant holding a knife to the neck of a man in an orange jumpsuit. Mimicking the militant's gestures, each child is holding a knife up to the neck of a doll.
Islamic State has become notorious for performing gruesome executions of Jordanian, Japanese, American, British, French, and Egyptian hostages, and also for filming and publishing photos and videos of the killings on social media.
READ MORE: ISIS releases video of child executing 'Israeli spy'
In March, Islamic State (formerly ISIS/ISIL) released graphic footage showing a young boy executing an Arab-Israeli man accused of being an "Israeli spy."
In the video the victim, who identifies himself as 19-year-old Mohammed Said Ismail Musallam, can be seen kneeling in front of the boy, who is believed to be no older than 12 years old. The boy shoots the captive in the head several times.
ISIS has been recruiting children from across the world, not just from the Middle East, to join the group. The extremists have kidnapped about 500 children in two Iraqi provinces and taken them to their bases in Iraq and Syria. Officials are concerned the children could be used as cannon fodder in terror attacks. "Daesh [an Arabic term for ISIS] has kidnapped at least 400 children in the western province of Anbar, and taken them to their bases in Iraq and Syria," a member of Anbar's Provincial Council, Mohammed Farhan, told the Anadolu Agency in late May.
According to the Syrian Observatory for Human Rights (SOHR), Islamic State jihadists recruited at least 400 children in neighboring Syria during a three-month period in the winter of 2014/15. It's believed that these children, dubbed "Cubs of the Caliphate," received military and religious training.
Circulating on #Libya|n social media: "#Derna and the future of her children" درنة ومستقبل اطفالها# #ليبياpic.twitter.com/I6fF01jfbf

— Libya Al Hurra (@LibyaAlHurraTV) June 4, 2015
"ISIS terrorists are deluded, narcissistic, glory-hunting inadequates who call themselves soldiers, but they're selling themselves with professionally-made videos that make them seem glamorous and sexy," Nazir Afzal, a prominent UK prosecutor who stepped down in March, told the Times. "They make these kids feel wanted and loved, they tell them they understand them and they distance them from their friends and family," he said. Afzal's remarks came after a number of school pupils fled the UK to join ISIS in Syria. It is believed that up to 600 Britons, mostly teenagers and young adults, have joined the militant group since 2013.
The president of the German Domestic Intelligence Service (BFV), Hans-Georg Maassen, said late March that over 70 German young women, nine of them schoolgirls, left for Syria and Iraq to join the Islamic State.
The Syrian Observatory for Human Rights reported in March that upon coming to grips with difficulties in attracting adults into their troops, ISIS has appeared to boost its recruitment of children and teenagers this year.
You can share this story on social media: