Jihadi John pledges to return to Britain and 'cut heads off'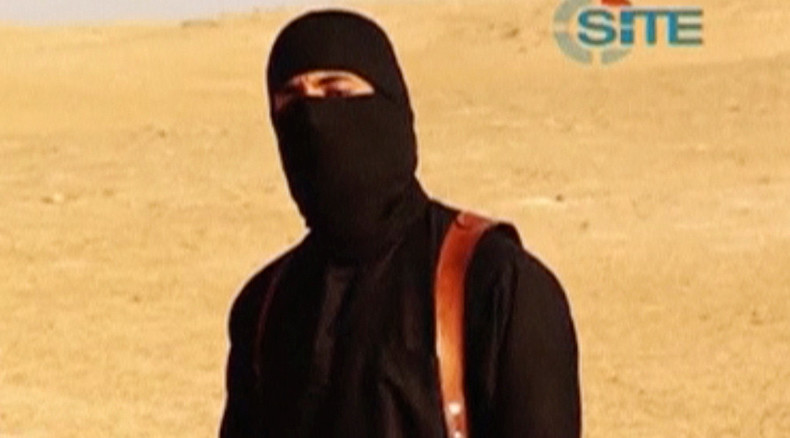 Islamic State executioner Mohammed Emwazi, previously known by the moniker Jihadi John, has appeared in a video in which he vows to return to the UK and commit acts of terror.
Appearing without his trademark balaclava for the first time, the 17 seconds of footage obtained by the Mail on Sunday show the 27-year-old promising he will "carry on cutting heads" and says he will return to Britain with the extremist group's leader Abu Bakr al-Baghdadi.
The footage, believed to have been shot on a mobile phone, is the first glimpse of Emwazi since he was unmasked in February. The last time he was caught on camera was during Islamic State's (IS, formerly ISIS/ISIL) execution of Japanese hostage Keji Goto.
The executioner, originally from London, has played a part in the killing of two British hostages in Syria, as well as at least five other captives.
READ MORE: Jihadi John's university hosts 25 radical speakers – report

The video was accessed by fighters in the Free Syrian Army, who sent it to colleagues in Bulgaria.
It shows Emwazi standing next to a vehicle, turning to face the camera, before looking out to the desert again.
There is no accompanying sound for the clip, but sources from the Mail on Sunday claim the extremist says he will return to the UK.
"I am Mohammed Emwazi. I will soon go back to Britain with the Khalifa [the head of Islamic State]," he says, adding he will continue to "cut heads off."
READ MORE: Executioner 'Jihadi John' flees ISIS fearing for his own head – report

It is believed to have been shot roughly two months ago in Syria, near the IS-controlled town of Deir Ezzor.
Emwazi is reported to have fled IS over fears his unmasking would compromise his effectiveness and concerns he was being tracked by British and US Special Forces.
A £6-million reward for the executioner has been issued by the US military.
Emwazi rose to prominence in the summer of 2014 when he was filmed taking part in the execution of American journalist James Foley.
He subsequently appeared at the murders of Stephen Sotloff, an American, and the two British victims David Haines and Alan Henning.
He also took part in the execution of American aid worker Peter Kassig and the two Japanese hostages Haruna Yukawa and Keji Goto.
Emwazi was also reportedly present when 17 Syrian soldiers were murdered.
LISTEN MORE: