ISIS terrorists execute 10 prisoners by forcing them to kneel on landmines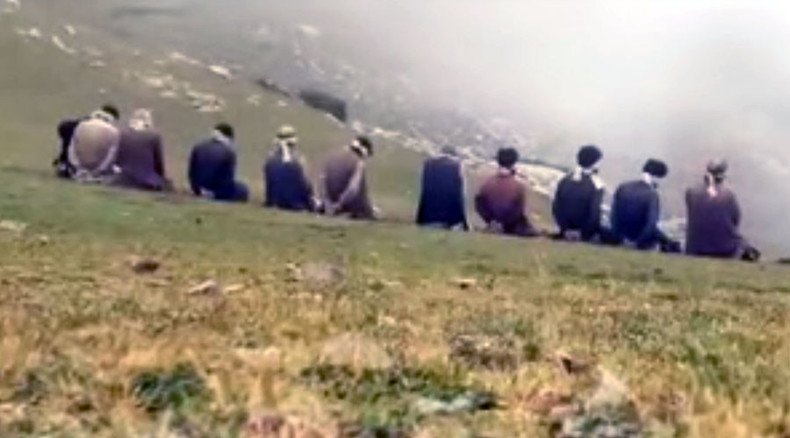 Islamic State jihadists have resorted to a new way of executing their prisoners, killing 10 men by forcing them to kneel on top of explosives buried just underneath the soil and blowing them up simultaneously.
The terrorists filmed the execution in detail, including footage of ISIS henchmen preparing the execution site. The footage shows them planting a number of wired explosives beneath a thin layer of soil on sloping ground, lined up in a row.
Then the militants, not even hiding their faces, bring their blindfolded victims to the execution site. The 10 prisoners are forced to their knees, each one above a visible mark of freshly excavated soil. After the jihadists took photos with black flags near the victims, the executioners run away to avoid being injured by the series of explosions.
The moment when the explosions take place is not shown in the video. The execution was reportedly carried out at an unidentified location in Afghanistan.
The victims are believed to be from the Shinwari tribe in the Afghan province of Nangarhar. The Islamic State terrorists accused them of aiding the Taliban, which resulted in ISIS being expelled from that province recently, The Daily Mail reported.
Among the victims there were also those who were condemned to death for helping the Afghan government.
ISIS militants have frequently staged mass executions of their enemies and the civilian population. In the mass executions, dozens and even hundreds of prisoners have been shot in the head.
Later, individual and mass beheadings were staged theatrically for ISIS propaganda photos and videos posted online. The terrorists also have used other barbaric methods of execution, including decapitation with explosives and drowning or burning the victim alive in a cage. They have also used RPG rocket launchers to execute prisoners tied to poles, and have killed several people trapped in a car with a single rocket-propelled grenade.
The so-called Islamic State (formerly ISIS/ISIL) was formerly an affiliate of Al-Qaeda before they split from the jihadist movement in February 2014. ISIS militias currently control large swathes of Iraq and Syria.
You can share this story on social media: