Russia to create large drone for scouting Arctic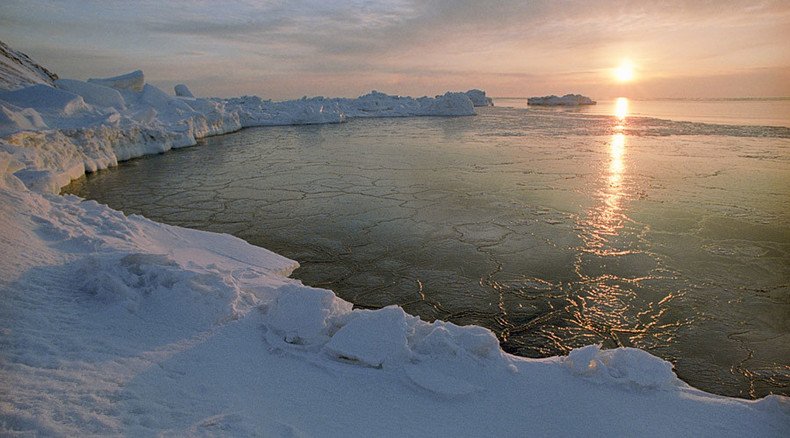 Two Russian companies are going to develop a heavy class of drone for monitoring the Arctic shelf, the press service of one of the companies announced at the Russia Arms Expo 2015.
A new heavy drone weighing 1.5 tons with a flight range of up to 4,000 kilometers (which is enough to fly from the Russian shore to the North pole and back again twice) will be created within the joint project of two Russian engineering companies – the drone developer 'Tiber' and RTI Aerospace Systems.
Developers claim that the drone will come equipped with a fully automated operating system.
The new drone will be designed for providing effective control over the Russia's Arctic shelf borders as well as for finding vessels in distress and environmental monitoring.
According to the developers, the drone will be able to continuously stay aloft for as many as 35 hours. Its first flight planned for 2017.
The new drone project was announced by Tiber's press service during the international weapons and military equipment exhibition 'Russia Arms Expo RAE-2015,' which takes place in the Russian city of Nizhny Tagil from September 9 to September 12. About 160 companies are taking part in the expo, as well as representatives from 65 countries.
However, the new drone is only one of Russia's advanced projects, as the country is rapidly augmenting its military and technical potential.
In late June, Russian media reported another drone project that is being developed by the Russia's Ministry of Defense and will also be reportedly finished by 2017. New stealthy, highly autonomous torpedo-like submersible drones will be developed and commissioned by the Russian Navy in two years, Izvestia Daily claims, citing the Russian Navy's policy document.
READ MORE: Russian Navy plans on commissioning undersea reconnaissance drone in 2 years – newspaper

Russia is already using its drones in the Arctic region. The first short range drone flights were launched in Russia's Far East in May and in the country's North in June.
"Takhion and Eleron-3 unmanned aerial vehicles have been taking off into the skies of Murmansk region," the head of the Russian Defense Ministry's Northern Fleet press service, Vadim Serga, said at that time.
Russia is also on its way to creating a complex control system for the Artic including drones as well as satellites and underwater sensors that is due to be launched by 2025.
"By 2020-2025, a system to monitor the Arctic will be created. This includes a unified data space, monitoring everything going on in the air, water, underwater and on land," a spokesperson for RTI Systems corporation, which is developing the system, told RIA Novosti on August 7.
READ MORE: Drones & satellites: Russia to create Arctic complex monitoring system by 2025

Additionally, Russia is reviving its military presence in the Arctic by renovating its bases closed in 1990s and creating new module-based ones alongside new radars, thus giving Russian forces year-round control over airspace and ocean 500 kilometers from the shore.
"It's all being done for the Russian Federation to defend its interests across the country, and also promote its interests in the Arctic," Deputy Commander of Russian Aerospace Defense Kirill Makarov told Russian news agencies.
LISTEN MORE:
READ MORE: Russian radar locators, fighter jets to be deployed in the Arctic – Defense Ministry
You can share this story on social media: