Russian Navy plans on commissioning undersea reconnaissance drone in 2 years – newspaper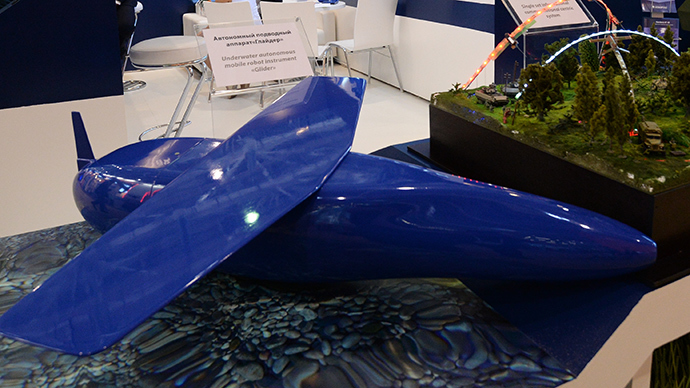 A submersible drone with an unusual propulsion system is likely to be in service in the Russian Navy by 2017. Underwater trackers will use an energy-efficient air-bladder principle, inspired by nature, to glide through the water, Izvestia daily reports.
Stealthy, highly autonomous torpedo-like underwater vessels equipped with multiple sensors and detectors are expected to remain operational for up to 90 days, monitoring an assigned maritime area and reporting emergency intrusions to a command operations center.
An underwater glider does not need a propeller blade or water jet. Its propulsion system resembles that of a fish: it has two chambers, one of which could be filled with gas for immersion, while another contains special fluid to compress that gas for a plunge. The glider moves forward while floating up or down, using wings or a ballasting system.
The speed of such a submersible is not great at a mere two kilometers per hour, but power consumption is also very low, which guarantees prolonged use without reloading. And that is exactly what the military needs: to maintain constant surveillance of the key areas of the ocean, specifically straits, harbors and sea lanes.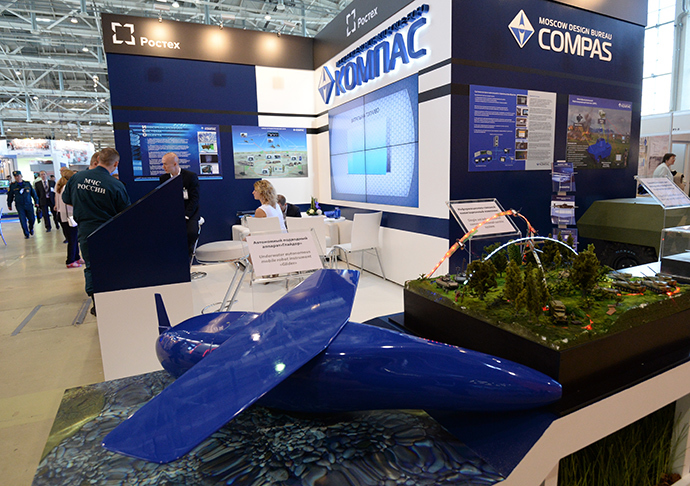 The Russian Navy's policy document in the possession of Izvestia Daily claims that Russia's Ministry of Defense has allocated about $4.7 million to develop an underwater surveillance drone, which can carry up to seven kilograms of sensors, GLONASS global positioning system and a communications control system capable of connecting and transmitting data to a distance of up to 15 kilometers.
The submersible must be capable of diving to a depth of 300 meters, the standard operational depth of most modern submarines, which the drone is supposed to "keep an eye" on.
The document claims that modern sonar equipment is not effective in detecting such small targets as underwater gliders. Submersible drones are going to be effective in the extremely harsh conditions of the Arctic region, where use of ships is limited due to weather and ice conditions.
In future, underwater drones are also set to replace military hydro acoustic beacons and hydrophone buoys.
The domestic development of underwater drones was first referred to officially in 2012 by Anatoly Shlemov, the head of the Defense Procurement and Acquisition department of the United Shipbuilding Corporation.
According to Valery Polovinkin, representative of the head of the Krylov State Research Centre specializing in research into sophisticated maritime equipment, three of Russia's scientific centers have achieved the best results in developing such unmanned submersibles.
According to Polovinkin, the frontrunners are: Bauman Moscow State Technical University, which proposes using "compact atomic energy sources" for submersibles; Samara State Technical University (SSTU) that has "boldly designed" drones; and the Far East Center of the Russian Academy of Sciences that has "decent solutions" for the task announced by the MoD.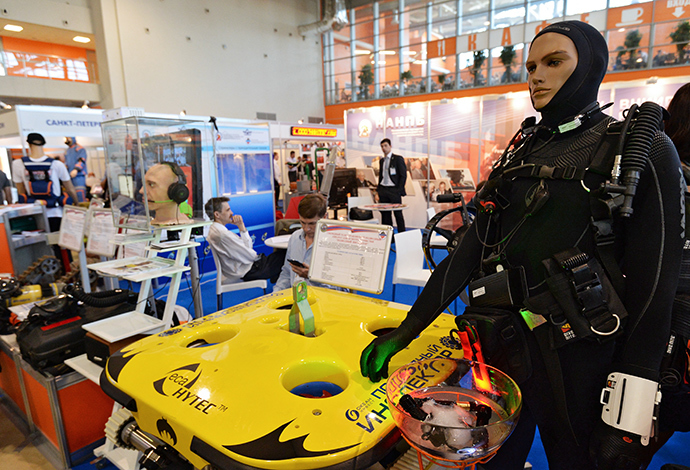 Evgeny Tatarenko, professor at the SSTU measuring equipment department, told Izvestia that the navy has already expressed interest in their drone, but details "haven't been discussed yet."
This autumn a drone with a one-kilometer operational depth is set to be tested, Tatatrenko revealed.
Representative of JSK "Scientific-and-production Enterprise for Underwater Technologies OCEANOS", Boris Gaikovich told Izvestia that low-batch production would put a $100,000 price tag on a glider. "Over the last ten years autonomous devices evolved from exotic technical innovations into successful commercial projects worldwide," Gaikovich said, noting that so far the US Navy has been the pioneer in developing and using unmanned submersibles.
Gliders could be used not only for detection of submarines and ships, but also for measuring other general factors, such as undercurrents, water salinity, temperatures and acoustic characteristics at various depths, former Chief of the Main Staff of the Navy, Viktor Kravchenko, told Izvestia.
You can share this story on social media: