Catholics, remarry! Pope Francis simplifies marriage annulments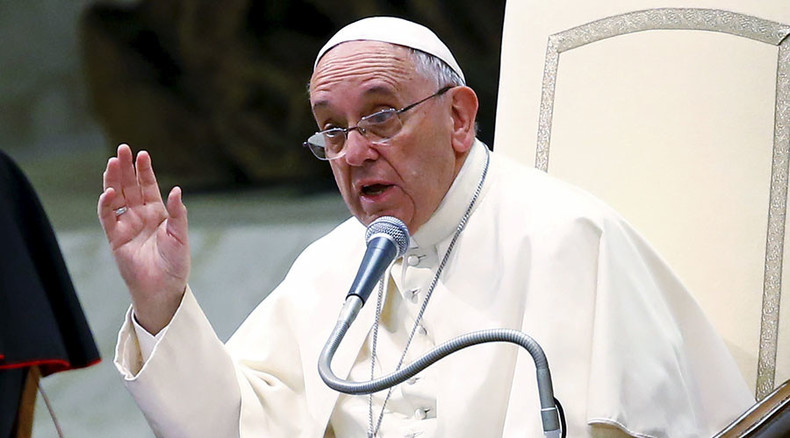 Pope Francis has made it easier for Catholics to end their marriages, making the most substantial changes to annulment procedures in centuries. He said the reforms are aimed at providing a "just simplicity" for the "heart of the faithful."
An annulment, formally known as a "decree of nullity," is a ruling that a marriage was not valid according to Church law because certain circumstances – such as free will, psychological maturity and openness to having children – were lacking.
The annulment process has often been criticized for being cumbersome, lengthy, outdated, and expensive. Many say the rules discourage even those with legitimate grounds from trying to get annulments.
The pontiff aimed to put end to those complaints on Tuesday, stating that the "impulse for reform is fed by the enormous numbers of the faithful who…are too often alienated from the juridical structures of the church..."
He said the process should be sped up so that those seeking annulments will not be "long oppressed by darkness of doubt" over whether their marriages could be dissolved.
The new rules, based on a year's work by a papal advisory commission, eliminate the requirement that any annulment granted by a church court must be automatically reviewed by another set of judges.
They also establish a "fast-track trial" to be judged by a local bishop who can grant an annulment in less than two months. This option would be available in cases where both parties agree to an annulment, and where evidence for marriage dissolution is especially strong.
Pope Francis also stated that annulments – which can cost thousands of dollars in legal fees – should be free of charge and that bishops should provide more help to divorced couples.
Monsignor Pio Vito Pinto, dean of the Vatican court that rules on annulments, told a news conference that the new rules are the most substantive changes to annulment laws since the papacy of Benedict XIV, who reigned from 1740 to 1758.
The pontiff did, however, reaffirm his position on the "indissolubility of marriage" on Tuesday.
The Catholic Church does not recognize divorce. Catholics who re-marry in civil ceremonies are considered to be still married to their first spouse, thereby living in a state of sin. This bars them from receiving holy sacraments such as communion.
The reforms come just one month before the next synod on the family, where various issues – such as the place of remarried and gay Catholics in the church – will be discussed.
This is one of many forward-thinking moves by Pope Francis, who has earned a reputation as a reformist seeking to make the Catholic Church more modern and open.
Earlier this month, the pontiff called on all priests to pardon women who have abortions, as well as the doctors who perform them, during the coming holy year.
In June, he became the first pope to use scientific data in a major teaching document, in which he called global warming a largely man-made problem driven by overconsumption.
He has also called for a greater role of women in the governance of the Church, though he has reaffirmed the all-male priesthood.