'I blame myself': Father of drowned kids lays family to rest at home in Kobani (VIDEO)
Published time: 4 Sep, 2015 22:56
Edited time: 7 Sep, 2015 08:53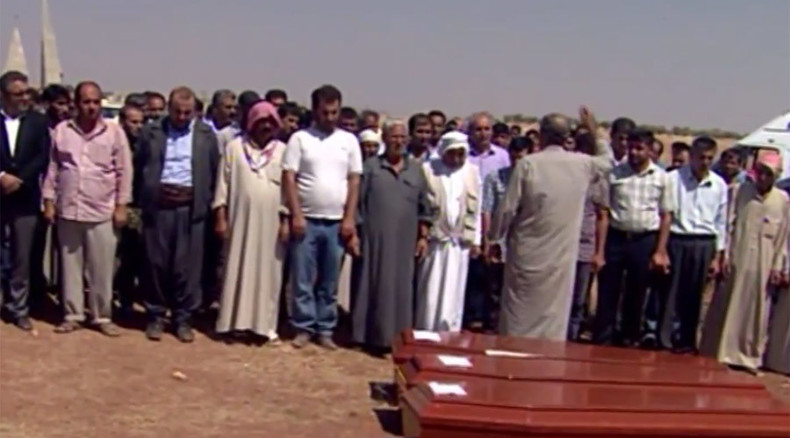 The father of the refugee family that tried to escape to Europe from war-torn Syria has returned to his home town of Kobani, where he buried his wife and two little sons who tragically drowned crossing from Turkey.
The funeral of three-year-old Aylan, five-year-old Galip and their mother Rehen, who drowned in the Aegean Sea trying to reach the Greek island of Kos, was held on Friday in Syria, in their hometown of Kobani.
READ MORE: Gruesome photo of drowned toddler's body on Turkey beach fuels refugee debate (GRAPHIC)
During the funeral service Abdullah Kurdi told the sad story of his family, just one of many thousands forced out of Syria by the jihadists' onslaught. While the situation in Syria was still relatively calm, Kurdi was the first to go to Turkey to find a job in Istanbul, leaving his family behind in the Syrian town.
"But when ISIS attacked Kobani, I decided to bring my family over to Istanbul," he added. Islamic State terrorists tried to seize Kobani for months last year, killing thousands and forcing tens of thousands people out of the region. However, Kurdish fighters eventually regained control of the area.
READ MORE: People flee from Syria because of ISIS, not Assad regime - Putin
The devastated father said he was trying to bring his family to Europe only for the sake of his children's future. The tragic accident happened in the middle of the sea, as the boat they were traveling on capsized due to high waves.
"It all happened in just a few seconds, I tried to hold my wife and my kids but I couldn't do anything," he remembered.
"I don't blame anyone else for this. I just blame myself," he said.
READ MORE: EU's Mogherini 'fed up' with calls to act emotionally amid uproar over drowned refugee kids' photos
The tragedy happened just a few months after Islamic State (IS, formerly ISIS/ISIL) militants killed 11 members of the family, according to the grandfather who spoke with Newsweek.
The fate of the refugee family, just one of thousands, caught public attention only after shocking pictures of a small Kurdish boy lying face down on a Turkish shore went online, triggering a global outcry.
Since the beginning of the year at least 350,000 people have reached Europe fleeing conflicts and poverty in their countries of origin. According to the International Organization for Migration (IOM) at least 2,600 have died during their risky journeys.