Putin: People flee from Syria because of ISIS, not Assad regime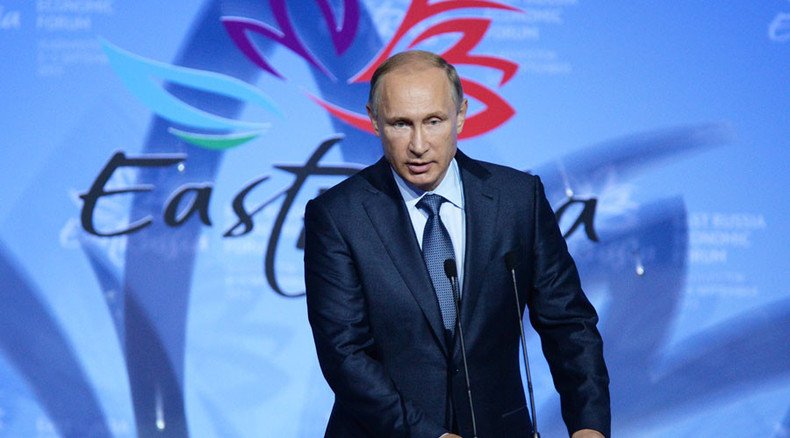 Russian President Vladimir Putin has said the fight against terrorism should be a coordinated international effort, and Russia is taking steps to form such a coalition. He added that in Syria it should go hand in hand with an internal political process.
"Of course, we know that there are different approaches to Syria. By the way, people are running away not from the regime of Bashar Assad, but from Islamic State, which seized large areas in Syria and Iraq, and are committing atrocities there. That is what they are escaping from," RIA Novosti quoted Vladimir Putin as saying on the sidelines of the Eastern Economic Forum in Vladivostok.
"They [IS] kill hundreds and thousands of people, burn them alive or drown them, cut off people's heads. How are people supposed to live there? Of course, they run away."
He stressed that it is necessary to fight terrorism in all forms, saying, "We really want to create some kind of an international coalition to fight terrorism and extremism."
The Russian president revealed that he had personally discussed the creation of an anti-IS coalition with the leaders of the US, Turkey, Saudi Arabia, Jordan, Egypt and other partners.
The war on terror in Syria should be complimented by an internal political process, Putin said, stressing that President Assad is ready to take certain steps in this direction.
"We do realize that political changes are needed and we are talking to our partners in Syria," Putin told journalists, adding that a "general understanding" on the issue has been elaborated.
"The president of Syria, by the way, agrees with it, up to calling early parliamentary elections, establishing contacts with the so-called 'healthy' opposition and involving them in governance," Putin said, adding that this is an internal matter for Syria.
"We do not impose anything, but we're ready to contribute to internal dialogue in Syria," the Russian president emphasized.
Answering journalists' questions about whether Russia is ready to engage in military operations to combat IS, the president said it was premature to speak about Moscow's participation.
"We see what is happening now: the US Air Force is carrying out strikes. Yet, the efficiency of these airstrikes is poor. It is premature to say that we are ready to do it [too]. But we are already providing Syria with quite strong support in terms of equipment, training of military servicemen and weapons," Putin said. He reminded that Moscow and Damascus have certain military contracts and they are being fulfilled.
"We are considering various options, but so far what you are talking about is not on the agenda," Putin said.
READ MORE: 'Don't believe these reports': Putin's spokesman on Russian fighter jets in Syria claims
Since March 2011, more than 220,000 people have been killed in the Syrian conflict.
You can share this story on social media: