Gruesome photo of drowned toddler's body on Turkey beach fuels refugee debate (GRAPHIC)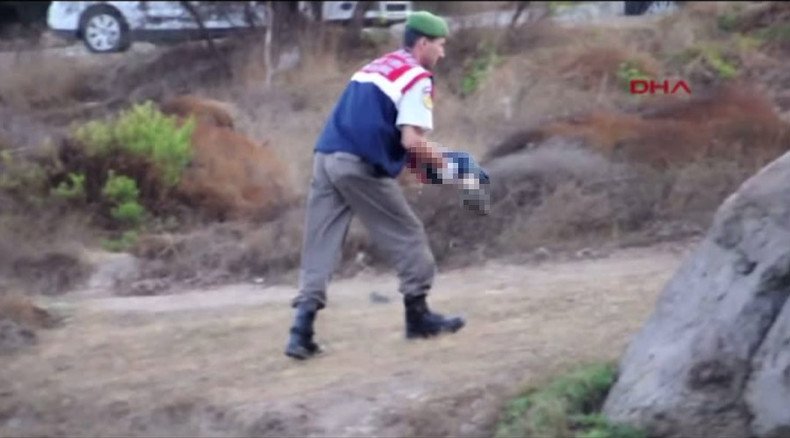 Graphic photos of a Syrian toddler who died alongside his brother and mother on a dangerous track across the Mediterranean, and whose body ended up at one of Turkey's most luxurious tourist resorts have stirred uproar and fueled the refugee and migrant crisis debate.
In the photo, the dead boy lying face down on the beach in Bodrum, Turkey, is three-year-old Aylan Kurdi. His brother, five-year-old Galip, and their mother drowned as well. The family had reportedly fled the Syrian town of Kobani on the Turkish border, an area which has seen heavy fighting between Islamic State militants and Kurdish forces, and anti-IS coalition airstrikes.
READ MORE: Greek Coast Guard accused of sinking refugee boat by Turkish fishermen
Their overcrowded rubber boat was heading to the Greek island of Kos when it capsized leaving most of the asylum seekers dead. None of the boys had life jackets and had little chance to survive the tragedy.
READ MORE: Hundreds feared dead after Libyan migrant boat capsizes during rescue
Just hours later another boat that sailed off from the Akyarlar area of the Bodrum peninsula went down. At least four people, including a woman and three children, drowned, while two others with life vests on managed to reach the shore, according to the Turkish Dogan news agency.
Twelve people were confirmed dead in the two accidents, while only nine survived and hope of finding the two still missing faded.
The gut-wrenching images and footage of Aylan's body being carried from the beach have been shared across all spectrums of social media.
@MikeyKayNYC one of the most heartbreaking images I have seen in a long time. I'm going to hug my son so hard tonight. Jesus.

— Sarah (@redpainter1234) September 2, 2015
After the pictures went public social media exploded with outrage, putting the hashtag "KiyiyaVuranInsanlik" meaning "humanity washed ashore" on top of trending topics on Twitter.
The latest refugee deaths only increase this year's official, tragic statistics: At least 2,500 people who despite the risks left their war-torn homelands and died while trying to reach Europe by sea.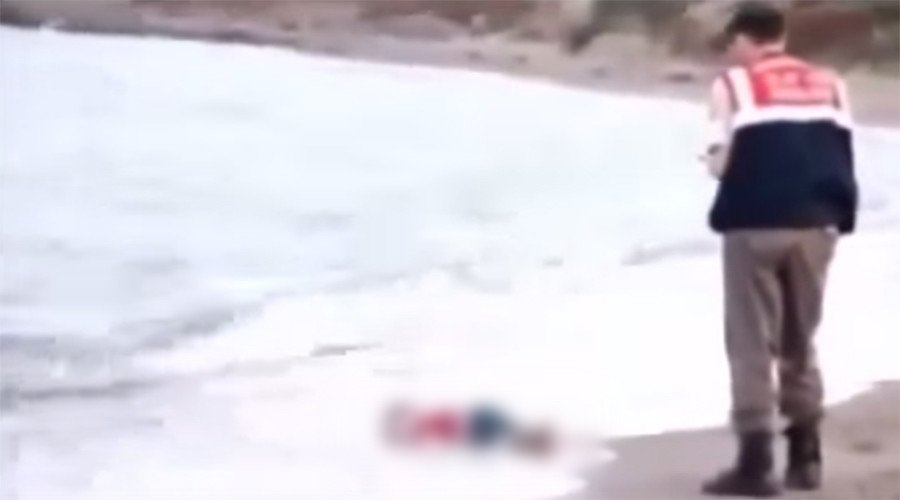 One terrifying ferry crash in April claimed the lives of 900 people who had been traveling to Italy. Just last week two boats carrying some 500 migrants sank after having left Libya. Libyan officials said that 150 bodies had been recovered from two sunken boats off the coast while over 200 people remain missing.
The route from Bodrum to Kos is only 13 miles long (nearly 21 km) which makes it one of the shortest and easiest ways from Turkey to the Greek islands. This summer tens of thousands refugees flooded Turkey's Aegean coast to make their way to the European Union. According to the Turkish coastguard at least 100 people had been rescued from the water on Wednesday night alone as they tried to reach the island of Kos.
The International Organization for Migration (IOM) says that more than 350,000 refugees and migrants arrived at the EU's borders between January and August 2015. This is compared with the 280,000 migrants who arrived over the whole of 2014.
More than 230,000 people initially arrived in Greece and nearly 115,000 refugees landed in Italy. According to EU border agency Frontex, the largest refugee group in 2015 has come from Syria, followed by Afghanis and Eritrians.
The lack of a consistent pan-EU asylum policy and insufficient arrangements to manage the ever-growing refugee and migrant flows are the main difficulties people face when arriving ashore to the EU or the Union's bordering countries.
While different member states deal with asylum claims in different ways, under the EU's Dublin Regulation the first EU country that the migrant reached has the responsibility to examine an asylum seeker's claim.
As Italy states that it is ready to re-impose border controls, Hungary has sealed off its main train station to stop asylum-seekers moving across the EU. Meanwhile Britain is refusing to accept more asylum seekers. To deal with the crisis, 28 EU interior ministers will meet on September 14 in an effort to come up with a common strategy.
You can share this story on social media: