Greek Coast Guard accused of sinking refugee boat by Turkish fishermen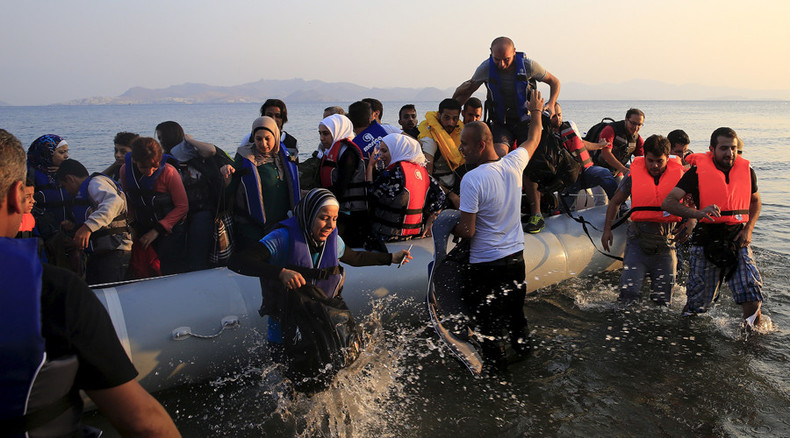 The Greek Coast Guard is alleged to have tried to sink an inflatable boat full of migrants, who were trying to reach Greek islands in the Aegean Sea. The claim was made by a group of Turkish fishermen, but this has been denied by Greek authorities.
A group of Turkish fisherman, who were cited by the Hurriyet Daily News, said that the Greek Coast Guard reportedly sank the boat with some sort of "lance."
They filmed the incident, where a Greek patrol vessel was seen approaching an inflatable boat, though it does not show the Coast Guard making any contact with the dinghy. It was reported to be carrying around 50 Syrian migrants, with women and children also aboard. They had set sail off the coast of Izmir and were not far from the Greek islands of Kos and Lesbos.
As the Greek patrol boat moved away, one of fisherman can be heard on the video saying, "The boat is deflating, the boat's taking on water and there are people on board."
He then added: "The boat was pierced by what looks like a long lance," the Telegraph reported.
The boat began to slowly sink, with dozens of the migrants forced to take to the sea. Some were picked up by a Turkish fishing vessel. They subsequently called the Turkish Coast Guard, who picked up the survivors.
The video was released on Thursday.
However, Greece has strenuously denied the account given by the Turkish fishermen. A spokesperson for the Greek Coast Guard's admiral said that no such incident took place, according to the Greek Reporter.
Greek coast guard said it rescued about 600 refugees and migrants in 21 separate incidents off the Aegean islands of Kos, Rhodes, Chios, Samothraki and Lesbos on Thursday and Friday, the Telegraph reported.
READ MORE: 'Out of control': Greek police beat migrants to stop brawls on troubled island of Kos

The incident comes just days after police on Greek island of Kos beat migrants with truncheons and sprayed them with fire extinguishers when a fight broke out among the refugees on August 11.
Fights erupted as about 1,500 people gathered at a local stadium for registration. The skirmishes were contained by police officers wielding batons and fire extinguishers. Hundreds fled, according to AP.
"This situation on the island is out of control," the island's mayor, Giorgos Kiritsis, told Greek TV, Reuters reported. "There is a real danger of uncontrollable situations. Blood will be shed."
READ MORE: UNHCR urges Greece to resolve refugee crisis deemed 'shameful' for EU member

Meanwhile, a UN agency has urged Greece to do more to help migrants entering the country. Greece has seen a 750 percent rise in the number of people looking to illegally cross its borders.
"Such a level of suffering should and can be avoided. The Greek authorities need to urgently designate a single body to coordinate response and set up an adequate humanitarian assistance mechanism," Vincent Cochetel, UNHCR's Director of the Bureau for Europe, said in a statement after visiting Greece last month.
Some 124,000 refugees made it to Greece by sea from Turkey. Last month alone Greece was forced to welcome 50,000 new arrivals – 20,000 more than in the previous month.