'Out of control': Greek police beat migrants to stop brawls on troubled island of Kos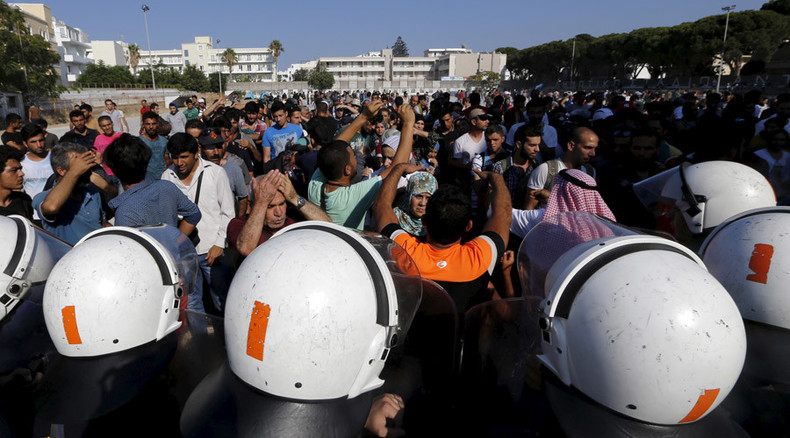 Police on Greek island of Kos have beaten migrants with truncheons and sprayed them with fire extinguishers when a fight broke out among the refugees on Tuesday. The deteriorating refugee crisis could end in "bloodshed", a local mayor has warned.
READ MORE: Paris 'generously' allows hundreds of migrants to stay in abandoned school
Hundreds of people blocked the main road, staging a sit-in demanding quick registration, AP reported. They chanted "We want papers, we want to eat!"
Fights erupted as about 1,500 people gathered at a local stadium for registration. The skirmishes were contained by police officers wielding batons and fire extinguishers. Hundreds fled, according to AP.
"This situation on the island is out of control," the island's mayor Giorgos Kiritsis told Greek TV, as cited by Reuters. "There is a real danger of uncontrollable situations. Blood will be shed."
READ MORE: Germany to ban re-entry permits for 94,000 migrants
A Greek police official told Reuters that riot police squads will be deployed on the island, as well as reinforcements from police units from the neighboring islands of Rhodes and Syros.
Kos has a population of some 30,000 residents. However, this number has been augmented by 7,000 migrants, mostly Afghans and Syrians, who have been stranded there for weeks, according to its mayor. People, arriving on rubber dinghies from Turkey, have been camping in the main town's parks and squares, as well as alongside the island's roads and beaches, waiting for documents that will allow them to head to Athens.
READ MORE: French police say time to 'bring in British Army' to Calais to tackle illegal immigrants
On Monday, a police officer was suspended for slapping and shoving migrants that were waiting in line at the local police station. Some of them were relocated to a football stadium, where at least one woman fainted as children were crying, an AFP photographer reported.
Last week, Greek Prime Minister Alexis Tsipras called for EU aid to handle the refugee crisis that he said "surpasses" his nation's resources. A container facility near central Athens is now being converted into accommodation for hundreds of migrants.
READ MORE: UNHCR urges Greece to resolve refugee crisis deemed 'shameful' for EU member
The UN refugee agency's European division reported that over 124,000 refugees and migrants have come to Greece since the beginning of the year – a 750 percent increase compared to the same period last year. It called the authorities' efforts to provide facilities for them "totally shameful."