Paris 'generously' allows hundreds of migrants to stay in abandoned school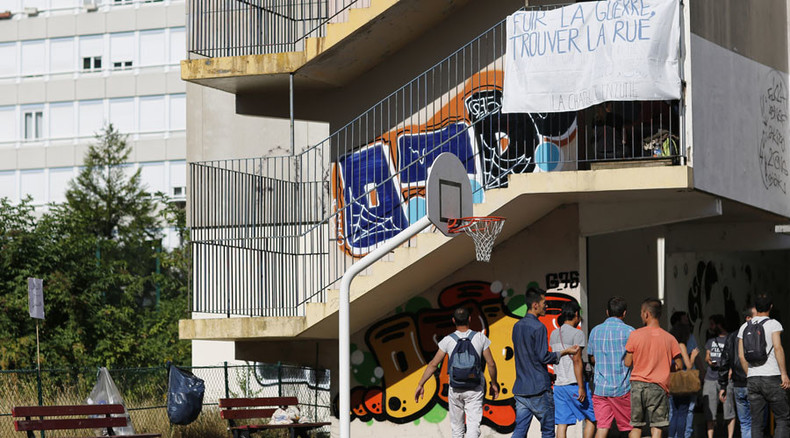 The city of Paris, having failed to find sufficient living quarters for hundreds of refugees flooding the French capital, has allowed them to occupy an abandoned school. The move of 'solidarity' has divided the French political elite over country's illegal migration policies.
The school, now dubbed La Maison des Refugies (The House of Refugees), has become home to some 200 migrants, but in a surprise move this week, Paris authorities announced that they would not proceed with their eviction. Deputy Mayor of Paris, Bruno Julliard, made it clear that he supports migrants utilizing abandoned buildings in the city, RFI France reported.
"We are convinced that we must make the choice of responsibility and generosity. The city of Paris has to show solidarity," Julliard said. "These migrants have risked their lives crossing the Sahara, the Mediterranean, they fled war in Afghanistan, Sudan, and Eritrea."
He said Paris is committed to offering migrants temporary accommodation, "regardless of their situation," where they can "sleep, eat, do their paperwork." Allowing migrants to stay in abandoned sites, he said, is a "pragmatic" approach to the issue without resorting to deporting them back to the conflict zones they fled, as it would violate international human rights conventions.
"Although the reception of migrants is the responsibility of the state, the City of Paris is involved to address this migration crisis of unprecedented magnitude," Julliard said.
The living conditions inside the Jean Quarre lycee are segregated, with women and families living on one side of the floor, and men on the other side. The makeshift residential quarters covered in cardboard mattresses is also further divided based on the country of origin of the migrants. The community represents at least 10 countries, and even more refugees seeking a better fate are soon expected to join the setting of peeling paint and graffiti-covered walls in the four-story-high school.
READ MORE: EU plans 4-meter high Eurotunnel anti-immigration fence, points to 'major crisis'
A former hotel in southern Paris was also recently turned into a refugee shelter, housing approximately 200 migrants, AP reports.
As Europe struggles to deal with a refugee crisis, Paris has become a major transit center for migrants looking for temporary shelter on their way to Calais. Humanitarian organizations are struggling to provide care for the newcomers as authorities have failed to offer the housing which was promised.
READ MORE: 'No to borders and deportation': Pro-migrant protests in Calais (VIDEO)
A number of makeshift camps have sprung up around the city over the past few months, only to be broken up by the police. But the unusual decision to not evict illegal migrants received strong criticism from politicians in Paris.
"It is a terrible signal to say that illegal immigrants are occupying a lycée and we don't intervene and we don't evacuate it," Roger Karoutchi, an opposition senator, as quoted by The Australian . "The message to the people-smuggling networks is: 'go to France'."
Others, such as Nadine Morano, a former French minister for apprenticeship and professional formation, complained that the French capital is "becoming dirty," as the uncontrolled inflow of migrants proliferates "prostitution, drugs and crime."
French National Front leader, Marine Le Pen, said that the government's poor management of the refugee influx is a "shame," according to Le Parisien. She accused the Union for a Popular Movement (UMP) and the Socialist Party (PS) making the conditions in France too attractive for illegal immigrants and encouraging their subsequent attempts to cross the English Channel into the UK – all while failing to provide "hundreds of thousands of French" people with public housing.
READ MORE: 'We must act now': France's Le Pen seeks presidency for migrant-stricken Calais region
Marine Le Pen specifically blamed the former president Nicolas Sarkozy for "bearing a historical responsibility for the worsening of illegal migration flows in the country," when he took part in NATO campaign to destabilize Libya.
France has allocated only 25,000 beds for asylum seekers in comparison to nearly 70,000 who applied for asylum in the country last year. By next year the French Interior Minister Bernard Cazeneuve promised to create 11,000 new housing centers for asylum seekers.
You can share this story on social media: