'We must act now': France's Le Pen seeks presidency for migrant-stricken Calais region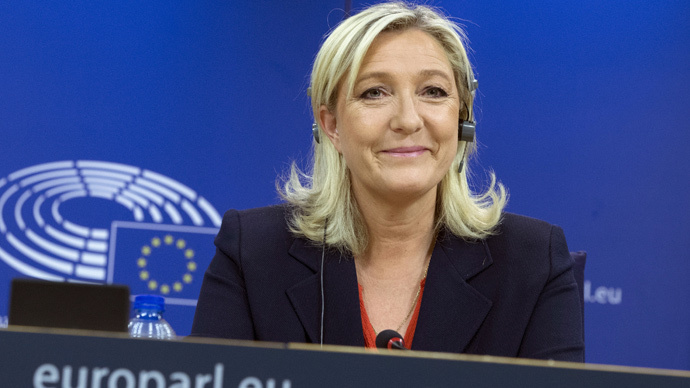 The Leader of France's National Front party, Marine Le Pen, has announced her run for the presidency of the northern region of Nord-Pas-de-Calais, which is struggling with a massive influx of migrants from the Middle East and Africa.
"There's no time to lose," Le Pen said in an interview to France'siTELE TV. "The situation [in the Calais region] is degrading fast and we have to act now."
Je suis candidate en #NPDCP pour, avec vous, remporter cette victoire que les habitants attendent ! MLP pic.twitter.com/mYqRwiBSGR

— Marine Le Pen (@MLP_officiel) June 30, 2015
A recent OpinionWay poll has shown that Le Pen is likely to win control of the newly established Nord-Pas-de-Calais-Picardie region, whose local government will come into effect as of January 1, 2016, after the regional elections in December 2015. It will have a population of about 6 million people.
READ MORE: France's Le Pen announces new far-right bloc in EU parliament
Le Pen said that she is planning "to protect the people of Nord-Pas-de-Calais, who have been neglected by the Socialist majority."
The leader of the National Front party is also preparing for the 2017 presidential elections. However, she believes that "the national situation can wait."
"I hesitated because there were two electoral campaigns that were colliding, the regional and presidential votes," she told iTELE.
READ MORE: Calais chaos: Strike shuts down French port, migrants target UK-bound lorries (VIDEOS)
The French port of Calais continues to be a destination of choice for the growing number of migrants trying to cross the English Channel into the UK.
Around 2,000 refugees are currently living in Calais camps, many of whom have fled poverty and conflict in home countries such as Syria, Mali, Eritrea and Iraq. They are camping at the border crossing and have access to only one water point and have not been provided with toilets, electricity or proper accommodation.
READ MORE: Neither Britain nor Europe are helping France's Calais over migrant crisis – city mayor to RT
Since becoming leader of the National Front, Le Pen, who took over leadership from her father, has repeatedly stated that she stands for a radical change in political priorities and intends to change policies in order to reduce the influx of illegal immigrants in France.
In January she asked French President Francois Hollande to suspend the visa-free Schengen Area in Europe and strip dual nationals of their French citizenship if they carry out "barbaric crimes."
Following the deadly attack on the office of the Charlie Hebdo satirical weekly in Paris in January, Le Pen made a passionate speech against Islamic fundamentalism, which she called an "odious ideology."
"Time is up for denial and hypocrisy," she said. "The absolute rejection of Islamic fundamentalism must be proclaimed loudly and clearly."
READ MORE: Marine Le Pen to Hollande: Suspend visa-free zone, strip terror suspects of French citizenship
You can share this story on social media: