'No to borders and deportation': Pro-migrant protests in Calais (VIDEO)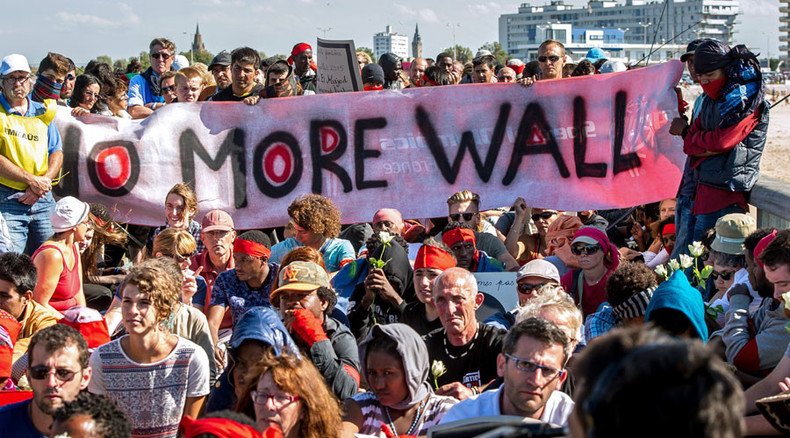 About 200 people took part in a pro-migrant demonstration in the French city of Calais, from which thousands attempt to cross the English Channel and reach Great Britain.
The protesters demanded that France and Great Britain comply with the Universal Declaration of Human Rights which enables people to travel around the world and change their places of residence. They dedicated their march primarily to migrants who died in their attempts to cross the channel.
"People who survived in wars and prisons in other continents die in Calais", "human rights are violated on the French-British border" and "no to borders and deportation" read the banners of the activists.
"Why do they have to risk their lives before they risk asylum when they are in Europe? It, you know, it doesn't make any sense," Maia, one of the protesters and a volunteer at NGO l'Auberge des migrants told Ruptly news agency.
"Why are British borders here in France? I mean, would you let your neighbor say 'I'm afraid of people going into my house, so I'm gonna put borders in your garden?'" she added.
The protesters started their march near the migrant camp and then continued to fences along the beaches of Calais.
Between 2,000 and 10,000 migrants (according to different estimates) in Calais are trying to cross the English Channel. Last week witnessed the attempts of several migrants to enter the Eurotunnel. France and Britain have already taken a number of security measures but the situation was aggravated by a ferry workers' strike in Calais.
British Prime Minister David Cameron is firmly determined to prevent the migrants from reaching the UK. "So we have got more fencing, we've got more police officers, more sniffer dogs, more guards, better security, and we are making progress," he said on Friday.
"But there's a lot more to do, including better security in the tunnel itself, and myself and the team of ministers I have put in place, we will oversee these improvements and they will take place in the coming weeks and days", he added.
France is also preoccupied with the ongoing Calais crisis. "It is urgent not only to find short-term solutions but also to strive for French-British summit to find joint solutions," said Gerard Larcher, President of the French Senate on August 2.
READ MORE: 1 dead after 1,500 migrants storm Eurotunnel in France for 2nd night

Twelve migrants died this year in their attempts to reach the UK, getting run over by vehicles in the Eurotunnel, killed by currents on the decks or in other various incidences.
You can share this story on social media: