EU's Mogherini 'fed up' with calls to act emotionally amid uproar over drowned refugee kids' photos
As horrific pictures of a Syrian refugee boy washed ashore in Turkey make headlines, equally distressing scenes of drowned children found in Libya are causing a massive outcry online. Still, the EU foreign policy chief has stressed that politicians cannot afford to act emotionally.
While global media features the picture of a drowned Syrian boy washed up on the Turkey's shore, a no less shocking and tragic case, which happened only last week, managed to mostly stay out of the media spotlight.
The set of elegiac images showing dozens of drowned asylum seekers was posted on Facebook by Syrian photographer and artist Khaled Barakeh on August 29 and gathered over 100,000 shares in just a few days. The majority of the images, which most media avoided showing, revealed drowned children lying in foam on a beach while another depicted multiple orange bags with what appeared to be bodies inside.
Gruesome photo of drowned toddler's body on Turkey beach fuels refugee debate (GRAPHIC)
The album entitled "Multicultural graveyard" has a note that reads: "Last night [August 28, 2015] more than 80 Syrians and Palestinians refugees have drowned in the Mediterranean close to the Libyan shores trying to reach Europe." The author of the post, a widely exhibited artist, did not comment on the source of the photos he posted.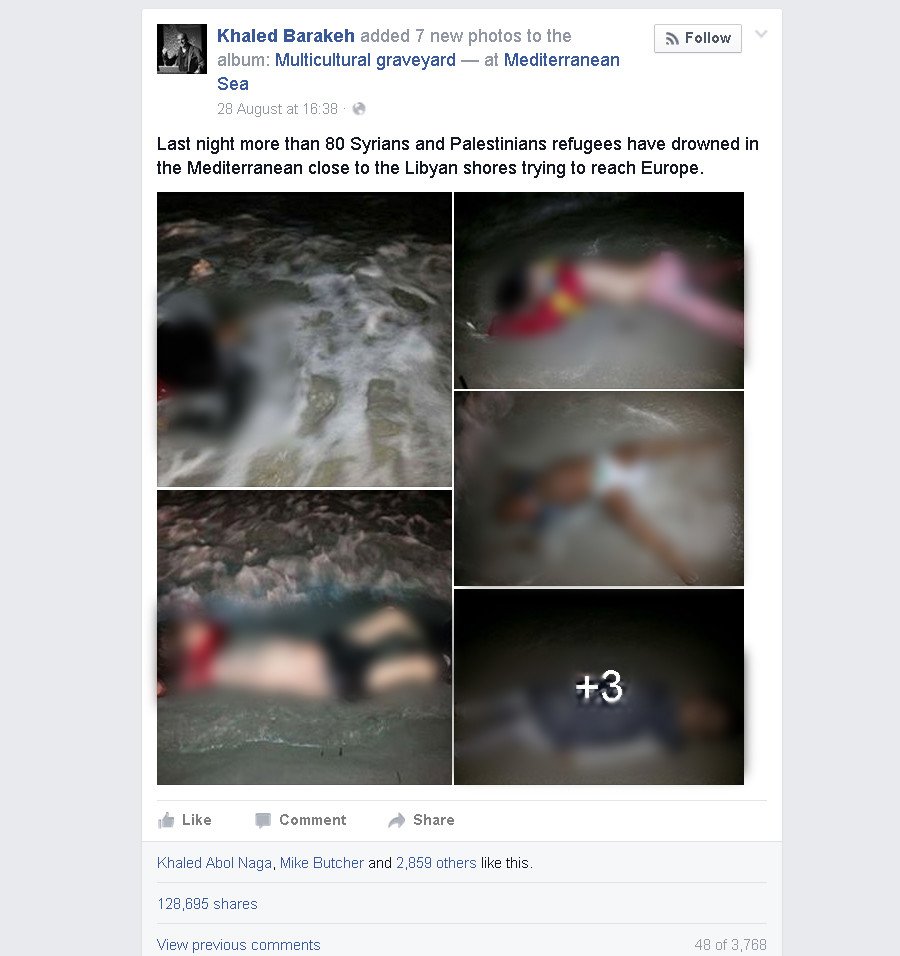 Numerous people who shared the gruesome pictures later complained that Facebook censored their re-posts, after their followers apparently reported photos to the administration as distressing. Even though some argued that the photographs did not "shock beyond making us confront what a news headline '80 Drowned' really means."
Facebook has deleted 1000s of posts relating to artist Khaled Barakeh's photos of drowned refugees in the Med #censorship

— Nicholas Mirzoeff (@nickmirzoeff) August 30, 2015
Meanwhile people have continued to distribute the gallery with the counter running at over 125,000 shares.
On August 28, the UN said that nearly 200 were feared dead after the boat capsized off the Libyan coast, while other reports suggested that there had been 450 people on board. An AP photographer at the scene reportedly saw Lybian emergency workers removing the bodies of refugees from the water in the coastal town of Zuwara, one of Libya's main people-smuggling hubs located west of Tripoli. According to the head of Libya's Red Crescent in Zuwara, Hussein Asheini, at least 105 people were killed in the tragedy, including children.
The figures of the asylum seekers killed in attempts to cross the Mediterranean are shocking, but when the EU foreign policy chief was asked on Thursday about the picture of "that" three-year-old boy, Federica Mogherini said that despite the hype over the human tragedy politicians cannot afford to act emotionally.
"I am a little bit fed up that politicians are called to react emotionally," Mogherini said.
"Our job, as I said, is to take decisions rationally, being consistent and coherent with our emotions. So I think, I'm sure, all of us are shocked seeing that kind of picture but I expect not only for us to be shocked but also for all of us to be responsible enough to take the consequential decisions that are needed."
READ MORE: Hungary PM says refugees 'German problem,' slams EU inability to control situation
However emotions spilled when Hungarian PM Viktor Orban said the current refugee crisis was not an EU problem, but rather "a German problem," as he put it after a meeting with European Parliament President Martin Schulz in Brussels on Thursday. According to Orban, none of the migrants want to "stay in Hungary," as "all of them want to go to Germany."
Meanwhile a member of the Alternative for Germany party, Hansjoerg Mueller, told RT that the media and some politicians are using terrible human tragedies and horrifying pictures to play on people's emotions.
"Original European or German citizens are told by politicians, by mass media 'you shall open the German doors even more, because if you don't, you will be guilty of drowning of many more refugees'," Mueller said. "So human emotions are misused by politics in a very horrible manner."
"It's a tragedy what happened to the boy, it's a tragedy what happens to thousands of refugees who drowned," he added. "But these human tragedies are misused by western mass media to oppress the feelings of original European citizens who want to preserve their traditions, who want to preserve their cultures, by using this image of the poor boy."
READ MORE: Assad & ISIS responsible for drowned Syrian boy, says Cameron
According to official figures from the UN refugee agency, UNHCR, over 2,500 refugees and migrants are estimated to have died or gone missing, trying to reach Europe this year so far. Meanwhile, last year some 3,500 people died or were reported missing in the Mediterranean Sea.
"Despite the concerted efforts of the joint European search and rescue operation under FRONTEX, which has saved tens of thousands of lives this year, the Mediterranean Sea continues to be the deadliest route for refugees and migrants," the agency said in a statement.
LISTEN MORE:
According to the UN more than 300,000 people have taken the risky route across the Mediterranean this year, with almost 200,000 arriving in Greece and some 110,000 in Italy, compared to around 219,000 refugees and migrants who crossed the sea during the whole of 2014.
You can share this story on social media: