Assad & ISIS responsible for drowned Syrian boy, says Cameron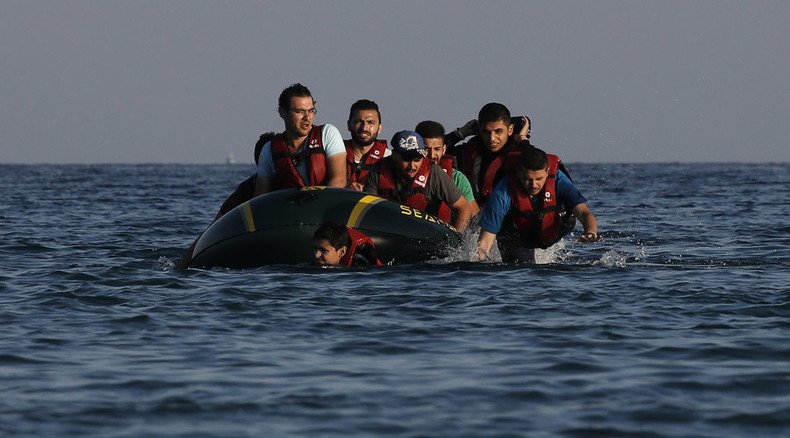 Prime Minister David Cameron has blamed Syrian President Bashar Assad and Islamic State militants for the "terrible scenes" on Europe's beaches as the refugee crisis worsens.
Speaking after MPs from across the political spectrum called for Britain to accept more refugees, Cameron said the crisis needs a "comprehensive solution" which includes a new government in Libya and being "tough" on Assad and Islamic State (IS, formerly ISIS/ISIL).
The PM said Britain is "taking thousands of refugees" and went on to highlight the UK's commitment to foreign aid spending.
However critics have decried Cameron for failing to take its fair share of Syrian refugees flocking to Europe, the majority of whom have been granted asylum in Germany.
The PM said he was "deeply moved" by pictures of a drowned Syrian boy who was found washed up on a beach in Turkey which went viral on Wednesday.
"Anyone who saw those pictures overnight could not help but be moved and, as a father, I felt deeply moved by the sight of that young boy on a beach in Turkey. Britain is a moral nation and we will fulfil our moral responsibilities," he said.
"That's why I sent the Royal Navy to the Mediterranean and saved thousands of lives. That's why Britain meets our commitment of 0.7 percent of our economy spent on aid, much of which goes to North Africa, goes to the Middle East to help those countries."
Cameron went on to say the UK is the second-biggest bilateral donor in the world to Syrian refugee camps and that the country would continue to take in thousands of Syrian refugees.
"But, as I also said yesterday, there isn't a solution to this problem that is simply about taking people. We need a comprehensive solution; a new government in Libya, we need to deal with the problems in Syria.
"I would say the people responsible for these terrible scenes we see, the people most responsible, are President Assad in Syria and the butchers of ISIL and the criminal gangs that are running this terrible trade in people. And we have to be as tough on them at the same time," he added.
The prime minister faces growing criticism among parliamentarians, religious leaders and tens of thousands of citizens who have signed e-petitions calling for Cameron to accept more refugees.
Photographs of a drowned Syrian boy who was found washed up on a beach in Turkey were published on Wednesday, highlighting the plight of refugees trying to reach Europe.
Some senior Tory backbenchers expected Cameron to shift his position after the pictures went viral, but the PM insisted Britain is already doing enough to help refugees.
Chancellor George Osborne blamed Islamic State militants for the death of Aylan Kurdi on Thursday, while refusing to commit the UK to accepting more refugees.
Conservative MP Johnny Mercer said he would like to see the UK take "its fair share of refugees."
"The prime minister is absolutely right that you do not solve this problem by just taking more and more refugees. There is a multi-faceted approach to the problems of North Africa. But I do think one part of that approach is to do our bit. I would like to see Britain do more," he said.
Public opinion in the UK appears to back Mercer's stance. An online petition calling for the UK to accept more asylum seekers and increase support for refugees had received more than 175,000 signatures as of 2pm on Thursday, having jumped by nearly 50,000 in just a few hours this morning.
The petition, which is hosted by Parliament's website, could trigger a debate in the House of Commons because it has exceeded the required 100,000 signatures.
Labour leadership contender Yvette Cooper accused the Cameron of turning his back on the worst migration crisis since World War II.
Cooper, who is also shadow home secretary, said: "It is heart-breaking what is happening on our continent. We cannot keep turning our backs on this. We can – and must – do more. If every area in the UK took just 10 families, we could offer sanctuary to 10,000 refugees. Let's not look back with shame at our inaction."
Labour leadership frontrunner Jeremy Corbyn slammed the PM for his "wholly inadequate" response to the refugee crisis, adding the UK is "shamed by our European neighbors" by refusing to take in more asylum seekers.
Britain has accepted less than 300 Syrian refugees since the start of 2014, while Germany has given asylum to 800,000 refugees this year alone.
Corbyn told the Independent: "The government's response to the refugee crisis has been wholly inadequate, and we are being shamed by our European neighbors. It is our duty under UN law, but also as human beings, to offer a place of safety, and play a role internationally to share our responsibilities, and to try to end the conflict."
Religious leaders joined the call for action, with Cardinal Vincent Nichols urging "wealthy" Europe to draw up short-term and long-term responses to the unfolding "human tragedy."
German politicians and newspapers have this week attacked Cameron for his reluctance to accept refugees in Britain.
Chancellor Angela Merkel's home affairs spokesman Stephan Mayer said: "If the British government is continuing to hold this position that Great Britain is out of the club in this big task in sharing the burden, certainly this could do some harm to the bilateral British-German relationship and certainly also to David Cameron's ambitions to be successful in the renegotiation."
Cameron has been accused of hypocrisy by some commentators, who point to several instances where the prime minister boasted of the UK's "proud history" of accepting refugees.
In June last year, Cameron publicly backed Refugee Week, stating the UK has "a long tradition of providing sanctuary for those fleeing persecution."
Cameron also signed a pledge for the Refugee Council before the 2010 general election, after which he said he promised "to remember the importance of refugee protection."
LISTEN MORE:
You can share this story on social media: