German theater revives tragedy of 71 asylum seekers found dead in Austrian truck
A German theater has invited members of the public to put themselves in the shoes of people desperate to reach Europe from war zones. Volunteers packed into a truck to pay tribute to the 71 refugees who suffocated in a lorry in Austria last week.
About 200 people took part in the event, entering a 7.5 tonne refrigerated truck similar in size to the one found in eastern Austria last Thursday. Next to the trailer, on the ground, there was a rectangle marked measuring 2.5 meters by six meters, which represented the size of the original truck's interior.
Seventy-one volunteers first tried to simply stand inside the rectangle. They then attempted to cram inside the lorry. When they managed to get in, the truck's doors couldn't be closed.
READ MORE: 59 men, 8 women & 4 children among 71 migrants found dead in Austria truck - police
"The lorry was completely full, the people were squeezed right up against each other," Olaf Kroek, the theater's artistic adviser told AFP, refuting allegations that the event, organized by the Schauspielhaus Bochum theater, may hurt some people's feeling.
"What is disrespectful is the political reality in Europe that people, suffering so greatly hand, over thousands of euros and must take such unsafe routes while for the rest of us Europeans it is so easy … to travel in the other direction," Kroek said.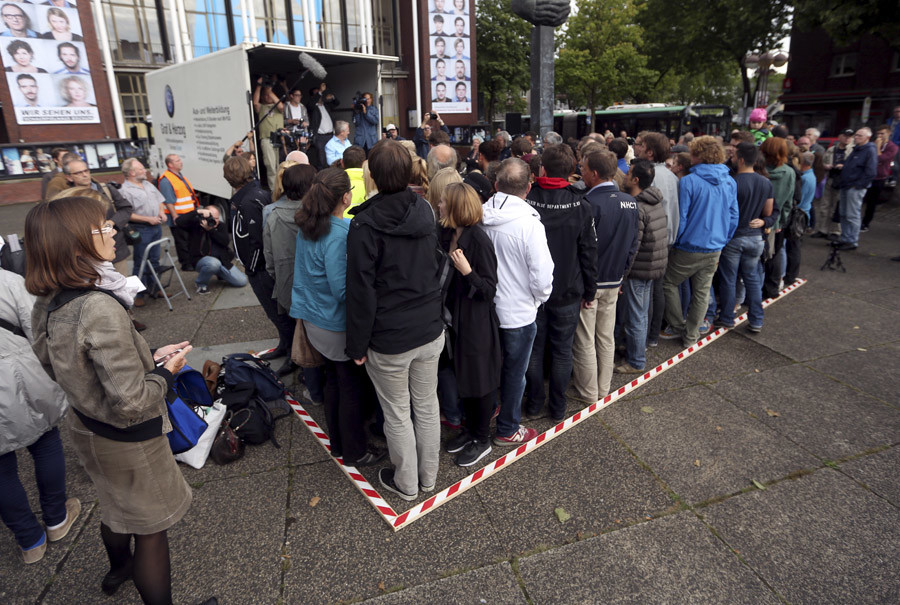 On August 27, the bodies of 71 refugees, four of them children, were found dead in a tractor trailer parked on the shoulder of the A4 highway near the town of Parndorf. The authorities found a Syrian travel document among the decomposing bodies in the truck, believed to have been abandoned for several days. Police suspect that a Bulgarian-Hungarian trafficking ring is behind the migrants' deaths. Hungarian police said in a statement that three Bulgarians and one Afghan have been arrested in the investigation.
LISTEN MORE:
Record numbers of asylum seekers from conflict zones arrived in southern Germany earlier this week. The country is expected to receive about 800,000 asylum seekers this year. On Tuesday, thousands of refugees descended on Munich's main train station, where they were greeted by residents holding signs saying "Refugees Welcome," Deutsche Welle reported.