59 men, 8 women & 4 children among 71 migrants found dead in Austria truck - police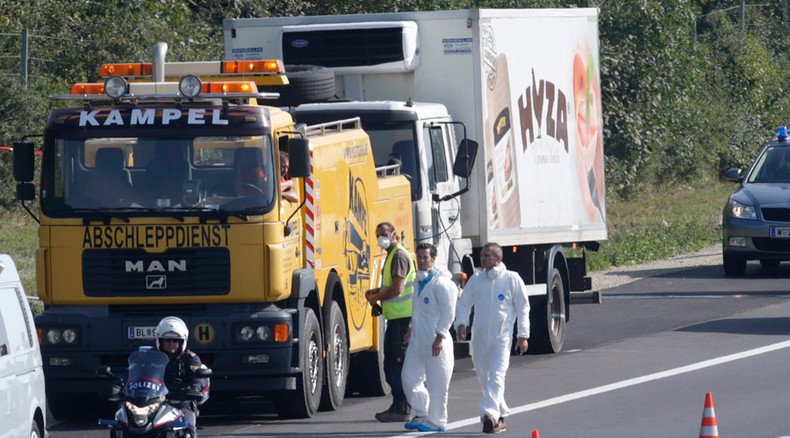 The bodies of 71 refugees have been found dead in a tractor trailer in eastern Austria, the country's police reported Friday, adding that the victims had died of suffocation.
Among 71 bodies, there were 59 men, eight women and four children, including a young girl aged one or two and three boys aged eight, nine or 10," said Hans Peter Doskozil, police chief for the province of Burgenland.
The police spokesman added that the victims had died from suffocation.
"We currently have three people under arrest in Hungary... and we expect that that this is the trail that will lead us to the perpetrators."
The authorities also found a Syrian travel document among the decomposing bodies in the truck, he added.
"There was also a Syrian travel document found, so of course our first assumption is that these people were migrants, and likely a group of Syrian migrants. We can rule out that they were Africans."
Police suspect that a Bulgarian-Hungarian trafficking ring is behind the migrants' deaths, Doskozil added.
Earlier, a report by the Austrian Krone newspaper said that the number of arrests had risen to seven.The paper added later that the investigation is currently focused on three suspects: the owner of the truck and two drivers.
In the meantime, Hungarian police said in a statement that three Bulgarians and one Afghan have been arrested in relation to the investigation over the refugees' deaths.
"In addition, police have conducted house searches... and questioned almost 20 people as witnesses," police said.
The food delivery truck was found parked on the shoulder of the A4 highway near the town of Parndorf, according to an interior ministry spokesperson.
Police said it might take until Friday to count all the bodies, adding that they believe the migrants were dead before the truck entered Austria.
"One can maybe assume that the deaths occurred one-and-a-half to two days ago," Doskozil told a news conference, adding that "many things" indicated they were already dead when they crossed the border.
READ MORE: Refugees come to EU because they have no other choice – UN


The truck, which has Hungarian license plates and was near the Hungarian capital Budapest on Wednesday, is believed to have been abandoned for several days.
Hungarian Prime Minister Viktor Orbán's chief of staff, János Lázár, said that Hungarian law enforcement are working with Austrian police to track down the driver.
However, Austrian authorities said they believe the driver may have left the country.
Police received an alert about the vehicle around 11:30 a.m. local time on Thursday. When officers arrived at the scene, they discovered putrefaction liquid at the rear of the truck.
Interior Minister Johanna Mikl-Leitner said during a press conference in Eisenstadt that "today is a dark day."
She spoke of the "despicable methods" of migrant smugglers, saying they "belong behind bars."
Earlier on Thursday, Austrian police said they had stopped three vehicles suspected of carrying refugees. Included in that number was a van which had taken 34 migrants, including 10 children, into the country.
Over 20 suspected human traffickers have also been arrested by Hungarian police this week, AP reported. According to the police, 16 Romanians, two Syrians, two Hungarians and a Russian citizen were among those arrested by the authorities on Wednesday and Thursday. Sixteen cars and vans that had been carrying 112 migrants were also confiscated. According to police, the migrants were on their way to the EU, traveling through the Balkans.
It comes amid a worsening migrant crisis in Europe, with tens of thousands of refugees from the Middle East and Africa – primarily Syria – trying to make their way to Europe's borderless Schengen zone.
More than 28,300 people applied for refugee protection in Austria in the first half of 2015.
Meanwhile, the Hungarian prime minister's chief of staff says the number of migrants trying to reach western Europe through Hungary could reach 300,000 by the end of the year.
Meanwhile, German Chancellor Angela Merkel said everyone is "shaken" by the news of the migrant deaths in Austria.
"We are of course all shaken by the appalling news," Merkel told a news conference at a summit on the West Balkans in Vienna.
"This reminds us that we must tackle quickly the issue of immigration and in a European spirit – that means in a spirit of solidarity – and to find solutions."
Merkel is meeting with Balkan leaders in Vienna to discuss Europe's biggest migrant crisis since World War II.
Countries taking part include Macedonia and Serbia, both of which are among the hardest hit, as they are transit nations for those trying to reach western and northern Europe.
LISTEN MORE:
You can share this story on social media: