Putin dishes it out against a team of young hockey talents (VIDEO)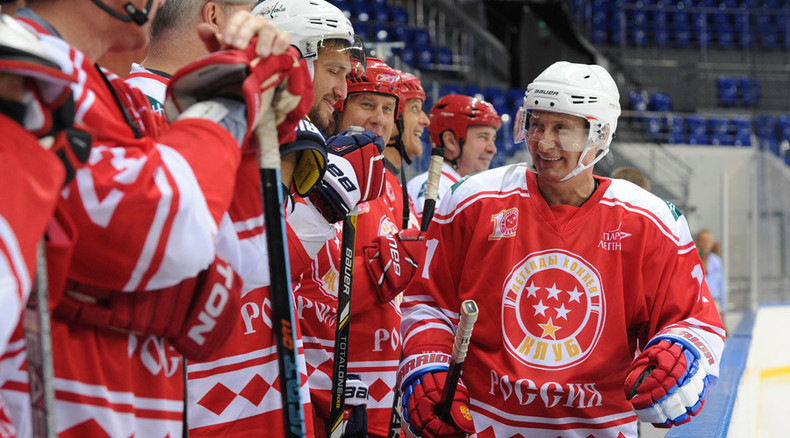 Russian President Vladimir Putin teamed up with legendary hockey players for a battle with talented school children. The two goals scored by the president have rocked the Olympic ice stadium in Sochi.
READ MORE: Dynamic duo: Putin, Medvedev pump iron in Sochi gym (PHOTOS, VIDEOS)
President Putin took part in a friendly hockey match with students of the Sirius educational center at Sochi's ice arena on Tuesday, TASS news agency reported.
On the ice rink, Putin was accompanied by legendary Russian hockey players, Vyacheslav Fetisov and Alexander Ovechkin. The team of youngsters was comprised of gifted teenagers from all over the country.
The "emotional" match passed with the president fully engaged in the game, which secured victory of the veteran's team. Despite a good start of the student's team, the match ended up by a score of nine to five.
READ MORE: Flying axe: Putin presented with 'cutting-edge' warfare tech at MAKS-2015 (VIDEO)
On Monday, President Putin visited the educational center, recently designed for talented pupils, marking the beginning of a new academic year. About 600 children aged from 10 to 17 can come to Sochi for a 24-day-long program, aimed at developing their skills in science, sports and art.
Putin, who has a black belt in judo, is not new to various sport activities, but he first tried skating only four years ago. Yet, in May, he also managed to hit back of the net several times during a Night Hockey League match.
READ MORE: Action man: How Putin rocked the media outside politics (PHOTOS, VIDEOS)