AbbottHatesQ&A: Viral tweet about Aussie PM puts TV show back in bad books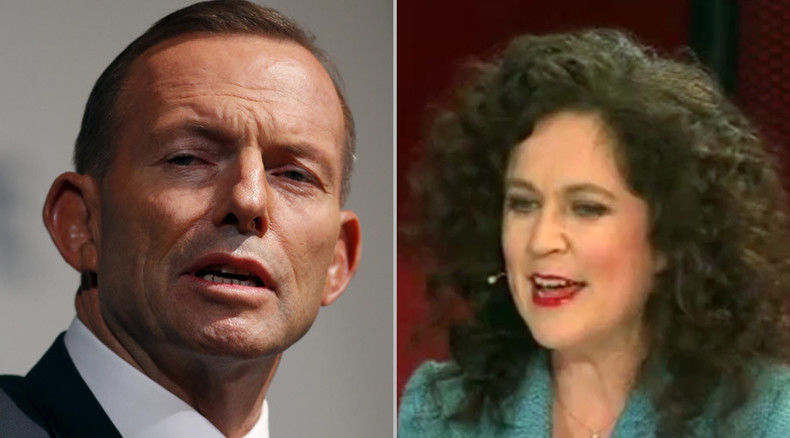 A Twitter user with the handle '@AbbottLovesAnal' raised eyebrows on the latest episode of popular Australian TV show 'Q&A' after a message about Prime Minister Tony Abbott flashed up on screen during the program. The user's account is currently unavailable.
The panel program, which is presented in front of a live audience, invites politicians and key industry players to talk about current affairs. The faux pas occurred as political commentator Annabel Crabb was responding to a question. An innocuous-looking tweet popped up, but the contents weren't at issue. It was the wicked user name '@AbbottLovesAnal' that created a furor among some viewers, and a laughing fit among others.
The PM didn't find incident the least bit amusing, but rather offensive, saying Q&A has gone "a bit out of control."
"I think it's important for the ABC not just to talk about ... tighter management control on that particular program, but actually do it," Abbott told reporters.
The ABC's Managing Director Mark Scott apologized to the prime minister over the tweet, noting that it had not been displayed on purpose, but appeared by accident since the program deals with a high volume of tweets during its live broadcast.
The ABC will be removing the tweet from any re-broadcasts of Monday's program. According to AP, Q&A already is subject to an independent review by former SBS chief Shaun Brown and noted TV journalist Ray Martin. Both the ABC and SBS are government-funded, but independently-managed broadcasters.
Q&A has been under intense scrutiny from the current government in recent months. It came under fire in June for having Zaky Mallah, an Australian who has been charged but found not guilty under Australia's anti-terrorism laws, in its audience and allowing him to ask a question to the panel.
A heated exchange took place between Mallah and MP Steve Ciobo. In 2011, Mallah traveled to Syria to film the Syrian Civil War, declaring his support for the Free Syrian Army.
READ MORE: Massive strike hits Aussie airports as Abbott plans pay cuts for customs, immigration staff
Meanwhile, the man behind the Twitter account that caused such controversy last night, who goes by the name Gregg Schurch, has instantly turned into a social media hero, thanking his supporters after his tweet gained such momentum.