Massive strike hits Aussie airports as Abbott plans pay cuts for customs, immigration staff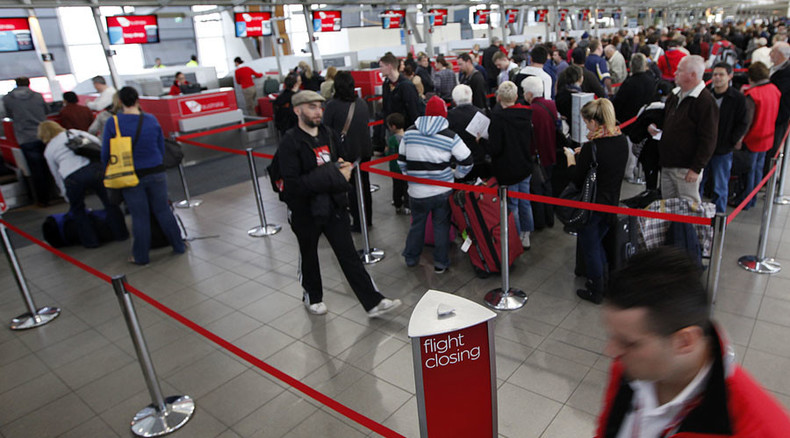 Passengers at all international airports across Australia are in for major disruptions and delays in the busy Monday morning peak period as customs and immigration staff strike against the Abbott government's plans to cut A$8,000 from workers' pay.
Airports have urged travelers heading overseas on Monday to "come in as early as they can."
The strike will hit international airports in Melbourne, Sydney, Brisbane, Gold Coast, Cairns, Adelaide, Perth and Darwin. At the Melbourne airport, the strike kicked off at 7 a.m. and will continue until 11 a.m., with further action set to continue from 9 p.m. on Monday until 1 a.m. on Tuesday.
Border guards and customs officers will stop work for four hours during morning and evening shifts to protest the government's ongoing attempts to cut their wages. The Community and Public Sector Union (CPSU) has issued a statement on the department website saying that members in the Department of Immigration and Border Protection (DIBP) will walk off the job Monday "to protest the Abbott government's attack on their rights, conditions and take home pay."
According to CPSU national secretary Nadine Flood, workers were facing losses up to $8,000 a year in allowances from their payments. The allowances are key since they compensate staff for long hours, unusual shifts and dangerous work, as well as weeks spent away from home and family. Flood said the government has already cut over 17,000 public sector jobs and is now going after the pay and conditions of those left.
She added: "The Abbott government and the department have had more than a year to sit down with the union and work out a fair deal that protects the rights, conditions and take home pay of these hardworking people. Instead, agencies are being told they must put forward draconian deals worse than any major private sector employer."
READ MORE: 'Not ethically justifiable': Australian PM challenged over law gagging immigration center workers
Workers from the Australian Border Force marine unit will also take part in the strike by imposing bans on loading and unloading stores at ports.
The union says workers who have "essential national security, counter-terrorism and specialist biosecurity hazard roles" will be exempt from the industrial action.