'Not ethically justifiable': Australian PM challenged over law gagging immigration center workers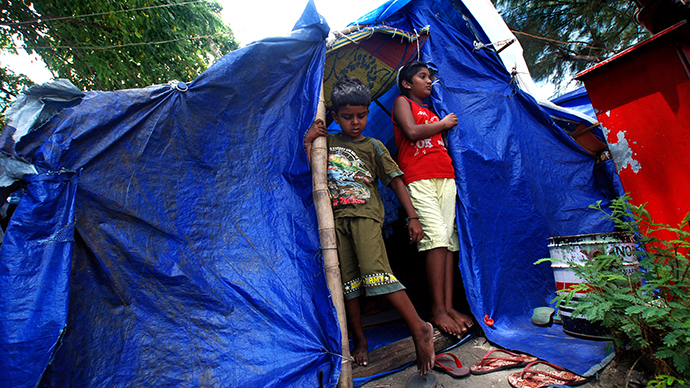 Australian health workers have spoken out against a law that makes it illegal for employees to disclose information about immigration detention centers. The group challenged the government to prosecute them for speaking out, citing human rights issues.
Under the Australian Border Force Act, which came into effect on Wednesday, center workers could face up to two years in jail if they disclose information about the facilities.
Under the heading "secrecy and disclosure provisions," the act says releasing information is only permitted by the secretary of the department responsible for detention centers.
But the new legislation is a tough pill to swallow for dozens of health workers, teachers, and humanitarian staff, who have sent an open letter to Prime Minister Tony Abbott, Immigration Minister Peter Dutton, and opposition leader Bill Shorten.
"There are currently many issues which constitute a serious threat to the health of those in detention for whom we have a duty of care," the signatories said.
READ MORE: Captain 'hook or by crook': PM won't deny if Australia paid migrant smugglers to turn to Indonesia
The group, consisting of 41 former detention center workers, challenged the federal government to prosecute them for informing the public about the conditions at the country's immigration detention centers, saying the law adds a "wall of secrecy which prevents proper scrutiny."
"We are aware that in publishing this letter we may be prosecuted under the Border Force Act and we challenge the department to prosecute so that these issues may be discussed in open court and in the full view of the Australian public," they said.
Citing "child abuse," "gross violations of human rights," and "sub-standard and harmful care," the group said: "We have advocated, and will continue to advocate, for the health of those for whom we have a duty of care, despite the threats of imprisonment..."
The signatories also stated that standing by and watching such violations is "not ethically justifiable," adding that the new legislation contradicts national laws which require workers to report any child abuse to child protection services.
READ MORE: Modern slavery in Australia: Investigation reveals labour exploitation rife in agriculture
Although the group did not include any specific allegations of child abuse in detention centers, Fairfax Media reported last month that documents from the Department of Immigration and Border Protection revealed 44 instances of children being sexually abused at detention centers between January 2013 and July 2014.
Meanwhile, Australia's new Border Force chief, Roman Quaedvlieg, has downplayed the group's concerns.
Although the law contains a provision that says an "entrusted person" could face jail time if they disclose protected information, Quaedvlieg said he thinks "those provisions have been over-interpreted somewhat," adding that they are similar to provisions already in place at many government agencies.
He also said he "seriously doubted" the signatories of the letter would be prosecuted, saying "this is about the leaking of classified information that could compromise operational security or our sovereignty."
A government spokesman also rejected the group's claims, stating that federal law ensures that officials are protected in making "public interest disclosures."
READ MORE: 'Worst crisis since WWII': Amnesty lashes out at world leaders over 50mn refugees
"An officer who makes a public interest disclosure as defined within the Public Interest Disclosure Act would not be subject to a criminal prosecution under the Australian Border Force Act," the spokesman said, as quoted by the Sydney Morning Herald.
He said it had not been decided which professionals are considered "entrusted persons," or whether former contractors – including those who signed the letter – are included in that description.
The new law was passed on May 14 with the support of both major parties.
This is not the first time that workers in Australia's immigration detention centers have been targeted for raising concerns about conditions in the nation's facilities.
Last October, then-Immigration Minister Scott Morrison used an anti-whistleblowing law against 10 Save the Children staff. They were referred to the Australian Federal Police under section 70 of the Crimes Act after they were accused of communicating privileged information to non-Commonwealth workers. The accusations were later dropped.