​Captain 'hook or by crook': PM won't deny if Australia paid migrant smugglers to turn to Indonesia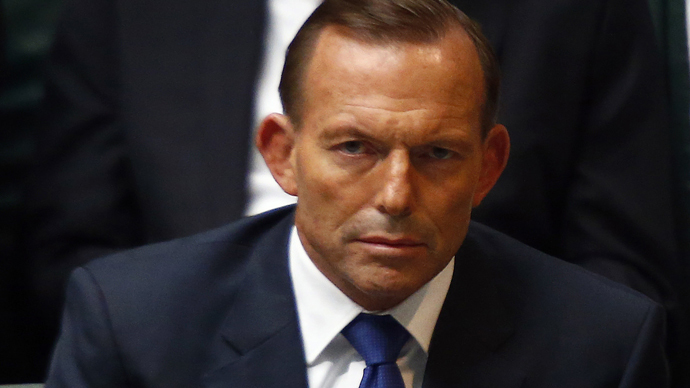 The Australian PM has refused to either confirm or deny that Australian security agencies paid a crew of a boat ferrying migrants to turn to Indonesia. Tony Abbott's vow to protect Australia "by hook or by crook" was slammed by human rights lawyers.
When asked by a 3AW radio host to clarify claims that emerged earlier in the week, Abbott refused to comment saying would not "comment on operational matters".
He did say, however, that security agencies are "determined to ensure that illegal boats don't get to Australia."
"What we do is we stop the boats by hook or by crook, because that's what we've got to do and that's what we've successfully done, and I just don't want to go into the details of how it's done," Abbott told the host Neil Mitchell.
Abbott added that stopping the boats "is all good," as in doing so Australia has "certainly improved our relationship with Indonesia."
"I don't make excuses and I don't offer apologies for stopping the boats because frankly it is absolutely imperative, for reasons of our national policy, and it's absolutely imperative for reasons of saving lives at sea."
Indonesia said on Thursday it was investigating the claims made by Radio New Zealand and Fairfax Media. It was reported that an Australian official paid the captain and crew of an intercepted boat carrying about 65 asylum seekers – mostly women and children - from Bangladesh, Burma and Sri Lanka about AUD$30,000 (USD$39,000) to turn back to Indonesia in late May. The allegations were reportedly based on comments from passengers.
READ MORE: Thousands march in 12 Australian cities to demand end to country's 'cruel asylum-seeker policies'
The report in Radio New Zealand cited Nazmul Hassan from Bangladesh, who said the officials paid at least $AUD7,200 (USD$5,500) to the captain and five crew members for each passenger, according to the Guardian.
The captain and five members of the crew also said they were paid AUD$6,500 (USD$5,000) each to turn the boat with the migrants that included women and children back to Indonesia, local police chief Hidayat told AFP June 10.
"They were then told to take two smaller boats and turn back into Indonesia after the money changed hands," Hidayat said.
READ MORE: Australia holds off deporting migrant with autistic child after public outcry
All six – the captain and boat crew- are currently being detained on Rote Island on charges of human trafficking.
If proved true, Indonesia said it would consider the incident "very concerning".
While Indonesia launched its own investigation, Tony Abbott appeared to be dragging his heels on whether the Australian government would look into the case as well.
When asked if the government would investigate, Abbott said: "We are defending our national sovereignty, we are protecting our country from the evil trade of people smuggling and we will do what is necessary to keep our country safe and to keep this evil trade stopped."
READ MORE: Indonesian minister threatens Australia with 'tsunami' of asylum seekers over drug smugglers' executions
Pressed to specify, he stressed that Australia would to everything possible "consistent with being a humane and decent country" to meet its goal.
Tony Abbott's comments have stirred up furious reaction from human rights lawyers, who said that it was "astonishing" and "unacceptable," according to the Guardian.
The Australian Greens, a political party commonly known as the Greens, has said paying smugglers is tantamount to participation in people trafficking.
"Payments to individuals to turn a boat around and take asylum seekers to Indonesia may be highly illegal. The trafficking of people against their will is a serious crime. The Australian government must give a full and accurate account of what has occurred," the Greens senator Sarah Hanson-Young was cited by the newspaper as saying.