Thousands march in 12 Australian cities to demand end to country's 'cruel asylum-seeker policies'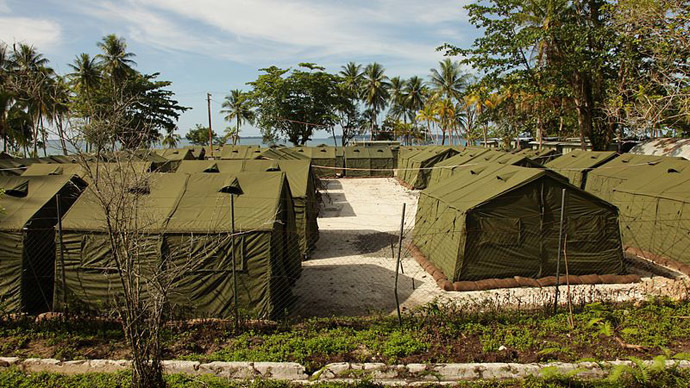 A crowd of 15,000 people marched through downtown Melbourne to demand the Australian government close the immigrant processing centers in Nauru and Manus Island, following harsh criticism of human rights abuses by PM Tony Abbott's government.
Demonstrators on the march, from Parliament House to Queen Victoria Gardens, called for the government to change its policy on asylum-seekers.
Churchgoers of different denominations were united in the march, walking together with residents and former refugees.
Residents in 12 Australian cities took part in street protests Sunday, held across the country and in 19 cities abroad, all demanding that the refugees be released from the immigrant processing centers.
Incredible turn out for #asylum seekers, justice and human rights today at Melbourne's Palm Sunday rally pic.twitter.com/9WZYjmMPKa

— ASRC (@ASRC1) March 29, 2015
One former refugee, who had come to Australia as an orphaned child from Afghanistan, said the government displays no dignity or compassion in its treatment of asylum-seekers.
"This same government continues to damage our national image and hurt our reputation… We desperately need leaders with a humane approach who offer care and protection to those who need peace and security," he told Melbourne's The Age newspaper.
Stunning. #auspol#asylum#refugees#palmsunday#Melbournepic.twitter.com/M8WOo32r7r

— Kon Karapanagiotidis (@Kon__K) March 29, 2015
The issue is over a government policy of compulsory detention of asylum seekers, as well as ill treatment and a lack of basic care for the thousands it detains in places such as Nauru, a tiny and inhospitable island in the Pacific Ocean.
Both the immigraton centers received scathing reviews from the Moss report and the review by the Human Rights Commission. The latter was especially harsh, with allegations of sexual abuse and rape happening at Nauru.
"We are not nasty and we are not cruel but our asylum seeker policies are. We are the only country in the world that subjects children to automatic and indefinite detention," Daniel Webb, from the Human Rights Law Centre, told participants at the rally in Melbourne.
Prime Minister Abbott has denied that his government is responsible for systematic human rights abuses of children and torture of detainees, and in early March hit back at the UN report.
READ MORE: 'Sick of being lectured': Australian PM blasts UN report on torture convention breaches
In the report are also allegations that the government's policy of targeting Sri Lankan and Tamil groups for deportation is having a detrimental effect on escalating the violence in Australia's offshore processing centers – a breach of the country's international obligations under the Convention against Torture.
Abbott shot back, telling the Sydney Morning Herald that "Australians are sick of being lectured by the United Nations, particularly given that we have stopped the boats, and by stopping the boats, we have ended the deaths at sea."
But the government has since been publicly attacked for its strong reaction.
You can share this story on social media: