​Indonesian minister threatens Australia with 'tsunami' of asylum seekers over drug smugglers' executions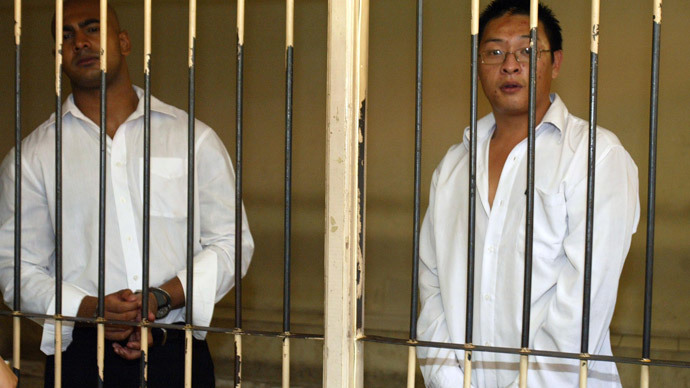 An Indonesian minister has threatened to release a "human tsunami" of 10,000 asylum seekers to Australia amid tensions with PM Tony Abbott's government over Canberra's objections to the impending execution of two Aussie drug smugglers.
"If Canberra keeps doing things that displease Indonesia, Jakarta will surely let the illegal immigrants go to Australia," Indonesia's coordinating minister for political, legal and security affairs, Tedjo Edhy Purdijatno, told local TV on Tuesday.
Abbott's Liberal-National coalition came to power in 2013 on an anti-illegal immigrant platform. Abbott has since introduced policies which see military ships patrolling Australia's water for migrant boats.
Tedjo said that Indonesia has so far been partnering with Australia to keep migrants from illegally crossing the Timor Sea to Australia, but suggested that the cooperation may stop if Canberra continues to antagonize its neighbor in advocating for clemency for the two Australian nationals imprisoned by Jakarta since 2005 for heroin smuggling.
READ MORE: Death row Aussies in Indonesia: Australia wants clemency, threatens 'pulling foreign aid'
"There are more than 10,000 in Indonesia today. If they are let go to Australia, it will be like a human tsunami," Tedjo said.
The warning was issued as a response to comments made in February by Abbott in which he called on Jakarta to"reciprocate"for Australia's massive tsunami aid package to Indonesia. Canberra has also attempted to discourage tourism to the Indonesian island of Bali in its efforts to save the lives of the two men.
Australian Foreign Minister Julie Bishop has since apologized for Abbott's comments, calling them "unhelpful."
A prisoner swap suggested by Bishop was, in turn, dismissed by Tedjo as "unethical."
Tedjo called on Canberra to respect the Indonesian judicial system during a speech on nationhood.
"We respect other countries' legal systems, Australia must learn about ethics here in University of Gadjah Mada," Tedjo said.
READ MORE: Coins for Abbott: Indonesians rally to repay tsunami aid, call Australian PM 'Shylock'
Over the weekend, Indonesian President Joko Widodo defended his decision to follow through with the executions of the Australian citizens. The two were arrested along with seven others in 2005 while attempting to smuggle 8.3 kilograms of heroin from Indonesia to Australia. Chan and Sukumaran were adjudged to be the ringleaders.
Views on capital punishment are divided within Indonesia. While a group of the country's diplomats suggested a moratorium on the death penalty during a Human Rights Council Summit last Thursday, the practice also has ardent defenders.
Indonesia has some of the toughest drug laws in the world, and has executed six drug offenders in the last month alone. However, the number of executions is inconsistent from year to year. In 2014, for instance, no executions took place.