​Modern slavery in Australia: Investigation reveals labour exploitation rife in agriculture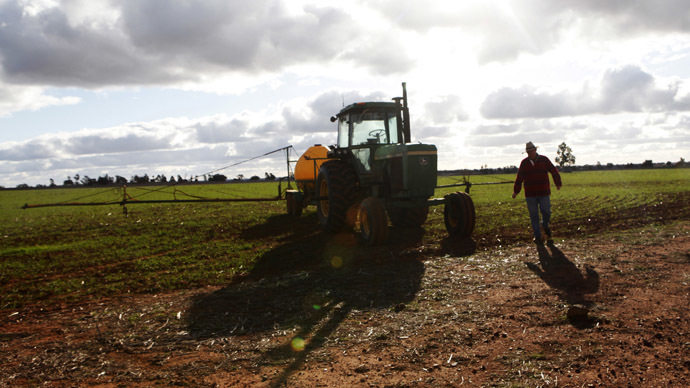 The Australian investigative journalism program "Four Corners" has discovered that Australia's biggest supermarkets and fast food chains are supplied with food from farms exploiting workers in slave labour-like conditions.
According to Four Corners reporters, who used hidden cameras and undercover surveillance to reveal the "third-world bondage," supermarkets such as Woolworths, Coles, Aldi, IGA and Costco and such fast food outlets as KFC, Red Rooster and Subway are implicated in the exploitative practice.
The workers who are being abused are frequently migrants from Asia and Europe. They are being routinely harassed, forced to work and underpaid. Moreover, women workers are often propositioned for sex or asked to perform sexual favours in exchange for visas.
READ MORE: Australia to authorize guards to 'beat asylum seekers to death' – report
Underpayment for migrant workers gives the farms a competitive advantage over their contestants.
Supermarkets prefer cheaper suppliers without paying attention to the labour conditions on their farms. This leads to a paradox: suppliers who play by the rules lose market share to those who don't, according to ABC TV. For instance, SA Potatoes, one of the largest potato suppliers in Australia, says it has lately lost some of its contracts.
"It's gutting," said the company's CEO, Steve Marafioti, "They're cheating the system…It's not the correct thing. It's not the right thing. It's actually changing the shape of our industry."
Migrants come to Australia on the 417 working holiday visa system which gives them an opportunity to stay in Australia for 12 months and to work up to six months with a single employer in the country. However, the system is very often used to supply cheap labour in such low-skilled jobs as fruit and vegetable picking.
READ MORE: Australia holds off deporting migrant with autistic child after public outcry
The Four Corners investigation has prompted outrage across Australian society.
"We will be known as a country that exploits vulnerable people who are looking for a better chance at life," labour law and migration expert Joanna Howe, a senior lecturer with the University of Adelaide Law School, told ABC News.
She says the 417 visa should replaced with a new low-skilled work visa. "Successive governments, Labor and Liberal, have turned a blind eye to the fact that both international students and working holiday makers are being used as a low-skilled source of labour for farmers and other people across the country," Howe said. A low-skilled work visa "would allow the whole system to be better regulated," she added.
Federal member for Hinkler Keith Pitt agrees with Howe, pointing out that Australia's reputation has been already damaged and that Australia needs migrants, as its agriculture sector faces a shortage of workers. He also thinks that the reason why Australian authorities have failed to solve the problem is that various government agencies fail to cooperate. "We need a multi-jurisdictional task force," Pitt said. "We need to coordinate our enforcement action."
RT @Carrysomers: .@ilo map shows no. of people trapped in #modernslaverypic.twitter.com/ZcEHG54xhm

— Samanata (@SamanataYoga) December 11, 2014
According to ILO statistics, almost 21 million people worldwide are victims of forced labour – including 11.4 million women and girls, and 9.5 million men and boys. The organization also reports that forced labour in the private sector generates US$150 billion in illegal profits per year.
You can share this story on social media: