Australia to authorize guards to 'beat asylum seekers to death' – report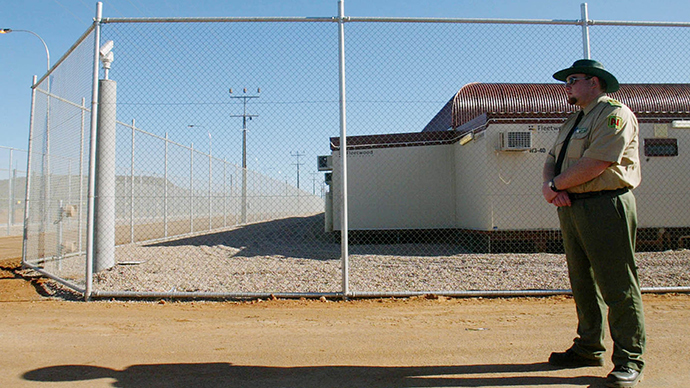 An inquiry by the Australian Supreme Court has proposed new powers to officers at immigration centers, granting them right to resort to violence, should they find it necessary, according to a former Victoria supreme court judge.
Following a Senate hearing of an amendment to the new migration bill Stephen Charles SC, who was the Victoria court of appeal judge until 2006, told the Guardian on Thursday that it would "inevitably encourage violence by guards against asylum seekers" by considerably expand their powers.
The new powers, applying to immigration officers, would let them use "reasonable force against any person" to maintain order and security, which in fact could lead to "beating asylum seekers to death." The immunity from civil and criminal liability will include private contractors – people, who are less trained than police officers.
READ MORE: Abuses against refugees at Aussie-paid detention camp 'known by govt for years'
"Time and again police in the United States have been acquitted in circumstances such as these," Charles said. "These amendments to the Migration Act will in effect authorize guards to beat asylum seekers to death on the basis they reasonably believe it is necessary … to do so."
Australia keeps its asylum seekers at the Nauru refugee detention center, and human rights violations including rape and physical abuse have been going on since November 2013. Reports of harsh conditions at the center, consisting of two fenced-off tent camps with up to 1,200 detainees, have been recently passed to the Australian government.
Legal action against human rights violators in immigration centers could only be possible if it is proven that a guard was "in bad faith," which is quite difficult to demonstrate.
READ MORE: Reports of disturbance in Darwin detention center, Australia, police deployed
The President of the Australian Human Rights Commission Gillian Triggs said: "Senior courts have ... explained the very high threshold that you must prove to demonstrate bad faith. It's very hard to show a subjective intent of bad faith of a serving officer acting in the course of their employment."
On Wednesday, Wickham Point Detention Centre in Darwin saw unrest, with 20 inmates reportedly harming themselves in order to avoid transfer to Nauru Island. Police responded to the rioting, though authorities denied any major "mayhem".
This February, Australians held candle light vigils to commemorate Iranian man Reza Barati, 23, who was beaten to death while being held at the Manus Island detention center in Papua New Guinea. He was allegedly killed by the staff during three days of attacks by locals and rioting he was not involved in.
Australia's Geneva Consulate, vigil for first anniversary of Rezi Barati's death in detention on Manus #LightTheDarkpic.twitter.com/Dtc3e8WypS

— Elizabeth Humphrys (@liz_beths) February 17, 2015
Following the rise in violence at the Australian detention centers, the UN Special Rapporteur on Torture, Juan Mendez, examined Australia's asylum seeker policies. He reported various violations of the convention against torture and other cruel, inhuman or degrading treatment or punishment, signed 30 years ago at the UN Human Rights Council.
READ MORE: Thousands march in 12 Australian cities to demand end to country's 'cruel asylum-seeker policies'
"The Government always assures the Australian people that it complies with its international human rights obligations. But here we have the United Nations once again, in very clear terms , telling the Government that Australia's asylum seeker policies are in breach of international law," said Human Rights Law Centre Director of Legal Advocacy, Daniel Webb in a press release.
You can share this story on social media: