​Abuses against refugees at Aussie-paid detention camp 'known by govt for years'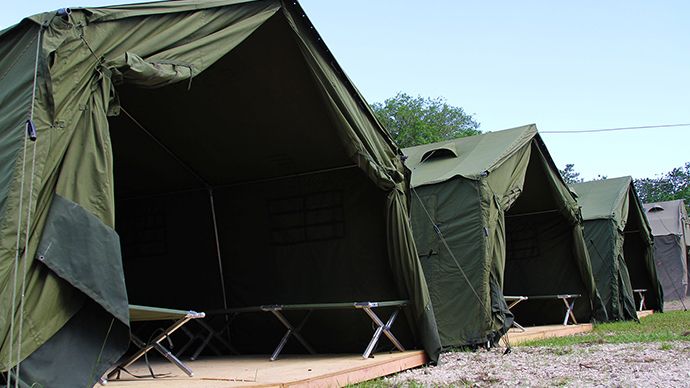 Staff members at the Nauru refugee detention center, where Australia keeps its asylum seekers, spoke about violations including rapes as early as November 2013. They are reportedly prepared to testify before parliament.
The workers will speak before a senate committee, which has been tasked with getting to the bottom of the issue amid mass protests against immigrant treatment in Australia.
Dozens of current and former workers on Nauru are prepared to help the investigation, the Guardian Australia reported on Tuesday. They told the newspaper they can provide working documents, intelligence and incident reports dating back to November 2013.
READ MORE: Thousands march in 12 Australian cities to demand end to country's 'cruel asylum-seeker policies'
Their testimony would prove the government was aware of human rights abuses in the camp long before October 2014, when it ordered a special inquiry into refugee rights abuses, they said.
Australia has a harsh policy towards asylum-seekers arriving illegally in the country. They are detained and housed off-shore in detention camps in island nations like Nauru and Papua New Guinea, while their status is processed.
Successive Australian cabinets have made restrictions on resettlement increasingly tight, and the current government of Prime Minister Tony Abbot is stonewalling immigrants by offering significant compensation to those who volunteer to return to their countries of origin. Australia is also prepared to pay other nations willing to shelter them.
Nauru detention center consists of two fenced-off tent camps designed to hold up to 1,200 detainees. Reports of harsh conditions and abuses at the facility prompted the Australian government to commission a review.
Former Integrity Commissioner Philip Moss presented his report two weeks ago, confirming allegations that asylum seekers, including children, were subjected to rape, physical abuse and other forms of maltreatment at the facility.
Some women were forced to provide sexual favors to get access to showers, the report confirmed. It also added that a number of sexual abuse cases were not reported, because of social stigma and the belief among detainees that they wouldn't get justice.
The document also disproved accusations against the staff of the charity Save the Children, who were banned from the camp over allegations of inciting protest among refugees. The charity demanded an apology from the government over the expulsion of its nine members from the facility following the publication of the Moss report.
READ MORE: Australia kept mum on Sri Lanka rights abuses in exchange for asylum deal - report
Also some 150 pages of interviews with refugees, which were the basis of the Moss report but not part of it, were leaked to the media, further backing the accusations.
The revelations sparked mass protest in Australia last week, as some 15,000 people marched in a number of cities to speak out against the government's immigration policies. The Australian senate ordered a committee be set up to look into the matter closely.
The Senate commission will have the authority to interview camp personnel and overrule the non-disclosure clauses of their contracts, which normally prevent them from discussing their work and can lead to up to two years in prison if they do so.
Both Australia and Nauru pledged to cooperate with the Australian Senate investigation.
The detention center at Nauru was first established in 2001, but was closed in 2007 by Prime Minister Kevin Rudd, who wanted to change Australia's asylum seeker policies. It was reopened in August 2012 and has since seen several cases of rioting, including an incident in July 2011 that resulted in some 200 detainees escaping. A large part of the facility was also destroyed by fire during the violence.