Australia kept mum on Sri Lanka rights abuses in exchange for asylum deal - report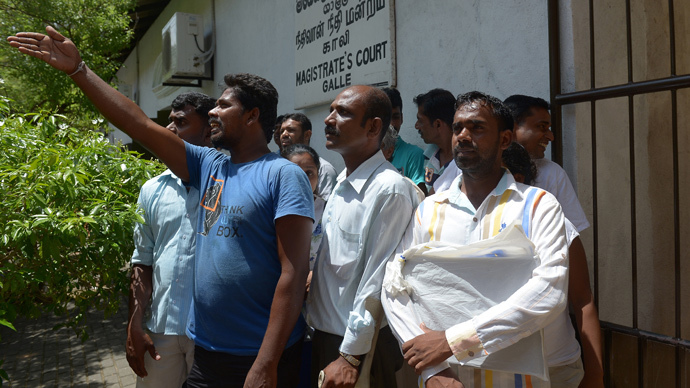 Australia agreed to turn a blind eye to Sri Lanka's alleged human rights abuses to secure cooperation with Colombo on stopping asylum-seeker boats heading to Australia, Sri Lanka's new prime minister said in an interview.
Sri Lanka's new Prime Minister Ranil Wickremesinghe said that Australian Prime Minister Tony Abbott's close relationship with President Mahinda Rajapaksa, who was voted out of power last month, was "a mystery" to Sri Lankans.
In an interview with The Australian newspaper, published on Monday, the leader of Sri Lanka's centre-right United National Party said that "people connected to the previous government" had taken part in people-smuggling operations.
"It was being done by people with Rajapakse connections, but once this deal was done between Australia and the Rajapakse government, where you looked the other way (on human rights abuses), then the secretary of defense got the Navy to patrol," he told the newspaper at the prime minister's official Temple Trees residence in Colombo.
READ MORE: Australia to deport asylum seekers to Papua New Guinea
"You could not have got anyone out of this country without someone in the security system looking the other way, the police or the Navy."
Canberra has been under fire for its tough immigration policies. In 2013, Australia began sending asylum-seekers on boats to offshore camps on Papua New Guinea's Manus Island and Nauru, where they face long periods of detention.
Most asylum-seeker boats that have made it to Australia came from Indonesia, according to AFP, but 120 left from Sri Lanka in 2012, with the two nations co-operating on cracking down on people-smuggling. While Sri Lanka says many asylum seekers are economic migrants, rights groups argue that local Tamils, who have lived on the island since around the 2nd century BC, seek asylum to prevent torture, rape and other violence at the hands of the military.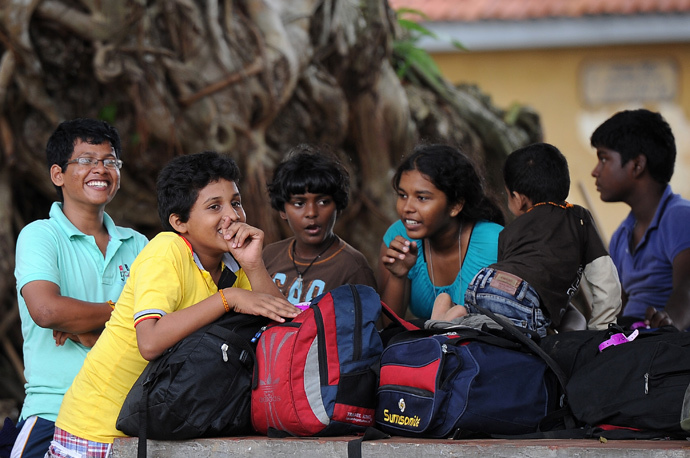 "Torture and other ill-treatment of persons in custody by the security forces has been a widespread problem both during and since the armed conflict," Human Rights Watch reported after it published new evidence last February that rape and sexual violence has been "a key element of broader torture of suspected Liberation Tigers of Tamil Eelam (LTTE) members and supporters ever since the war's end."
HRW said torture is used to "obtain 'confessions' of LTTE involvement, and to instill terror in the broader Tamil population to discourage involvement with the LTTE." Activists and organizations, particularly those working in the north and east, report ongoing harassment and intimidation, according to HRW.
Sri Lanka's new government has promised a domestic probe into alleged war crimes under Rajapakse, who developed huge power during his nine-year rule, including the ability to appoint the heads of formerly independent agencies. Wickremesinghe said his government was heading towards reconciliation with the country's Tamil minority, as he confirmed that hundreds of citizens detained without trial under the Prevention of Terrorism Act would soon be released. The new administration is set to release some 275 Tamil prisoners, who have been held in custody for long periods without any charges.
READ MORE: Aussie govt. under fire for offering up to $10k to asylum seekers to go home
The previous government had resisted a UN inquiry into claims that up to 40,000 ethnic Tamil civilians were killed in the final months of the 26-year civil war in Sri Lanka that ended in 2009.
According to Wickremesinghe, former immigration minister Scott Morrison breached protocol when he refused to meet with then opposition Tamil National Alliance (TNA) politicians during his last visit to Sri Lanka. So his successor could be given a cold shoulder reception from the TNA, now a key member of the new ruling coalition, the new prime minister said in the interview, calling it "a slip-up on the part of the Australian side."
"I am not against the Australian government, but I think you must learn from your experiences. Some other countries must also that fully backed the Rajapaksa regime. When human rights were being trampled, and democracy was at bay, these countries were silent," Wickremesinghe, who became prime minister for the third time in January, said.
"That is an issue for Sri Lanka," he added.
Not so much for Austalia, perhaps, with a spokesman for Abbott saying on Monday that relations with Sri Lanka remain strong.
"The prime minister looks forward to Australia and Sri Lanka's continued cooperation on a range of issues - including on the Commonwealth, and on people-smuggling," the spokesman said.
You can share this story on social media: