'Spare parts': ISIS fighters discuss prices of human organs on social media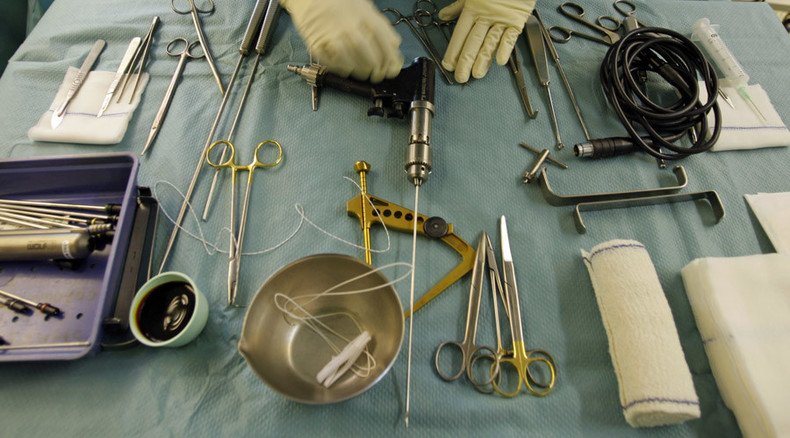 Islamic State fighters discuss harvesting human organs from sex slaves on social media, an anti-extremism monitor says. In one conversation a jihadist supporter expressed his desire to buy kidneys or livers, calling them merely "spare parts."
"These social media conversations also reveal information on where and under what conditions the women are being held, on the going prices for them, and even on other issues relating to them – such as possible trafficking in human organs," says the report released by the Middle East Media Research Institute (MEMRI), a press monitoring and analysis organization based in Washington.
READ MORE: Islamic State sex slave price list authentic, $165 for a child – UN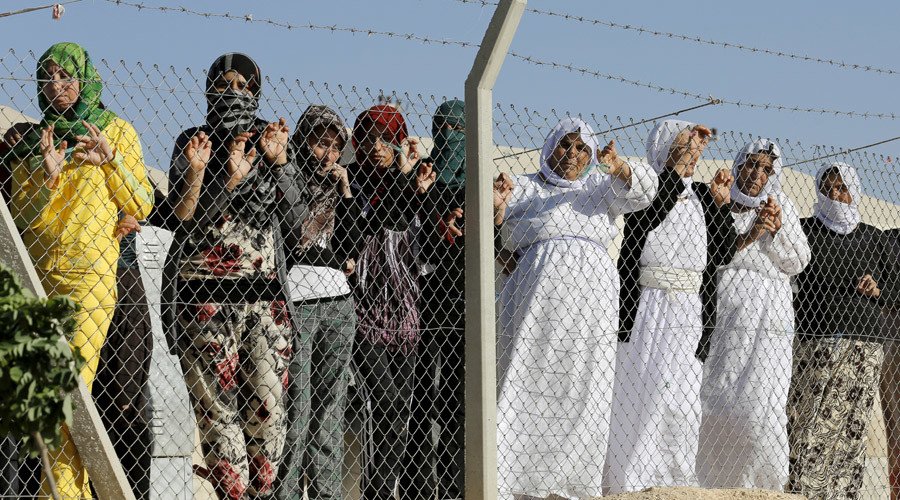 Researchers from the anti-extremism think tank analyzed several online conversations between Islamic State (IS, formerly ISIS) militants and their supporters. One of them touched upon the topic of "the cost and handling of female slaves."
"The continuation of this exchange may also confirm speculation that ISIS is trafficking in human organs," said the group, adding that the jihadists may "occasionally discuss prices and the practice of taking slaves."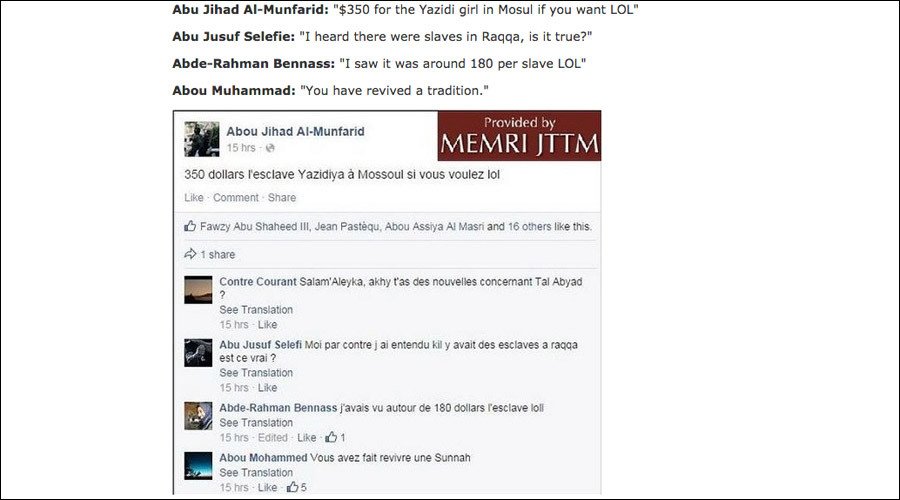 One of the terrorists or IS supporters asks another about the price of the organs, which he calls "spare parts." He asks to check if he can "get kidneys or livers" from the sex slaves. The conversation was reportedly held in September 2014.
READ MORE: ISIS 'organ harvesting' must be probed by Security Council – Iraqi envoy
In February, Iraq's ambassador to the United Nations Mohamed Alhakim said that IS is harvesting human organs to finance its blood-driven caliphate. He called UN to investigate the case after bodies with surgical incisions and missing kidneys were discovered in shallow mass graves.
"We have bodies. Come and examine them. It is clear they are missing certain parts," he said, adding that a dozen doctors were executed in in northern Iraq, after allegedly refusing to harvest organs of the IS victims.
READ MORE: ISIS holds Koran-memorizing contest with lure of sex slaves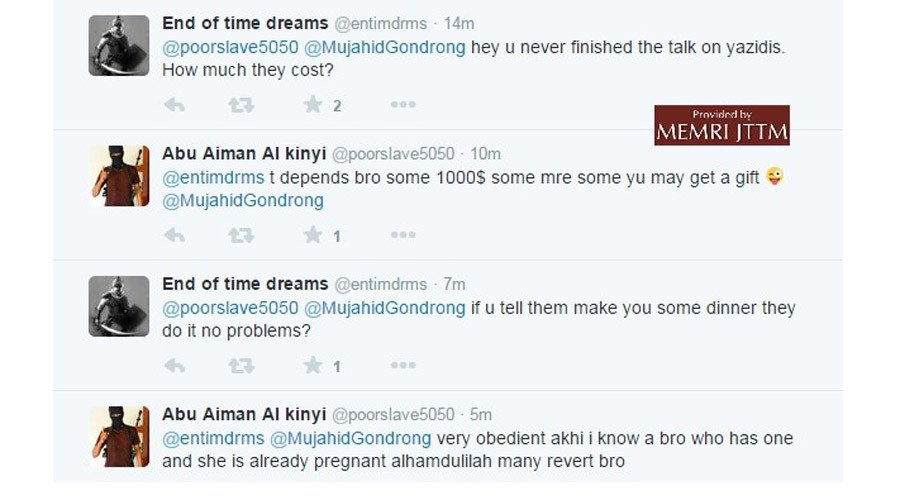 Thousands of Iraqi women have already been forced into sex slavery, with as many as 3,000 women and girls having been taken captive from the Yazidi tribe in Iraq during IS offensives across the region. The militants also managed to capture and enslave other minorities in the territory they control.

At the end of last year, IS released a pamphlet on rules about how female slaves, women and children should be treated by its fighters.
The jihadists argue that capturing women because they are unbelievers in Islam is justified. According to the pamphlet, IS members are permitted to have sex with the women, which can be as soon as a woman is captured if she is a virgin. If she is not, the manual reads, "her uterus must be purified" before intercourse.
You can share this story on social media: