Mosul blame game: Iraqi ex-PM Maliki accused in fall of key city to ISIS
Published time: 17 Aug, 2015 01:56
Edited time: 17 Aug, 2015 03:14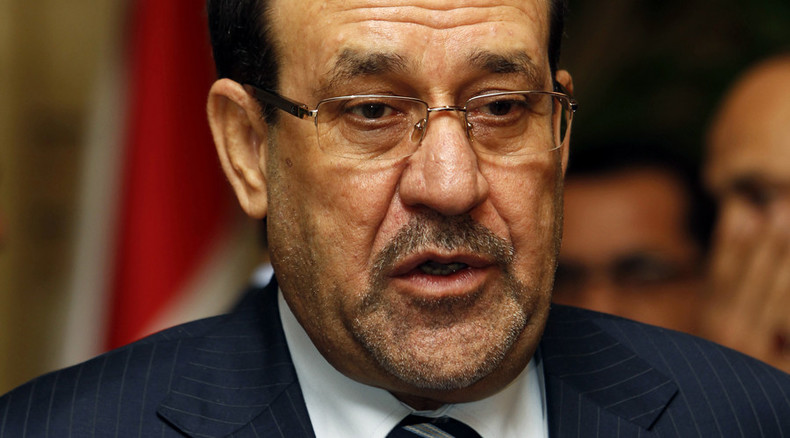 An investigation by an Iraqi parliamentary panel has found former Prime Minister Nuri al-Maliki, as well as 35 other officials, responsible for Mosul's humiliating capture by Islamic State in 2014, and called for legal action against those accountable.
READ MORE: ISIS truck bomb in Baghdad kills more than 70 and injures 200
The report was approved by 16 of the panel's 24 members. It was presented to Parliament Speaker Salim al-Juburi, who plans to refer them to the appropriate authorities for further action.
"No one is above the law and the questioning of the people and the judiciary will punish those responsible," Juburi said in a statement, as cited by Reuters. "The judiciary will punish perpetrators and delinquents," he added.
A parliamentary vote on the document's findings will be held Monday. It is then expected to be forwarded to Iraqi Prime Minister Haider Abadi and the public prosecutor.
Maliki is widely accused of escalating religious tensions between the Shia and Sunni factions in Iraq. Marginalization of Sunni Arabs, which were in power during Hussein's regime, has contributed to instability, and supposedly made the minority more likely to be receptive and loyal to Islamic State (IS, formerly ISIS/ISIL).

The former PM is also suspected to have appointed his commander-in-chief based on personal ties, rather than professional competence. As a result, it is alleged, the Iraqi army lacked training, leading to low combat readiness.
READ MORE: US, Kurds split over chemicals used in ISIS attack
Along with Maliki, the report also places blame for the Iraqi army's defeat at the hands of IS on former Mosul Governor Atheel al-Nujaifi, former acting Defense Minister Sadoun al-Dulaimi, former army chief General Babakir Zebari, and Lieutenant General Mahdi al-Gharrawi, former operational commander of the Nineveh province.

Earlier on Sunday, Iraqi Prime Minister Haider Abadi's office said it had cleared the way for prosecution of senior commanders responsible for the military's recent defeat at Ramadi, west of Baghdad, which fell to IS along with troves of US-supplied equipment, including tanks and APCs.
READ MORE: Saddam-era veterans account for ISIS battlefield victories, dominate group's top command - report
This comes a week after Abadi announced a campaign to combat corruption and mismanagement, which he says are making Iraq impossible to govern.

The fall of Mosul was a turning point in Islamic State's June 2014 offensive. The capture of Iraq's second biggest city enabled the Islamist extremists to seize large swathes of territories in north-western Iraq. Maliki has accused unnamed countries, commanders and rival politicians for the military disaster.