US, Kurds split over chemicals used in ISIS attack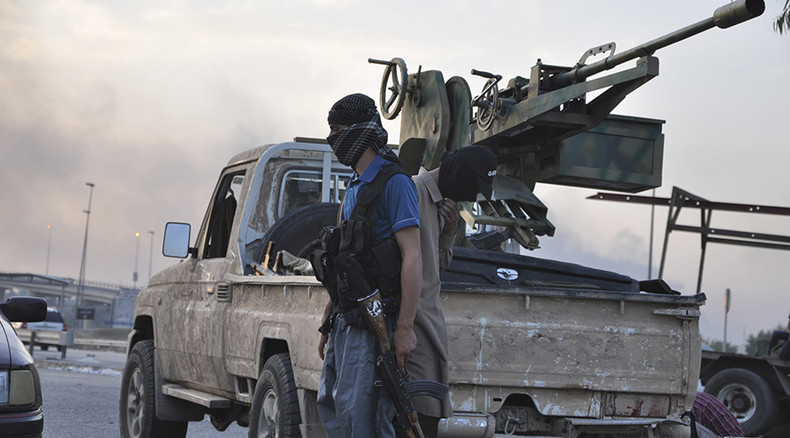 The US is investigating an alleged chemical attack by Islamic State against Kurdish militia in northern Iraq. Washington reportedly suggests the jihadists used mustard gas, while the Kurds believe it was chlorine, which is more dangerous.
The allegations of chemical arms use by Islamic State (IS, formerly ISIS/ISIL) are taken very seriously, Alistair Baskey, the White House's National Security Council spokesman, said.
"We continue to monitor these reports closely, and would further stress that any use of chemicals or biological material as a weapon is completely inconsistent with international standards and norms regarding such capabilities," Baskey stressed.
Kurdish officials said their peshmerga forces were attacked with chemical weapons near the town of Makhmour, some 40 miles southwest of Erbil, on Tuesday.
The claims were confirmed by the German military, which has been training the Kurdish troops in the area since September of last year.
"These were apparently chemical weapons. What it was exactly we don't know," the German ministry spokesman said, adding that around 60 Kurdish fighters suffered breathing difficulties as a result of the attack.
However, he didn't specify the type of chemicals used by IS, only saying that experts had been sent to the scene to investigate.
Meanwhile, senior US officials told the Wall Street Journal that the chemical agent most likely employed in the jihadist attack in northern Iraq was mustard gas.
One of the sources said it makes "the most sense" that IS obtained the chemical agents in Syria, but there were also opinions that the mustard gas came from Saddam Hussein's old stockpiles in Iraq.
US intelligence agencies are now looking into the source of the chemicals and the means by which they were delivered to the battlefield, the officials said.
Mustard gas causes painful burns and blisters that have a strong immobilizing effect on those who come into contact with it. However, the chemical has to be present in large quantities to become deadly.
READ MORE: ISIS used chemical weapons against Kurds – monitor
However, Kurdish authorities in Iraq said that it was possibly chlorine gas that had been used against their Peshmerga forces, Reuters reported.
"Initial reporting indicates chemical agents were fired in the form of projectiles, possibly mortar rounds," Kurdistan Region's Security Council said in a statement.
If it was, in fact, chlorine that Islamic State militants used, this would be considered "a very disturbing development," Brian Levin, director of the Centre for the Study of Hate and Extremism, told RT.

READ MORE: 'Red line': ISIS possibly armed with chemical weapons
"Chlorine gas in particular can be devastating. About 1 million soldiers in WWI were affected by chlorine gas and other gases and about 90,000 were killed," he said.
"Chlorine in particular has uses in industry and in household products, so chlorine is a much more accessible type of chemical agent than some of the others that are out there, which is why they are being used," he added.
The use of chlorine as a weapon is banned under the 1997 Chemical Weapons Convention.
When inhaled, the gas turns into hydrochloric acid in the lungs with lethal effect, as the victim drowns in the bodily fluids resulting from the burns.
Levin believes that the use of chemical weapons may well lead to a change in the international approach to Islamic State.
"[ISIS] has been a second priority for most of the actors in the region and in the West and it might be that it is going to become a first priority, particularly if the use of chemical weapons becomes more widespread. This is a red line and we are right at it," he said.