Overnight blast at police station, shooting at US consulate in Istanbul kill 1, injure 10 (PHOTOS)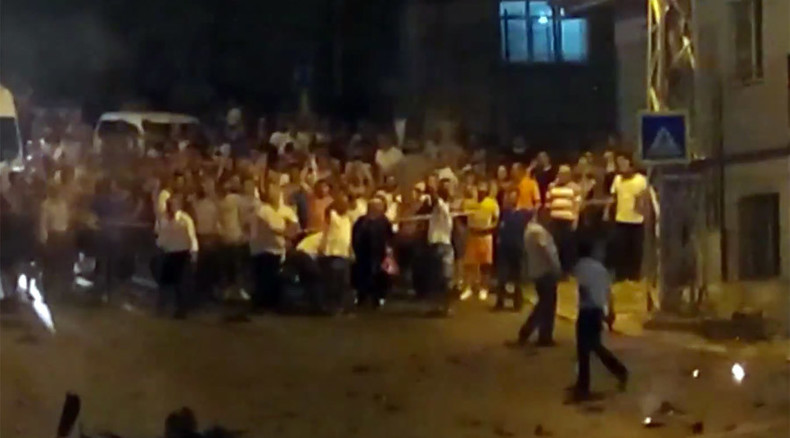 One police officer has been killed, with seven others and three civilians injured in a "bomb attack" which targeted a police station in Istanbul's suburb of Sultanbeyli. That blast was followed by an attack on the US consulate in the city.
The explosion on Sunday night caused a fire at the police station, located in the Sultanbeyli neighborhood of Istanbul, injuring at least seven people, Anadolu Agency reported.
Part of the three-story building collapsed and nearby structures were also damaged, as well as up to 20 vehicles nearby, Dogan news reported.
Two attackers were killed after the explosion, the Turkish Dogan news agency reported.
Also, one police officer was killed in the attack, Istanbul governor's office said.
Police cordoned off the area as people begun to gather around the site. As emergency services worked at the explosion site, anti-PKK slogans were heard from the crowd.
Just hours after the explosion at the police station, the US consulate in Istanbul was attacked, with a female assailant detained by security forces.
Another attacker remains at large, and it was reported that no one had been hurt in the incident.
The far-leftist Turkish group DHKP-C claimed responsibility for the attack on the US, while no one has yet declared their involvement in the police station explosion.
The incidents come amid rising tensions between Turkish authorities and supporters of the Kurdistan Workers' Party (PKK).
Turkey has been carrying out attacks against PPK rebels ever since it made a sudden U-turn in policy against ISIS and allowed Washington to use its air bases to conduct airstrikes against Islamic State (IS, formerly ISIS/ISIL).
Earlier on Sunday, the US Mission to NATO confirmed that Washington is to deploy six F-16 Fighting Falcon jets to Turkey. Around 300 airmen from the 31st Fighter Wing are also reportedly being sent to Turkey, to help support Operation Inherent Resolve.
READ MORE: US deploying 6 fighter jets to Turkey to fight ISIS
US Air Force officials did not say how long the fighter jets would remain at the Incirlik Air Base, or whether more planes would be sent to Turkey to support the mission against IS.