365 days without camembert: Russian food embargo enters 2nd year
It's been a year without French cheese and Mediterranean fruit in Russia. Last August, Moscow banned certain products from the EU, US and several other countries in response to sanctions introduced by the West on Russia over the Ukraine crisis.
The decree "on the use of specific economic measures" was signed August 6, 2014, by Russian President Vladimir Putin.
A food ban was introduced on imports from the European Union, the United States, Canada, Australia and Norway. The list of prohibited goods includes meat, fish, sausages, vegetables, fruit and dairy products.
In July this year, Russian Prime Minister Dmitry Medvedev signed a decree to extend Russia's embargo on food imports until August 5, 2016. And recently Moscow has drafted a proposal to extend its food embargo to seven more countries - Albania, Montenegro, Norway, Iceland, Liechtenstein, Ukraine and Georgia - which have backed EU sanctions against Russia.
Buried cheese: Banned contraband food destroyed at Russian border
All EU and US food products that have been imported to Russia in violation of the food embargo are now being destroyed at the Russian border from Thursday. The decree was signed by Putin in July this year.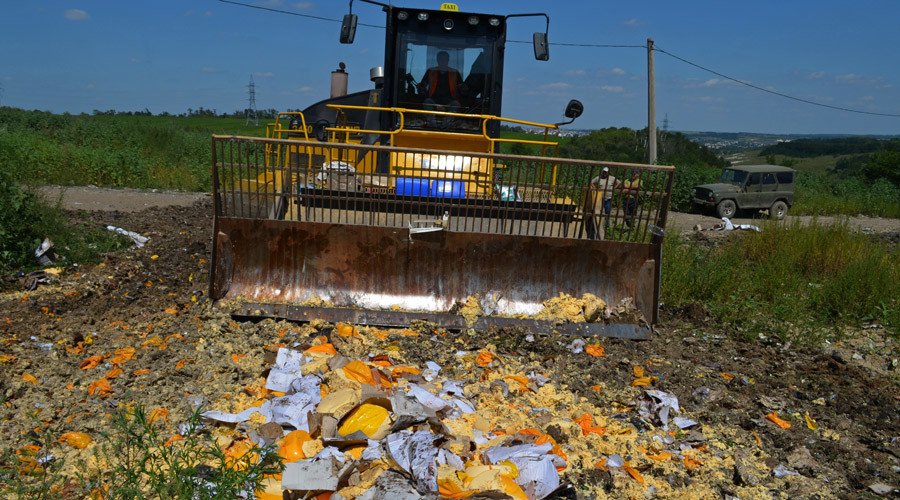 Over 180,000 people backed a request to cancel the order on the change.org website. The author of the petition stated that the food embargo has caused a significant rise in food prices, forcing pensioners, large families and other poorer groups to restrict their consumption.
A Russian MP from the center-left Fair Russia party proposed donating all banned products to the war-torn Lugansk and Donetsk Regions in eastern Ukraine, which are currently suffering from a humanitarian crisis.
READ MORE: Leftist MP asks govt to send banned food to Donbass as aid
On Thursday at least 9 tons of 'banned' cheese was destroyed by a 45-ton road roller in the southern Russian city of Belgorod, the press service of the local branch of the Russian agriculture watchdog told RIA Novosti. The resulted substance was put into a large pit and buried.
The drastic measures received a bewildered reaction on Russian social media, with many questioning the commonsense of the move or joking that they would rather eat the sanctioned food.
"I know one nice way to destroy the Parmesan", "Sign me up to destroy banned imports! I'm going to work hard at eating prosciutto and parmesan," wrote Twitter users.
EU farmers say they're suffering big economic losses due to embargo
Since the introductions of Russian embargo, EU countries have been suffering big economic losses. EU citizens have repeatedly staged mass protests over the Russian food ban.
In August 2014, Spanish farmers in Granada dumped thousands of potatoes in front of Carrefour, a major supermarket chain. And in September people in Amsterdam pelted each other with around 200,000 tomatoes, forbidden from the Russian market.
READ MORE: Dutch stage massive tomato fight with excess produce unwelcome in Russia (PHOTOS, VIDEO)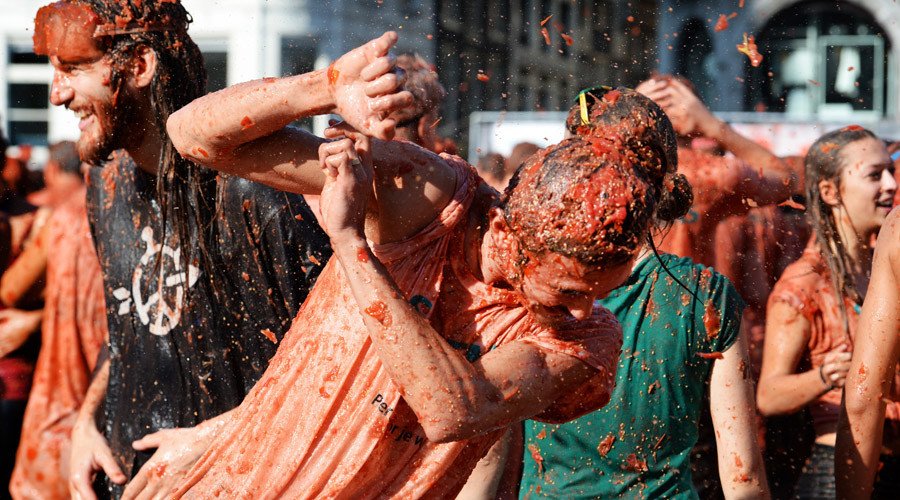 Italy has already suffered losses amounting to €1.2 billion ($1.3 billion) because of the Russian food embargo, the National President of the Italian Agricultural Producers' Confederation, Dino Scanavino, said earlier this month.
"It is a case of €1.2 billion. This is the cost of the decrease in the Italian exports to Russia. This is precisely the agricultural part of the export, so its shrinkage affects agriculture and related sectors," Scanavino said, adding that "we should overcome this crisis situation as soon as possible."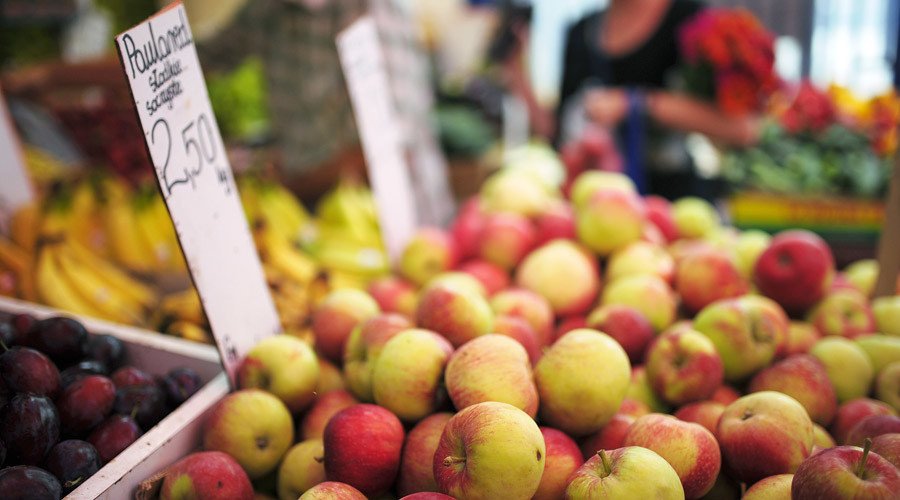 READ MORE: European farmers not to receive full Russian embargo compensation
In July, Nadine Morano, former French minister for apprenticeship and professional formation, said that due to the Russian food embargo, the EU has already lost €21 billion and could lose up to €81 billion over time.
"For the French agricultural sector, the food embargo has been dramatic, and we can all see the direct effects of the government's international policy," she told France's Sud Radio.
Austrian Institute of Economic Research, presented a projection of possible economic losses in the worst-case scenario for EU in 2015, cited by RIA.
It shows that Germany will be mostly affected by the embargo – its losses will stand at €29.9 billion. The next in line are Italy (€16.3 billion), France (€11.1 billion), the UK (€9.0 billion) and Spain (€8.5 billion).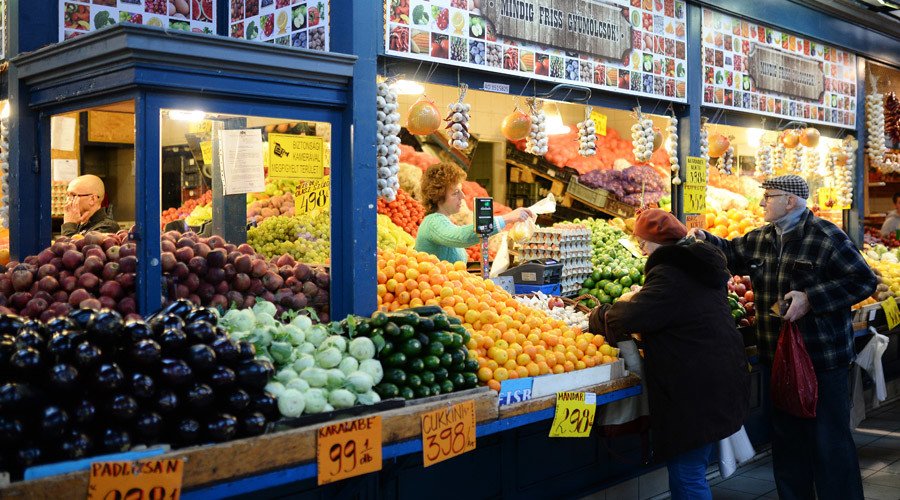 READ MORE: Russian food ban to cost EU $6.6bn a year – internal document
The embargo, meanwhile, opened opportunities for products from other counties, including New Zealand, Serbia, Iran and South Africa.
Folker Hellmeyer, chief economist at Germany's Bremer Landesbank, told RT that the sanctions which were imposed by Western countries "will backfire quite significantly."
READ MORE: China to build giant dairy farm to supply Russia
"I think that Russia is on the verge of moving towards a different political sphere with the BRICS countries , with the Shanghai Cooperation and it means that we [Bremer Landesbank] will lose a lot of projects, not only agricultural ones."
Hellmeyer added that the "outlook" for Russia is "much better" than that of the EU.
LISTEN MORE:
You can share this story on social media: