Leftist MP asks govt to send banned food to Donbass as aid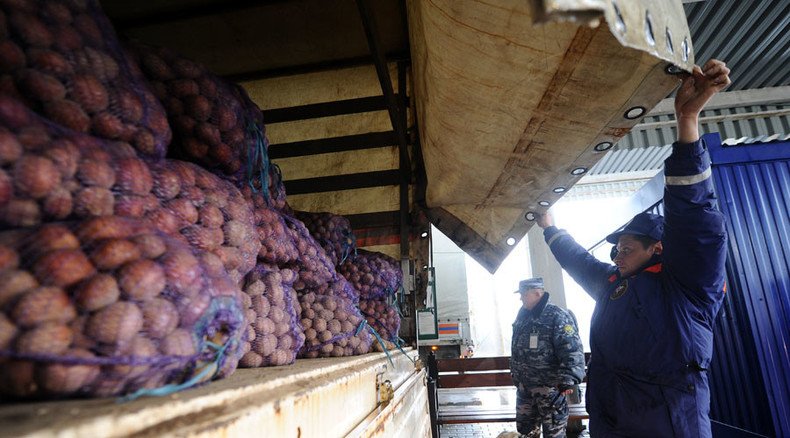 A Russian MP from the center-left Fair Russia party has proposed to send banned contraband food seized at the border to the war-torn regions of Lugansk and Donetsk, which are suffering from a humanitarian crisis caused by the pro-Kiev military.
"The Russian Emergencies Ministry and non-government funds are currently providing aid to the South-Eastern regions of Ukraine, but this aid is not sufficient, especially considering the fact that the Kiev authorities have practically imposed a full blockade on the two republics," MP Andrey Krutov has written in an open letter to Agriculture Minister Aleksandr Tkachev.
The lawmaker then asks the government to study the possibility of sending the banned foodstuffs seized at the Russian border to Lugansk and Donetsk instead of simply destroying them, as ordered by the presidential decree signed last week.
Krutov noted that since the beginning of the Ukrainian political crisis and the subsequent war in the southeast of the country, Russia has sent 34 truck convoys to Donbass to deliver over 41 tons of humanitarian aid.
READ MORE: Putin agrees to destroy banned foodstuffs at Russian border crossings
The presidential decree ordering all food products that have been imported to Russia in violation of the food embargo destroyed on the border comes into force on August 6. "Agricultural products, raw materials and food items exported to the territory of the Russian Federation, with a country of origin that imposed sanctions against the Russian legal entities and/or individuals or joined said decision, and that are banned from entering the territory of the Russian Federation, are subject to destruction as of August 6, 2015," the document reads. The ruling doesn't apply to food items brought to Russia by individuals for personal use if they are accompanied by proper paperwork.
Prior to Russian customs destroying seized contraband, the rules were to send it back to the country of origin.
Moscow imposed a ban on the import of meat, poultry and fish, cheese, milk, fruit and vegetables from the US, EU, Australia, Canada, Norway, and various other countries In August 2014 as a reciprocal measure after those countries sanctioned Russia over its alleged role in the Ukrainian political crisis.
The ban was initially to last for a year, but was recently prolonged until August 2016, due to the unwillingness of the West to lift its restrictions on Russia.
READ MORE: Leftists call for lifting Russian embargo on food imports
Earlier, Fair Russia lawmakers suggested to lift the embargo on food imports, claiming that it contradicts the part of the Constitution that guarantees any citizen the right to use their own capabilities and property in entrepreneurial activities. The sponsors of the motion also proposed altering federal laws so that the contradiction is removed.
However, the bill has not received any support from the State Duma Committee for Economic Policy.
You can share this story on social media: